WANTED: Rebutia Tamboensis
senjanevada
(9)
June 6, 2008
Couple days ago, I took my neighboor to my backyard to pick-up her cuttings I'd like to share. When I wanted to cut a clump of it, it felt like soggy, OMG I hoped it did not die.
I don't know why it happened, I don't think I watered it too much. When I asked a cactus nursery owner, he said it's gone.... hik...hik..
Anyhow, I still keep it and hope for a miracle. While awaiting, I beg those who have this pretty cactus, please share a little clump with me. Please check my have list, if you find none interest to you, let me know what you are looking for. I have several cactus that not listed there.
If you like epi, I have yellow and pink (wonderama) cuttings to trade. Please check Cactus and succulent forum, I have pictures of those.
Here are the pics of my baby Rebutia, which is now laying in ICU waiting for a miracle. The pics were taken 2-3 weeks ago.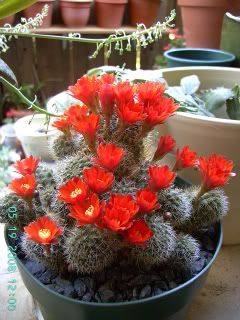 Note: We are moving soon, so if you are interested in trading with me, please do a speedy trade. Thanks. And have a great day.