Camera settings for butterfly photography
bob_71
(z7 MD)
January 16, 2011
One of the finest pieces of marketing I have ever witnessed has been the coining of the phrase..."Point-and-shoot"! In three simple words, it recalls the KODAK BROWNIE series of cameras that had no settings to be bothered with but that all who tried could use and brings one to believe that with a "Point-and-shoot" camera we could shoot National Geographic quality pictures. It has worked so well that more people own cameras today than ever more.
The reality is, that most of us never even approach our potential nor the potential of our equipment. One of the primary reasons is that we fail to realize that the camera manufacturer has to provide a product that will yield ACCEPTABLE results for all customers. As the camera comes out of the box, it is highly generalized...it will yield average results in most uses, but is NOT set up to give the best results in any given area such as sports, scenery, portraits, nature, etc.
To customize the camera, one must tweak the settings to yield the best results in shooting photos of butterflies! The camera manufacturer has provided adjustable settings that can be set for your requirements and then can be left alone...they will not change until you reset them.
The characteristics of butterfly photography that are problematic are...they are tiny little creatures, they can fly, their basic nature is one of defensive actions to prevent their own predation, they are cold-blooded creatures that depend on sunlight for generation of their body heat.
There are two features that cause a photo to be a "Bad" shot, in my personal opinion...poor focus (also "motion blur") and improper exposure.
FOCUS:Most digital cameras have two options for setting the focus...AUTO and MANUAL. I have compared the results both ways with all my cameras and except on extremely rare occasions, the selection of AUTO-FOCUS is the winner! It is easier, faster, re-adjusts for each shot and I just can't better it's accuracy and consistency.
FIRST SETTING=Select AUTO_FOCUS.
With most cameras, there are two options (usually called AF MODES) available. One is designed for still subjects, and the other is for moving subjects. Some cameras have a third which is really just a combination of the two. I choose to use, and get better results with the option for still subjects...with Canon this is called ONE SHOT AF.
SECOND SETTING=ONE SHOT AF (Still subjects).
Motion blur is another topic in itself and if desired by you readers, will be covered under a later posting.
I also choose NOT to use the MANUAL EXPOSURE (Usually indicated on the mode dial as M). There are a few occasions where Manual operation works best, but I do not find that it works best as my selection of choice.
The normal alternatives are Shutter Priority or Aperture Priority. Shutter Priority lets you select the shutter speed that you want while allowing the camera to select the proper aperture. Aperture priority lets you select the aperture you want while the camera sets the shutter speed.
The "Priority" selection I make is usually a "once-daily" type setting which I make when I first go out to shoot and then I usually can leave it alone the rest of the day. When I go out, and the winds are calm, I use Aperture Priority so I can set up for maximum depth-of-field. If it's windy, I go for Shutter Priority so I can select a shutter speed adequate to stop the motion blur.
THIRD SELECTION=DO NOT SELECT MANUAL OPERATION!
INSTEAD SELECT SHUTTER PRIORITY IF WINDY
OTHERWISE, SELECT APERTURE PRIORITY.
This is a full-frame photo (it's the total area you see through the viewfinder or the monitor) of the LEAST SKIPPER that epitomizes the dilemma that butterfly photographers face...even at six feet, or so, the subject we're after makes up only a tiny portion of the picture area.
Our problem is "How do we get the camera's capabilities to work with us instead of against us?"
Our solution is to get the camera to use the 2%-3% of the area, that is our butterfly, in making all it's decisions while ignoring the other 97%! The best starting point is to find the METERING MODE section and SELECT THE SPOT option. Technically, this is the setting that will tell your camera to use this small 3% area in determining the proper exposure...further, it is my belief that it also tends to tell your auto-focus system to also be specific to the same area even though the manual does not specifically state that. The spot itself can be anywhere you choose, but it remains there unless moved...I always have mine set at dead-center so I don't have to struggle so hard to remember where I have it set!
FOURTH SETTING=Select SPOT METERING.
These settings should provide the basis for your camera's ability to arrive at the proper exposure and focus. There are many other settings to be tweaked (once and left alone) that yield greater performance in the areas of sharpness, color and overall quality. If there is sufficient interest, they can be covered in later posts while winter is still with us. Input and/or disagreement from other site members is welcomed!
This is the final cropped version of the Least Skipper in the above full-frame photo.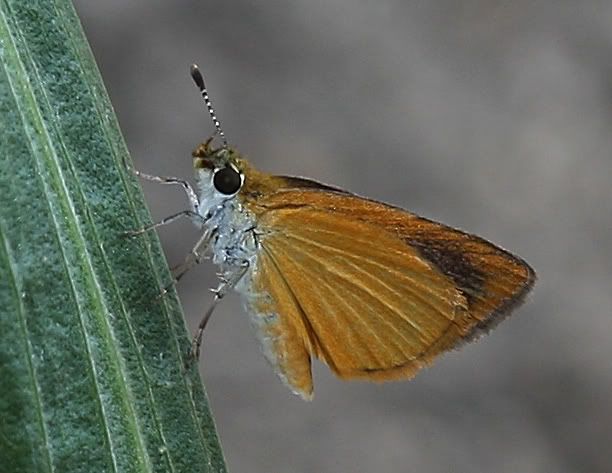 Thanks if you've stayed with it this far.
Nothing would please me more than for each of you to be able to achieve even greater shots consistently while "pointing-and-shooting"!
Bob