Hybridising.....the journey...
With a number of recent posts on the topic of hybridising, I thought it may be of interest to post an example of a cross, so we can take the hybridising journey...
As I am relatively new to the field of hybridising, the purpose of this post is to generate discussion, comments, criticism, suggestions, questions, advice.....on the process.
About 3 months ago, I indicated that I was doing some hybridising with Neo. correia-araujoi. Well, since then a few crosses have been made, & I have had the first batches of seed germinate.
One cross was with Neo. Gold Fever. This plant has brilliant crimson colouration, with attractive gold spotting, however, in our conditions, it typically does not develop great form. My goal with this cross is to achieve a large tough landscaping plant with good form...all from the mother plant...
Neo. correia-araujoi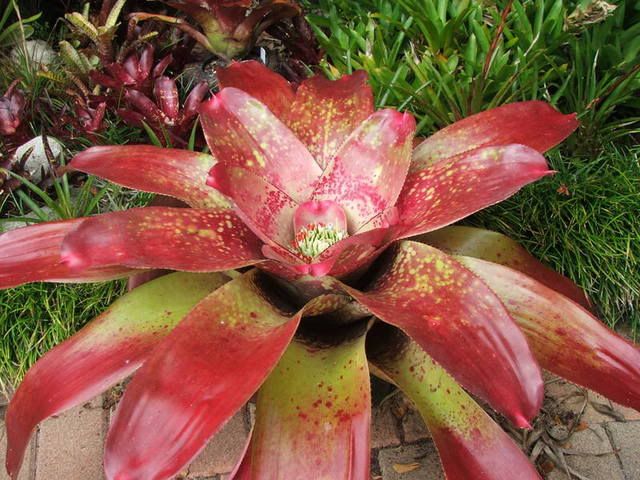 with...the attractive crimson colouration and gold spotting from the pollen parent...
Neo Gold Fever
Just on 3 months from the last of the N Gold Fever pollinations, the berries were ripe, indicated by their colour of a rich chilli red (similar to the photo below), and they pulled out easily from the mother plant.
Seed was squeezed out of the berries, cleaned & dried. Then approx 100 seeds were spread onto a seed raising mix in a plastic container, and the whole thing placed into my little seed raising set up. About 8 days later the first green leaves emerged, and now some 20 days later the second leaves are emerging.
So, stage 1, obtaining viable hybrid seed, has been achieved. Stage 2, I will be trying to maximise growth over the next 6 months (our winter) so that seedlings will be ready to plant out by say October (suggestions....). Then they will get the benefit of our summer growth, so by March '08 I should be able to make the 1st cull....! I expect many of the batch will be mid size plants with washed out mamoration. So I will only keep seedlings that show fastest growth and early colour.
Will post an update in say 3 to 4 months to see how the batch of seedlings has progressed.