Bigenerics by design............maybe
LisaCLV
(HI)
March 21, 2010
We've talked about a common problem with many bigeneric hybrids, namely that the most striking traits of each parent tend to disappear when crossed with something too genetically far removed. There are far too many mad scientist experiments out there that are less attractive than either parent, just because that was the only other thing in bloom at the time.
On the other hand, I do believe there is potential for some interesting and even commercial hybrids across genus lines, provided you choose parents that will complement each other rather than cancel each other out. That is what came to mind when I saw these two plants coming into bloom at the same time: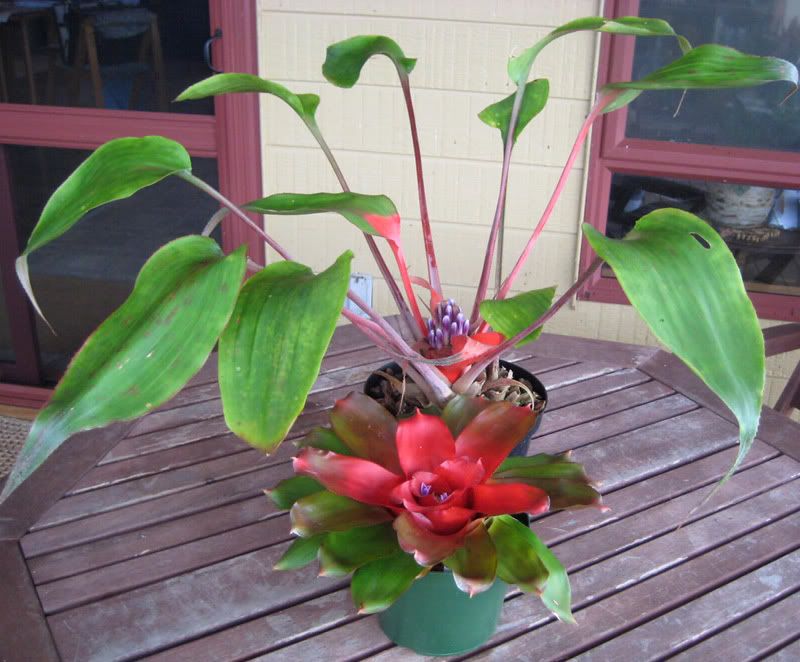 In the back is Bromelia scarlatina, and in front is Neo. Victoria (red). They both have the same color sheme, right down to the petals. No markings to get lost in the mix, the only real variable here is the shape of the leaves. Imagine a red-cupped plant with broad, spoon-shaped leaves. You'd buy that, wouldn't you?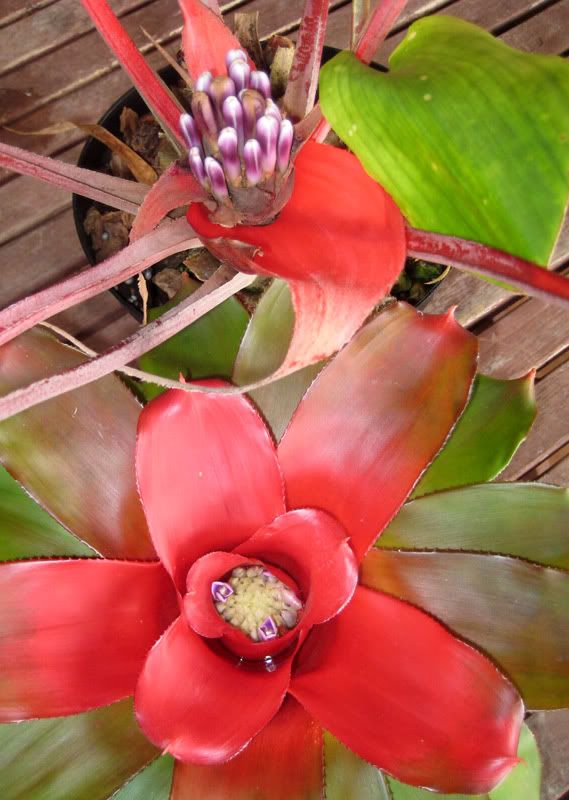 Will it work genetically? That remains to be seen. I've never heard of anyone using a Bromelia as a parent in a cross, bigeneric or not. Neither parent selfs; they are in the same subfamily, but I have no idea how close the relationship is. I'm trying to pollinate them both ways, but I think the Neo will likely be the better seed parent. Both produce copious pollen, but the stigma on the scarlatina is hard to find, being small and sunken way beneath the stamens. Also the petals on the Brom turn brown as soon as the flower opens, and there is some moisture in the flower. It looks as though it may have only a brief window of opportunity, too. Today was day 3, and it appears it may only have one more day left. This is fairly unfamiliar territory, but nothing ventured, nothing gained!