Don't microwave the alfoil!
paul_t23
(Coastal Sydney)
April 25, 2009
Hi everyone, aren't I a silly boy!
I've got this bee in my bonnet about trying to cross Billbergia Domingos Martins with a dark-banded Aechmea chantinii, hoping to keep the dark, banded, spotty thing going but with an even more spectacular, long-lasting flower spike.
Ingredient 1: Got the DM pollen a month or so back, stored in the fridge in small aluminium foil sachets with silica gel to keep it dry, following comments by someone in this forum. Ingredient 2: chantinii flowers started to open each morning a couple of days ago. Ingredient 3: dug out the GW thread I read some time ago about microwaving pollen from a related plant and putting it on the stigma to break down resistance to pollen it would normally reject (see link below). Ingredient 4: found a plant in flower that was reasonably closely related to chantinii (an Aech. flavorosea round at a mates place) and collected its pollen for microwaving, to be put onto the chantinii along with the hopefully live DM pollen.
So, flushed with imminent success and running out of time to get the pollination done in the ideal time in the morning, I rushed home with the flavorosea pollen, whacked it into the microwave and turned around to make a well-earned cup of coffee... FIZZLE POP BANG BANG POP BANG FLASH FLASH BANG... You guessed it - I was so pleased with my little foil sachets of pollen and myself in general that I forgot completely about what happens when you put alfoil in a microwave. Don't do it! It's one flash and you're ash baby!
Luckily I had some more pollen, which I was able to microwave on toothpicks after scraping it off the alfoil - not nearly as spectacular, but hopefully effective.
Who knows if this will work, but it'll be fun trying!
Parent plants are below. I'll be sure to give an update if anything happens.
The chantinii
The DM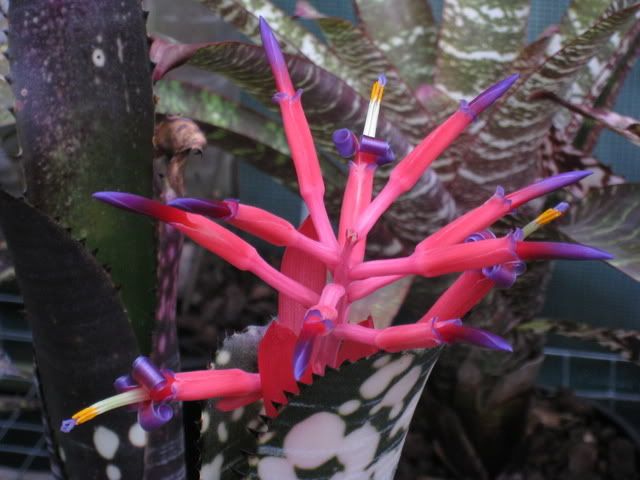 Combining the two, how about a tall, elegant vase-shaped plant, dark with lots of spots and stripes, plus a tall, long-lasting flower spike with lots of flowers from the chantinii, the more open flower arrangement and irridescent colours from the DM and the big, brilliantly coloured bracts from both!
Ha! - dream on Paul. If I end up with anything, then Murphy's Law says it will probably be something small and brown that dangles under the bench, but hey, ya never know.
Cheers, Paul
Here is a link that might be useful: Microwaving pollen