aechmea pup growing down into pot
i have a cluster of aechmea fasciata. one of the never bloomed 'pups' (about 4-5 years old) is producing a pup.
i was wondering why the 2nd 'pup' is doing nothing?
so i lifted the cluster out and discovered that the other 5 yr old pup was growing a pup too, but it was growing down inside the pot!
in the pic the normal pup is on the left, the one growing down is on the bottom right.
so i basically lifted the cluster out of the old pot and put it in a new one lined with coir matting to fill the space, so that the pup is above the rim and exposed. no new medium, just coir liner.
will it turn to grow up now that it's above and in good light? the plant is in good dappled light in western window.
why does it happen? is there anything else that could be done to redirect it?
i like to grow them in a cluster, so i'd rather not separate now or later.
i did flip the plant so that the bottom facing pup is now closer to the window(it was on the farthest side). i hope it will start bending towards the light and pointing if not up, at least to the side...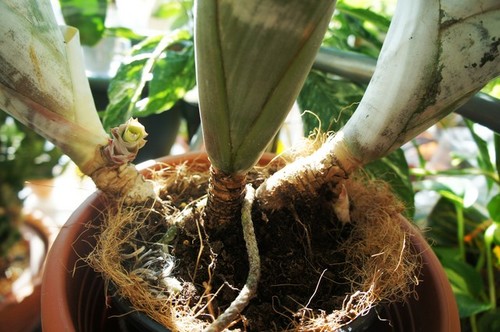 This post was edited by petrushka on Sun, Apr 6, 14 at 19:35