Tillandsias for fanciers
fdnpedro
(NSW north coast)
May 27, 2010
This is a follow-up from some previous posts and comments, especially by Gonzer.
I have been collecting Tillandsias for over 30 years and have always loved the 'tectorum' types from the northern Andes - Peru and Ecuador. They are often seen in the dry Central valleys and adjoining rocky walls and cliffs in all shapes and sizes. Fortunately Lotte Hromadnik in particular, took an interest in them and wrote the book mentioned, splitting the 'tectorums' into various new species and varieties, apart from those already in existence like T. heteromorpha. She also introduced many of them into cultivation.
Gonzer suggested a Tillandsia id challenge so here is one for starters. What a feast of 'fluffies' there is now! So can you id any of them?
The first group are various forms of T. heterophylla, including what looks like Bob's form. It may well have come from Werner Krauspe, Bob, not Pam, as I used to get a lot of plants from him as well in the '80s.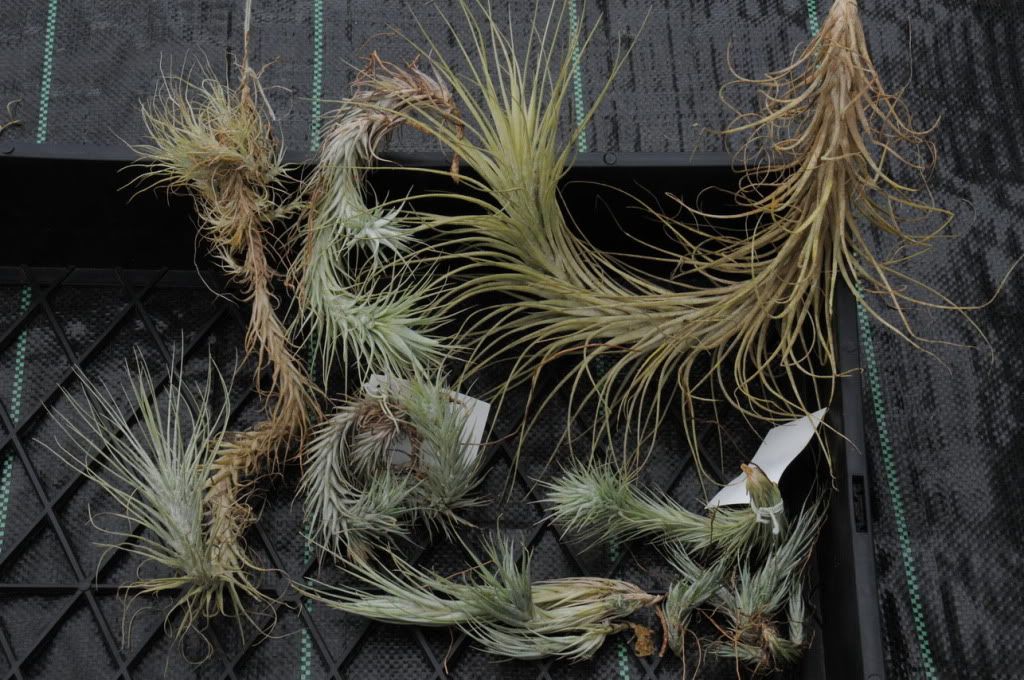 This group are very old tectorums (larger forms) from Ecuador and Peru from some of my first imports in the late '70s - plant stand is my trainee.
This group are a selection of newer tectorums (some might be other species). If you have Lotte's 'tectorum' book you might be able to discern a few varieties. So many forms!
Lastly, the real challenge, are some of the newer species, all numbered ready for your educated guess! A couple are probably duplicated so just stick to the numbered ones.
Since just about every location in habitat has a differing looking plant, these are just a small number of variations. Amazing, and nothing to with us hybridisers, just natural 'selection'!
Have fun, Pedro