Rejuvinating by Slicing Basal Plate
mariava7
December 17, 2009
Before anything else, I would like to say that I am starting this post to show you all what I have been advicing members of slicing the bulb's basal plate to rejuvinate the bulb. Not propagate. The HD bulbs with sliced basal plates has caused a lot of different reactions. I am just presenting this post so as you might view this situation in a different perspective and know the pros and cons of sliced basal plates. Here goes...
Have you receievd bulbs looking like this?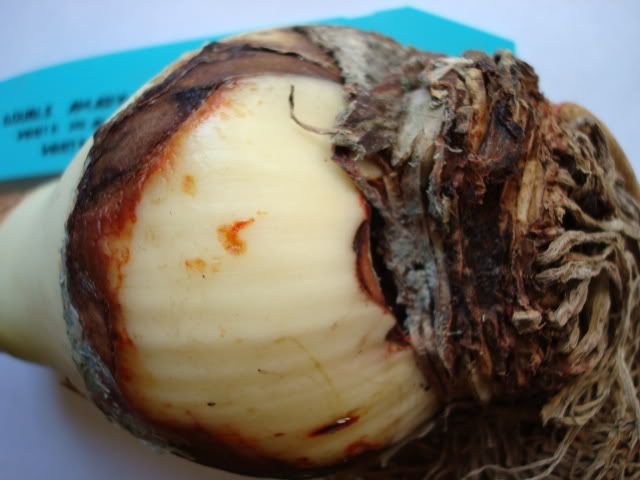 Or like this?
Or have a non-performing bulb that would not leaf out good inspite of everything you try to do with it? Like this Snow White of mine that would leaf out some, then leaves would turn yellow and dry out. Bulb stays firm but just won't give out any new decent growth for months. Unpotting it, this non-performing Snow White looked like this. Very thick and hard/tough basal plate and NO ROOTS!!! An old and spent bulb!
The thick and tough basal plate prevents your Hippie bulbs from producing new roots. Slicing the basal plate would expose the fresher /softer part of your bulb's basal plate.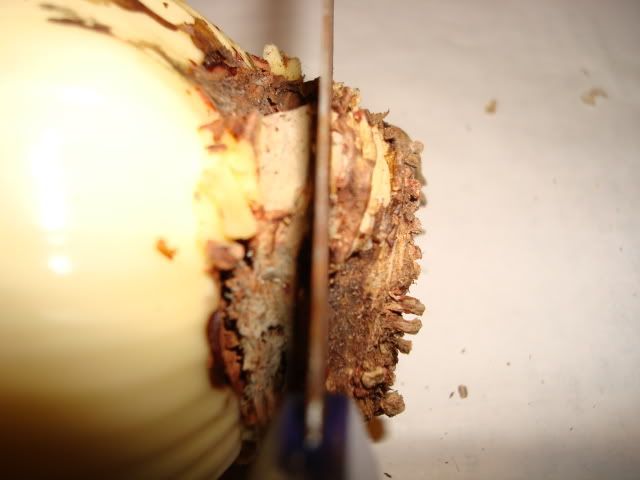 You can leave like 1/2 an inch of basal plate.
Or even just a thin one if that's all that's left after cleaning off the rot or thick/rough part from your bulb's basal plate. With the tough part removed, new roots can now easily push out and grow from the softer basal plate. The younger cells(?) are more capable of producing new growth.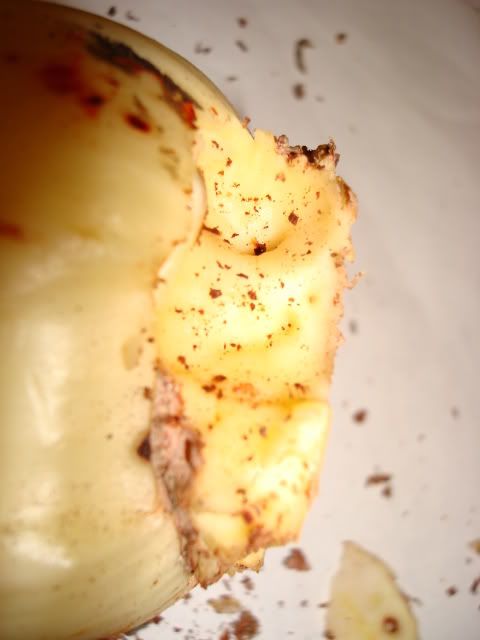 As long as there is a piece of that basal plate, your bulb has a chance for life or better performance. This slicing of basal plates are done in commercial nurseries to "rejuvinate" old hippies so that they'd perform like they used to. Grow back to be a healthy plant and be productive again...give out flower scapes for cut-flower production.
Now this is the most important part. This cut needs to be dried good with fungicide applied to seal the wound before planting. If not, you will end up with a dead bulb.
Snow White blooming the next season after I cut off it's basal plate. White double in bottom of pic.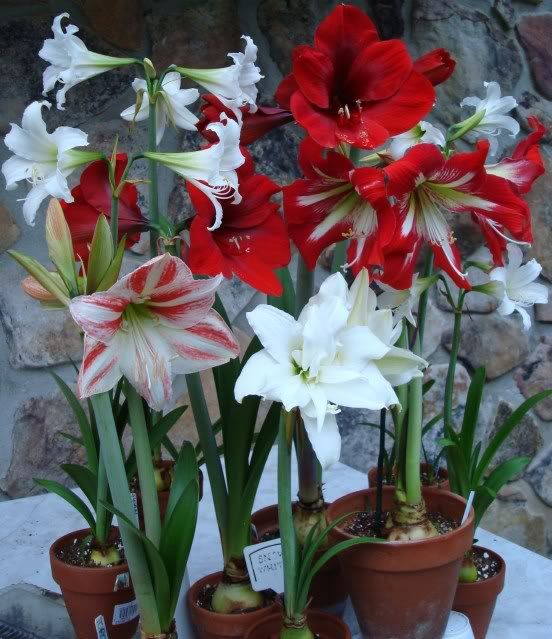 A beauty I would have never seen from that old bulb, had I not rejuvinated it. It would have just dried itself to death not being able to grow new roots from that thick/hard basal plate.
My thoughts about the HD bulbs:
If the bulb is rooting, with some basal plate intact, then the process of cutting it's basal plate was not done wrong or for a bad purpose. As a very reliable source confirmed to me, that is how they do it in Holland...slice the basal plate so as the bulb would give better performance. Fresher/younger basal plates gives out more new roots than hard thick ones.
It being marketed as a "Finished product" is totally misleading. The Hippie can be grown and let to bloom in this method BUT will need to be planted in soil eventually for it to flourish and grow to be a healthy plant.
This method will work IF the buyer would follow the watering instructions. NOT all buyers or recipients of such kits are gardeners with enough knowledge unfortunately. OVERWATERING and stale water will lead to these bulbs eventually rotting in this system.
Hippeastrums WILL NEVER be an indoor plant forever unless you have a decent (correct watts/growing area) grow light to use or window space that will give it enough sunlight it needs. Years of marketing Hippies as "indoor plants" has led to it's downfall as a plant that gardeners would regard with horticultural value. They have clearly stated that, this bulb kit is a "flower" growing system. This is very sad.