Pearl Crescent Life Cycle
misssherry
(Z8/9SE MS)
April 15, 2014
Since the life cycle of pearl crescents is so rarely photographed, I thought I'd give mine their own thread.
We're due to have a record breaking 36-degree cold temperature here tonight, so I brought in the hatchlings to raise myself. I had tested the asters, both a stem and a single leaf, and they both held up beautiful in a water pick. So I cut off the leaf the hatchlings are on, put the leaf in the water pick and put them in a cage in the unheated guest room in my house, where my other caterpillars and chrysalides will spend at least one night. I'll crack the window in the room, so it'ill still be cold in the room, but not as cold as outside.
Here's a picture of the eggs -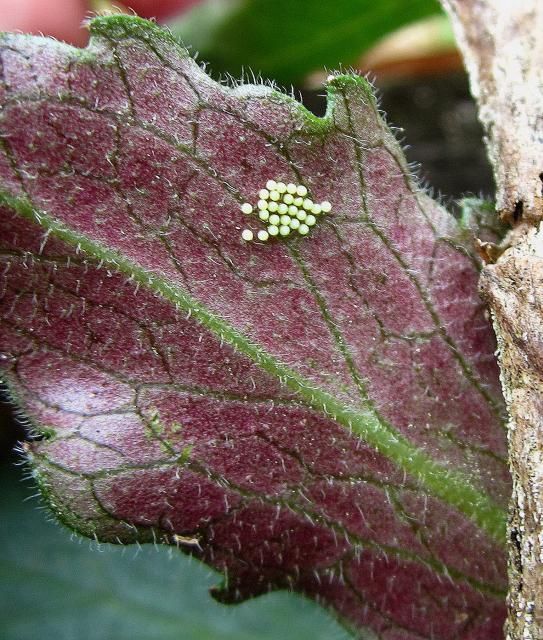 It looks like there are only 9 hatchlings in this picture I just took, far less than the number of eggs laid. I think it's this cool spring weather - many of the pipevine swallowtail hatchlings apparently died also.
I cropped this picture several times for the caterpillars to look even this big!
Anyway, here they are - squint!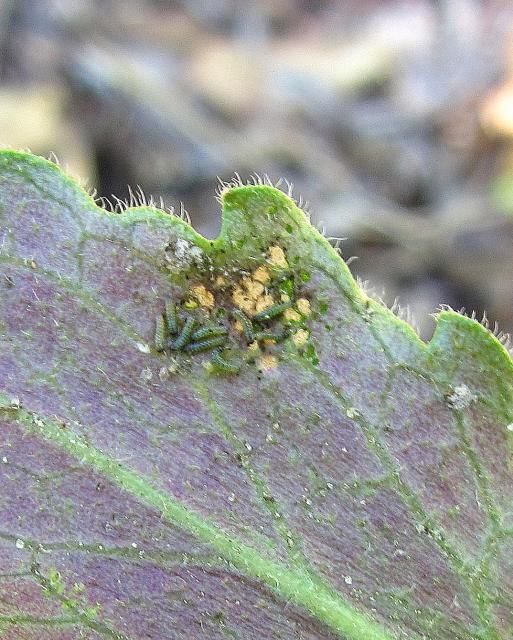 I checked the other, much bigger cluster of recently laid eggs this morning, and about 3/4 of them were gone. There was a nasty look green thing (a slug?) at the end of the leaf, which I promptly squished. If I bring in these eggs, and they take as long to hatch as the first group, the leaf will be too old to have much nutritional value left for the hatchlings, I'd think, may even be wilted. So, I'm going to cover that side of the asters with a bucket, held in place by a brick - it's windy out there. I've saved other plants that way, hopefully it'll work tonight. I'll also cover my tomato plants the same way. They've grown well and are flowering, so I sure hope they don't go!
Sherry
P.S.
Two days after Mother's Day, l'll add this picture of the pearl crescent who laid the eggs -
This post was edited by misssherry on Tue, May 13, 14 at 20:43