aechmea fasciata too much of smth?
too much water? too much light?
the new leaves are tight and upright - so i figured it's getting enough light. but the leaves are wrinkled or folded somewhat?
what can be causing this? may be too much fertilizer? i sprinkled a few balls of osmocote on the soil.
and it's a rather large plant in 7" pot: triple + 2 pups going, so i've been making sure it does not dry up - keeping it moist.
also it looks like it's funnelling very tightly - hope of a bloom coming?
just wanted to add that i have 70% humidity and often higher, it's indoors in very sunny western window - but with some obstruction. so may be 3-4 hours of sun. and it's turned sideways - so sun was not directly hitting the middle of the crown.
also it's been on water-wick, laid on top of soil, so top-wicking for most of the year. for 2 mo in dec-jan there ws no water in the funnel, but since then i reg. fill it up with spring water.
so no water-stress, no humidity stress (both of which are referenced as a cause for wrinkles and tightening of the crown).
and it never happened before - had this plant for 5 years.
also 2 small 6"-7"pups are ok, not wrinkled, no funneling just reg crowns.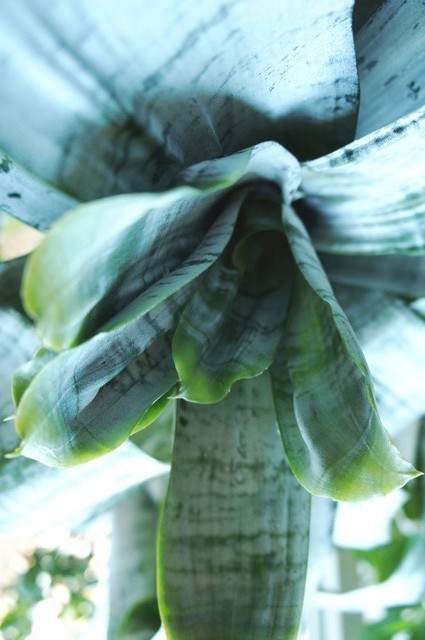 This post was edited by petrushka on Sat, Jun 7, 14 at 16:18