guzmania lingulata pup
it was a NOID, but i figured it is G.lingulata. very common one. got it last dec in bloom, the pup was just starting, just a tiny bump.
by mid march it was about 7" and now it is at 16". still tight, burgundy red on outside.
about a month ago i clipped the old bloom top, but left the stalk until it dries up. i want to keep it as a clump, together.
i think i am keeping it in good culture. i found a good post to guide me (see below).
so my question is - is it normal for the pup to remain so tight? when will it start unfolding wider?
is the coloration of the pup good? is the growth rate good, at least for indoors (which is where it is)?
but i can also put it out on n-ne balcony too after nites go above 72F. but humidity outdoors here sometimes drops for sev days to 40%, whereas indoors i can provide steady 70-75%.
it gets slightly dappled sun for a couple of hours in warm western window, about a foot away, under the top shelf. humidity been for a few mo at 70-75%, now pushing 80%.
temp wise it's about 72-75F with may be 77F closer to the window when it is sunny.
so i think culture-wise i am doing the right things.
i am keeping it moist, letting just the surface of the mix to dry up very slightly from time to time. and i feed regularly with a combo that comes to 11-12-11: cacti fertilizer (to get calcium and magnesium) + dynogro hi-n-pro with micros. i read to avoid zinc/copper in fertilizers.
i also read that they need above 75F to bloom. but normally can bloom in 1st season in good culture.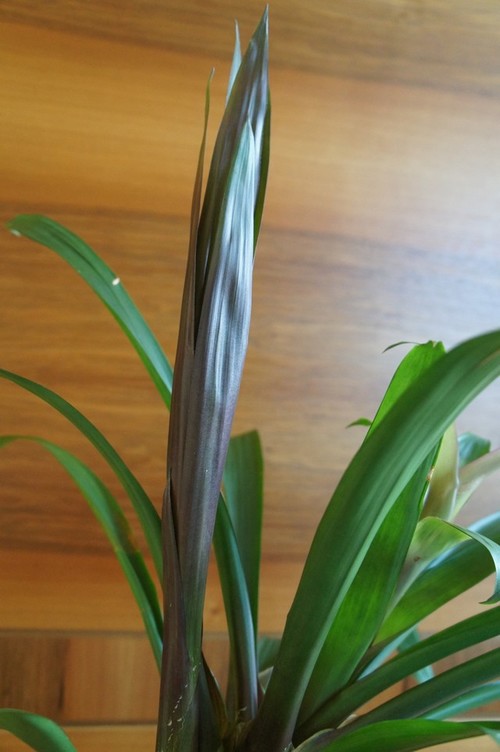 Here is a link that might be useful: guzmania culture post