Some pictures...ok alot!
dellis530
(6B)
February 19, 2012
This is the part of winter that makes me buggy. I start doing weird things like painting my den a dark blue. I decided to post some pictures instead since it keeps me out of trouble.
I started taking pictures of my whole collection a couple months ago but had to stop when things got busy. I now have an 18 yr old (pray for me). So some of the pictures are from the last picture frenzy in 2009. Enjoy.
Denise
I had this aloe behind a deck railing which is why the coloring is uneven. Now I turn it in the summer. Aloe vanbalenii.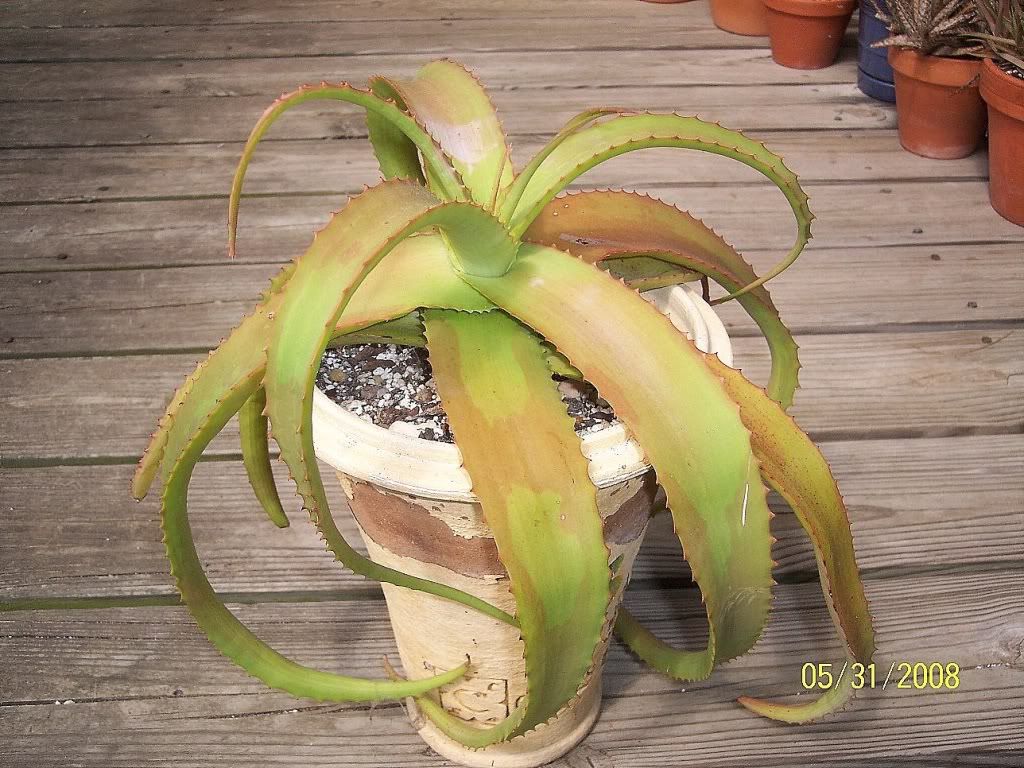 I have a weakness for gymnos, I like the thicker organized spines. I dont have an ID for this one.
This one stays this color all year and gives me one offset a year. Hechtia rosea.
I bought one of these from Tropiflora about 10 years ago, now I have tons of them. Pups like crazy. A.guingola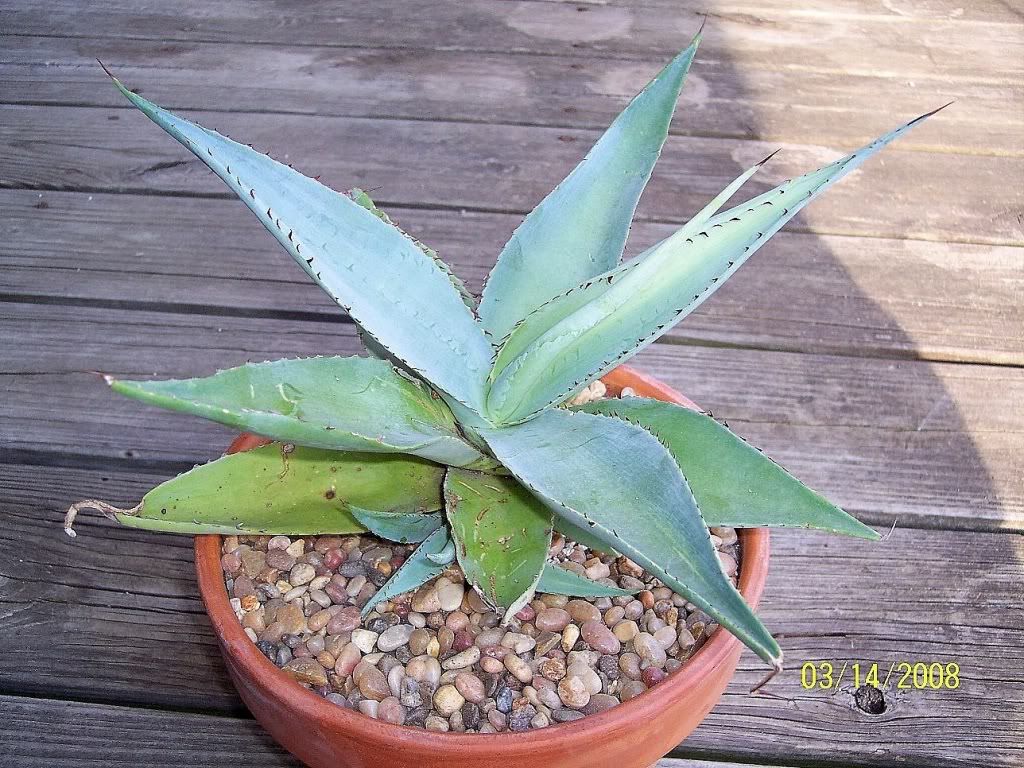 Fockea edulis showing signs of life YAY!!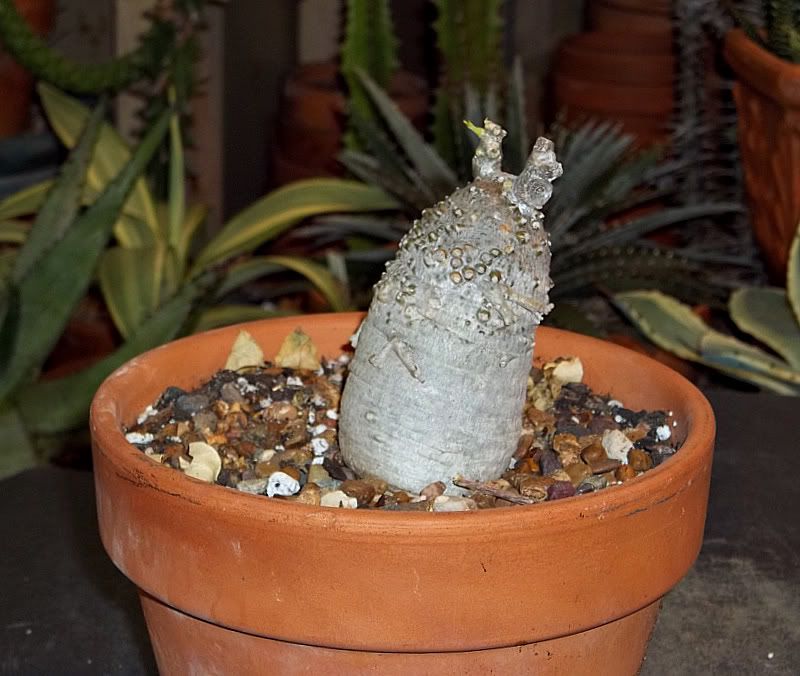 Not a very good picture, the lighting is messed up, but it shows a cool form.Tylecodon cacalioides.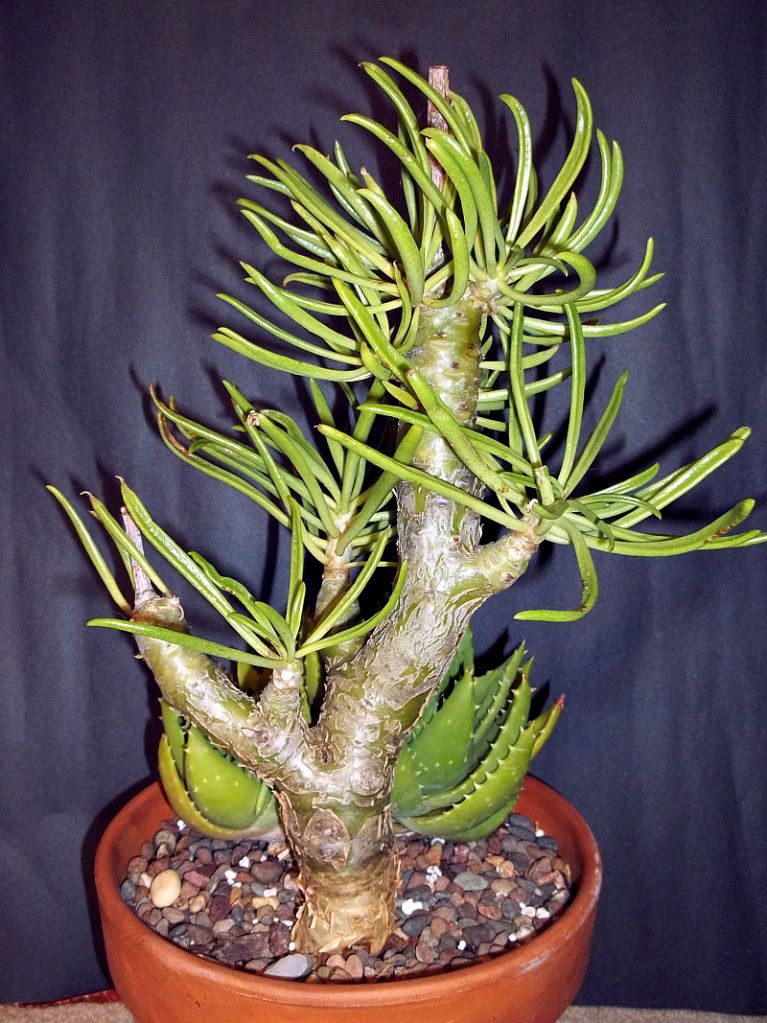 Another one I have coming out of my ears. Scilla violacea.
Recent picture, most of the leaves are gone. This one I plant to cut in the summer, its so top heavey. Anyone know if it will branch and the cutting will root? Euphorbia aureoviridiflora.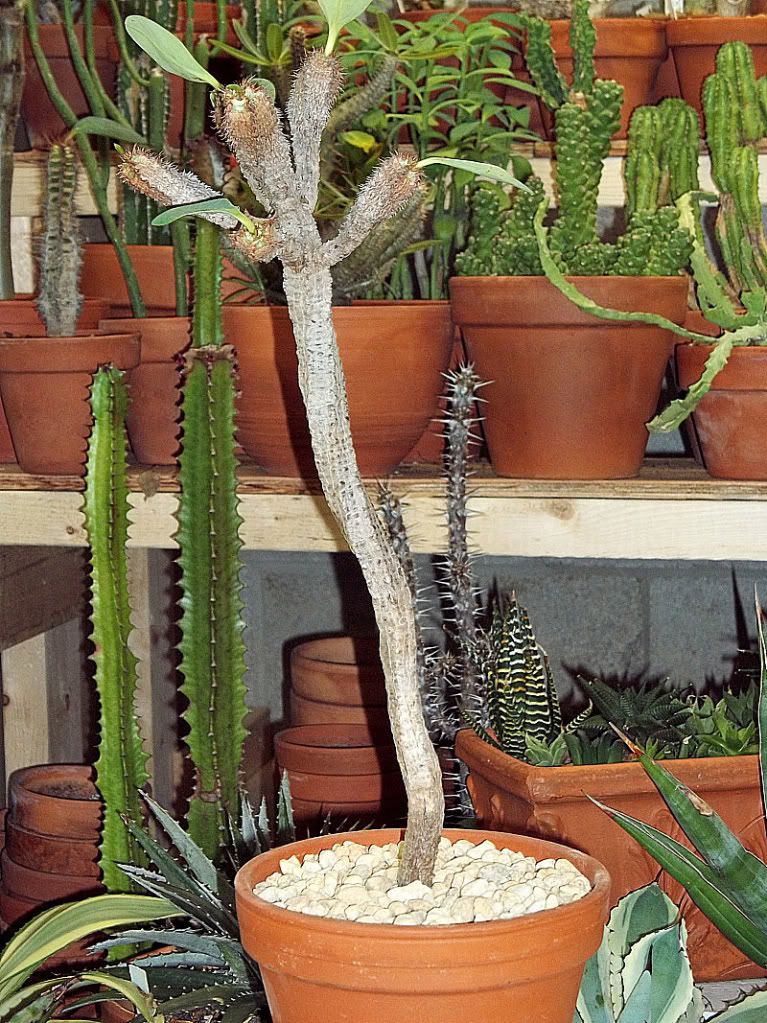 Euphorbia croizati. I plan to chop this one too. Its about 2 feet tall now.
The picture doesnt show how big the caudex really is. Euphorbia francoisii.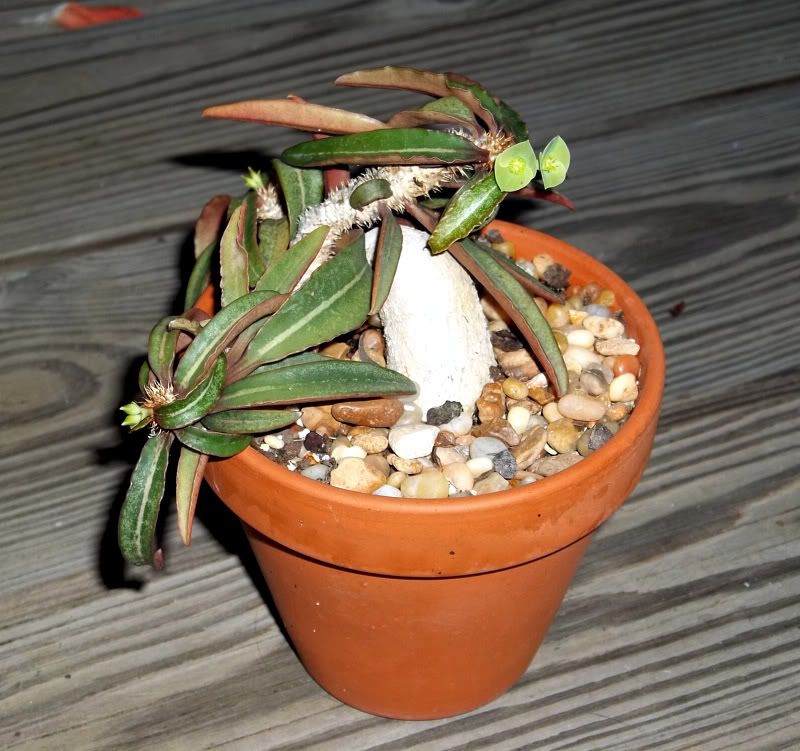 I'm thinking of chopping this one too. Euphorbia delphinensis.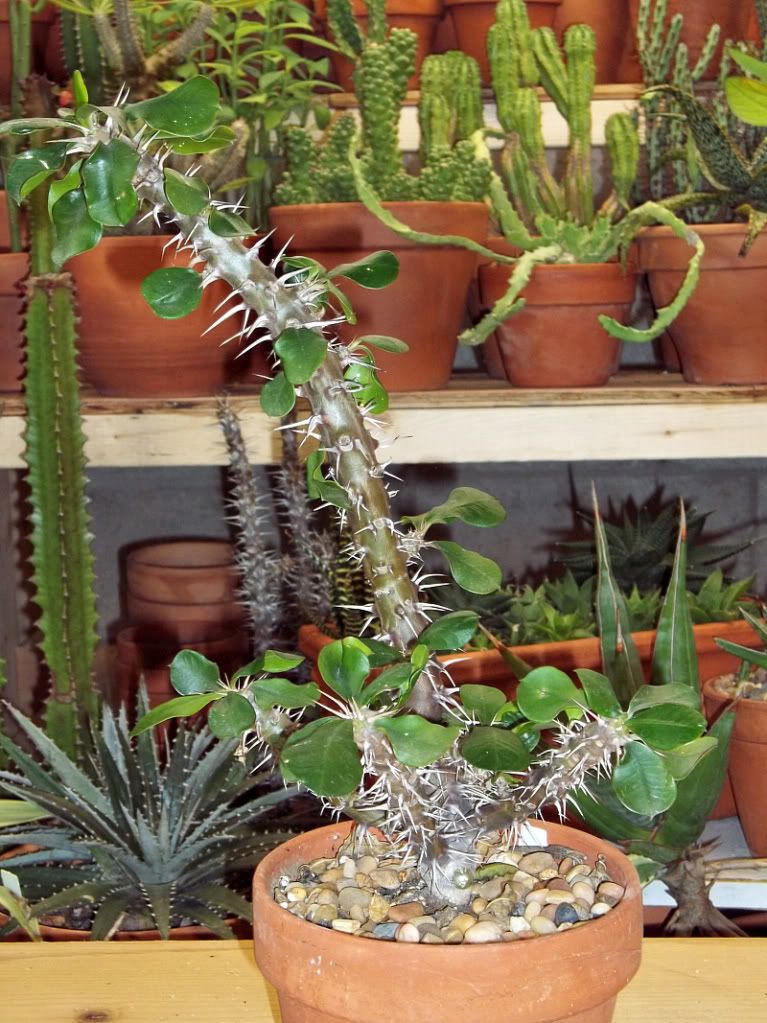 There is a pretty nice sized caudex under there. Seems to be a fast grower. I tried to root cutting but it didnt work. I'm going to try again this year. Euphorbia clivicola.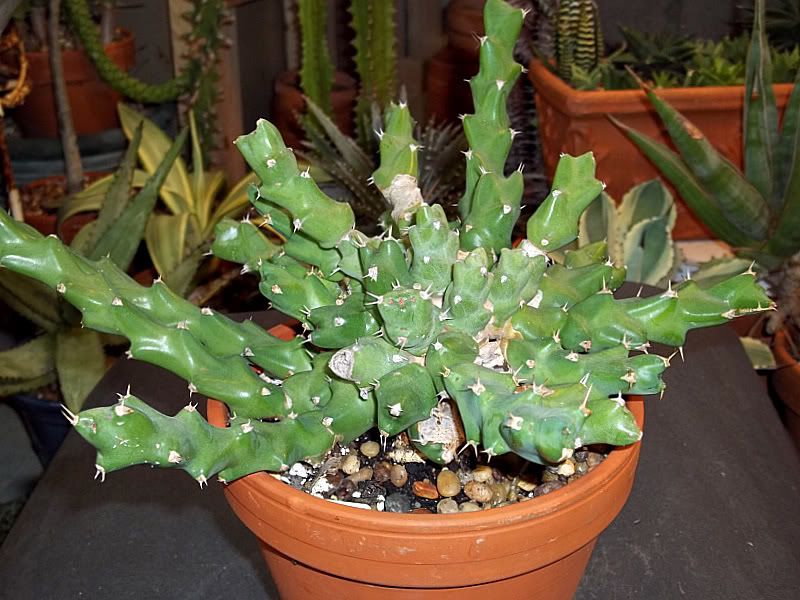 This has a pretty good size caudex now. I have rooted cuttings, does anyone know if the cuttings will form caudexes too? I'm hoping it will like E.knuthii. Euphorbia brevitorta.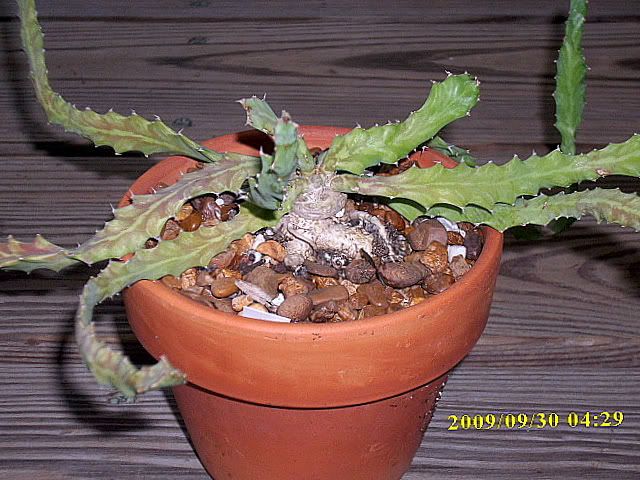 Another one I cant seem to get cuttings from. Euphorbia mccoyi.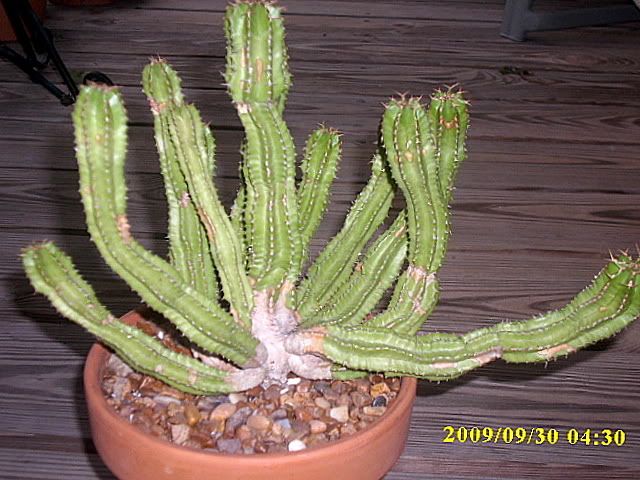 Euphorbia gottleibei.
I would love to take a cutting of this, but I dont have the nerve yet. Endadenium gossweileri.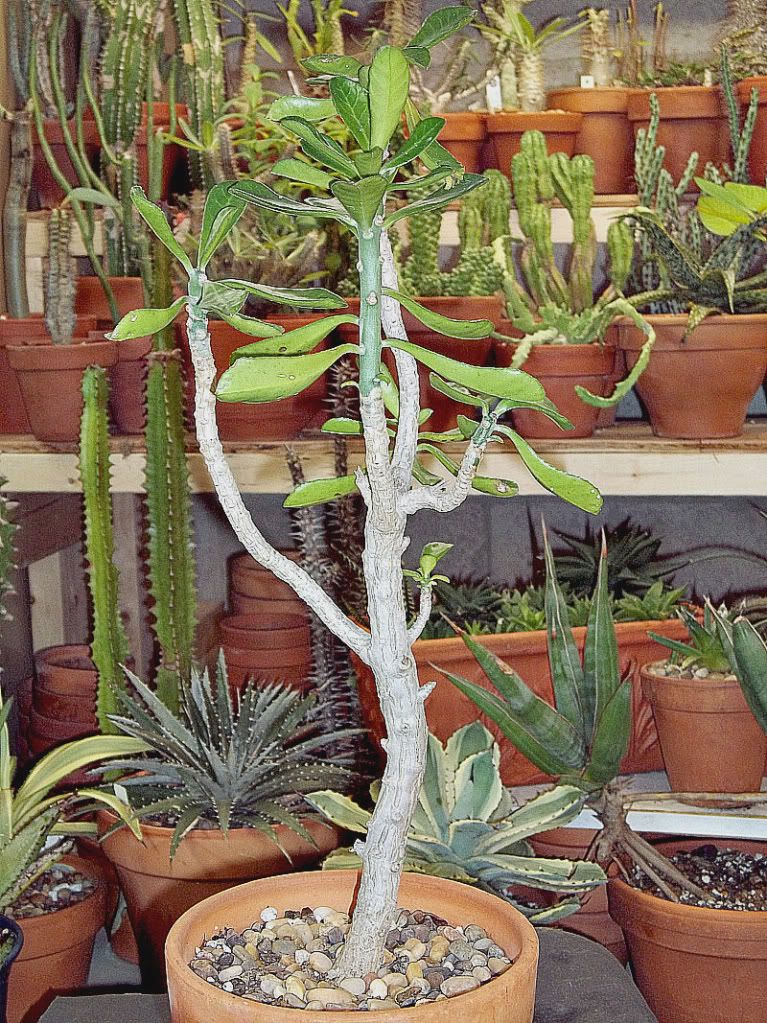 Euphorbia lactea variegata "white ghost". I can never seem to get a good picture of this guy. Slow grower, but cutting root easily. I bought this as a small cutting years ago. Back then this was very hard to get and very expensive. I have to laugh now. So much for that investment.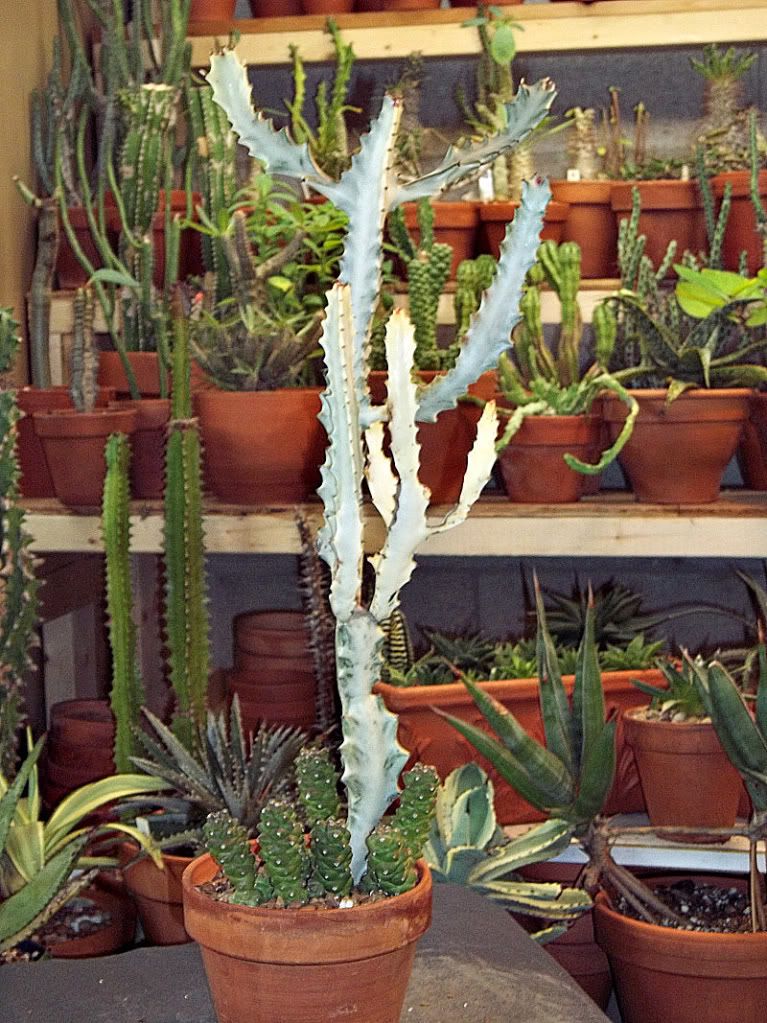 Euphorbia perrieri v. elongata
I have a thing for interesting patterns. Euphorbia pseudocactus.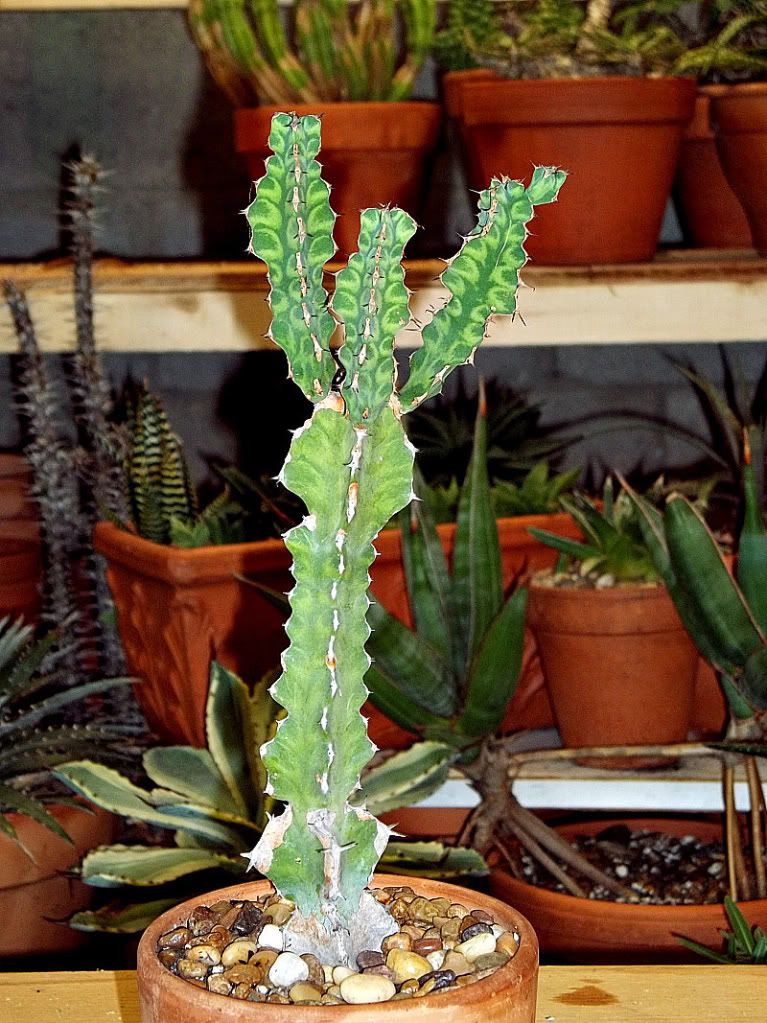 Euphorbia platyclada.
I would love to know what this is, it has a good size caudex that all the branches come from. I want to say Euphorbia petricola, but I'm not so sure. Any ideas?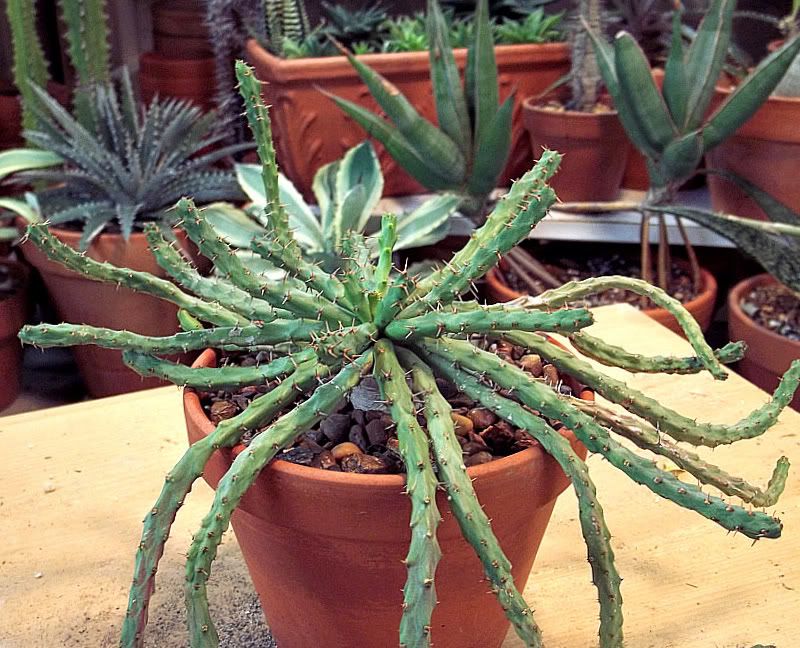 Heres my Euphorbia petricola. Very rooted cuttings I shoud depot to see if there are caudexes. There is a slight difference with the picture before this one.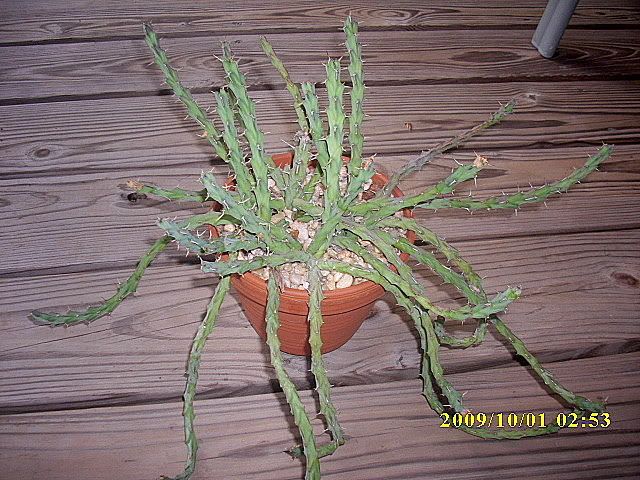 Euphorbia serendipida. I love the pattern and habit.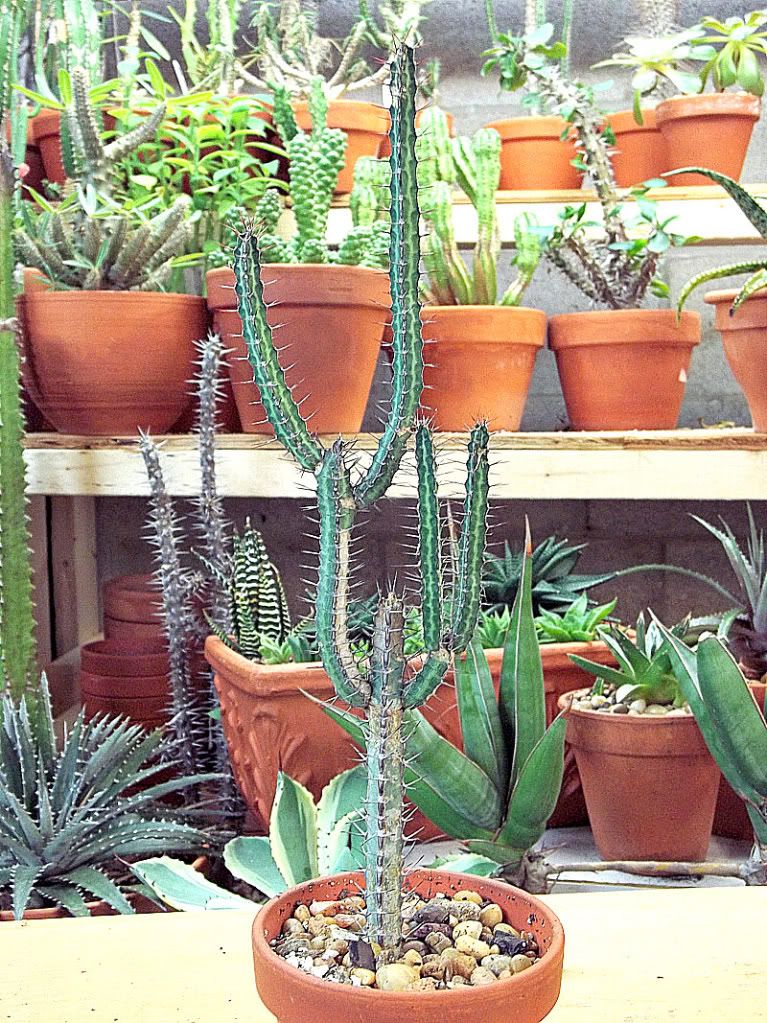 Euphorbia umfoloziensis. Kinda like how this pic turned out. I'm experimenting with black backgrounds. This colors up like this in high light.
Cant remember the name of this one and I'm too lazy to go and look at the tag right now, lol.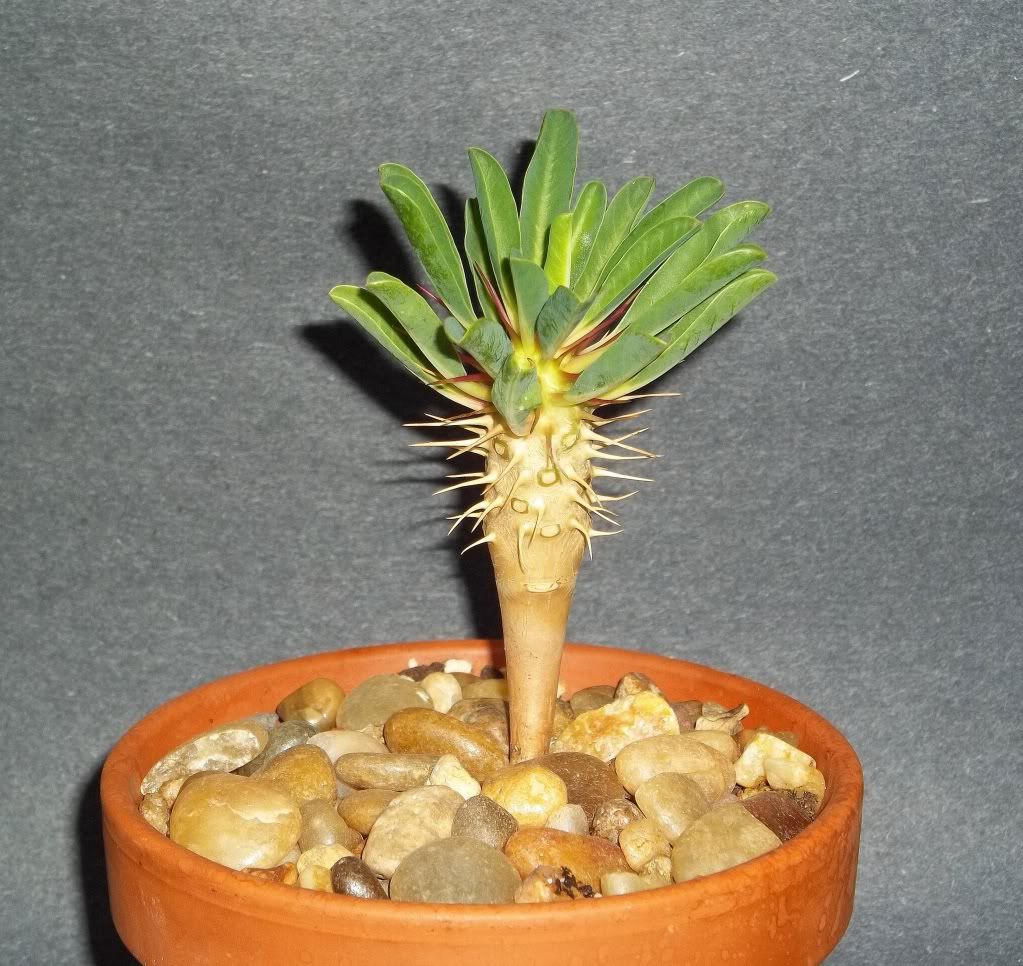 Synadenium grantii rubra.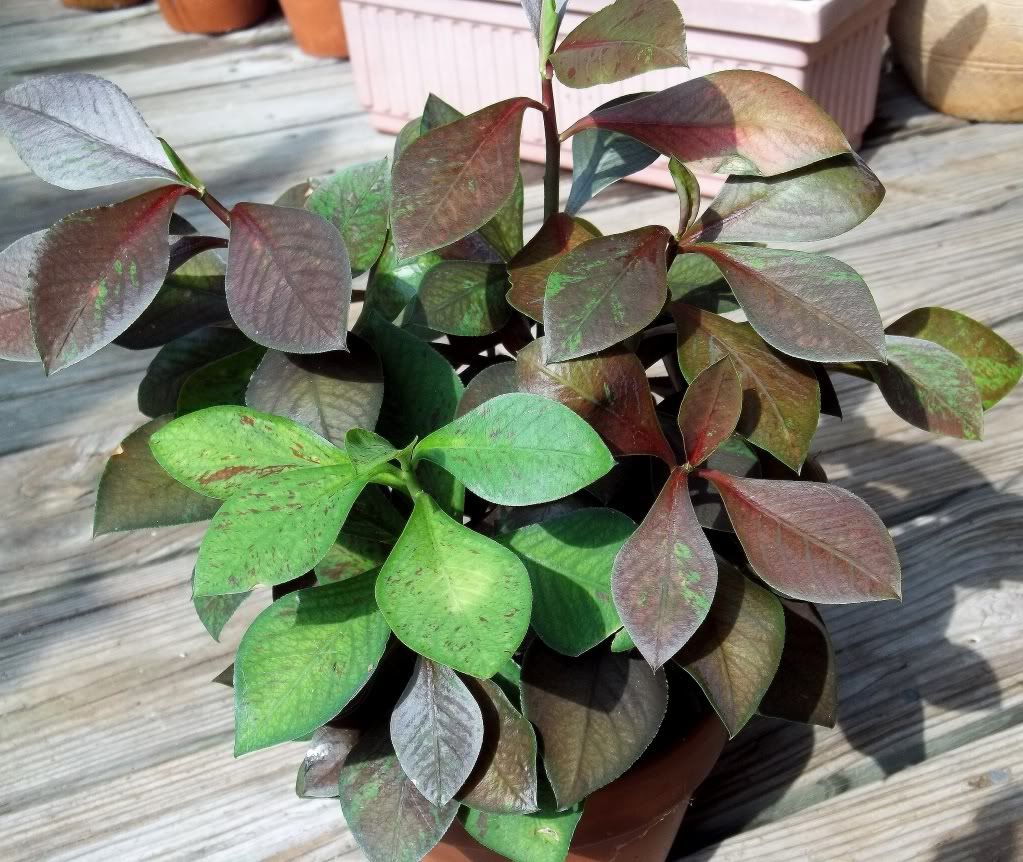 Sansevieria suffruticosa
Pachypodium horombense.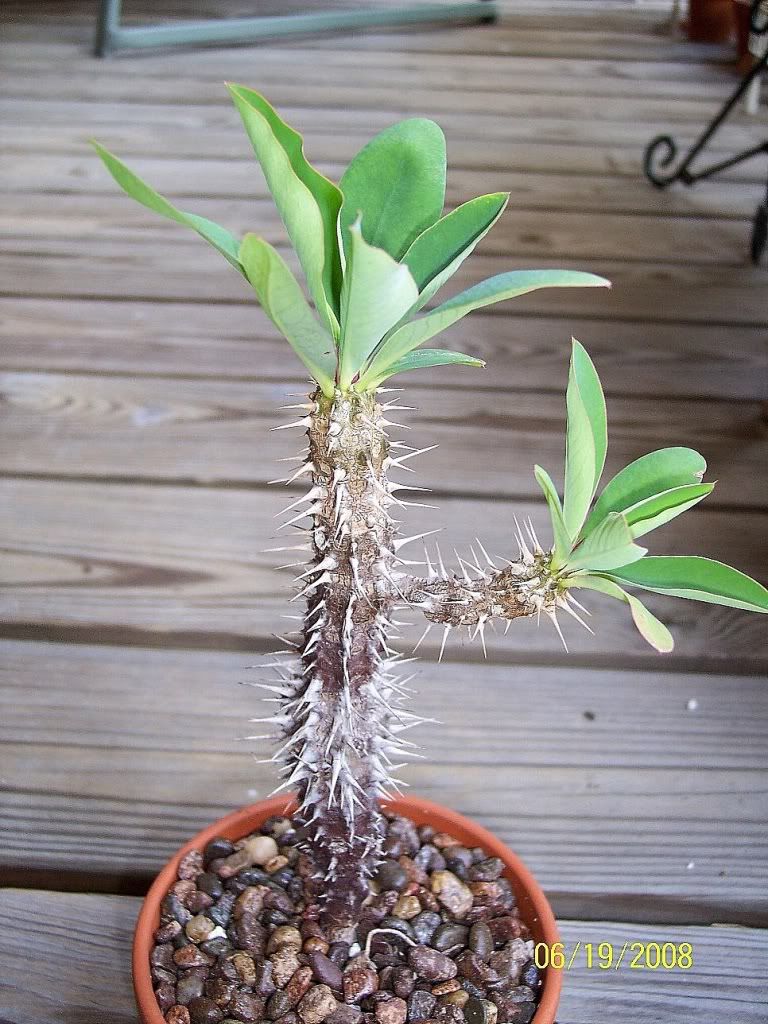 Pachypodium namaquanum.
No ID on this one either. I think it looks good dormant too.
Pachypodium lealii v. saundersii fma. compacta.
No ID again.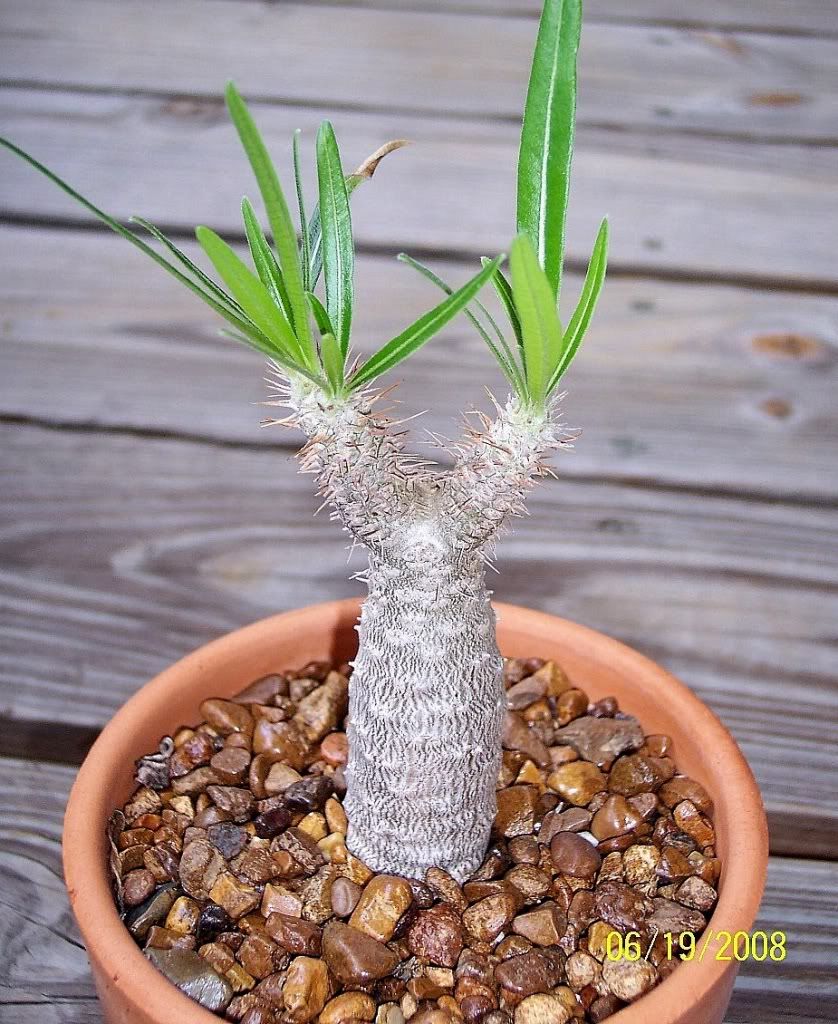 Pachypodium lamerei with 3 branches.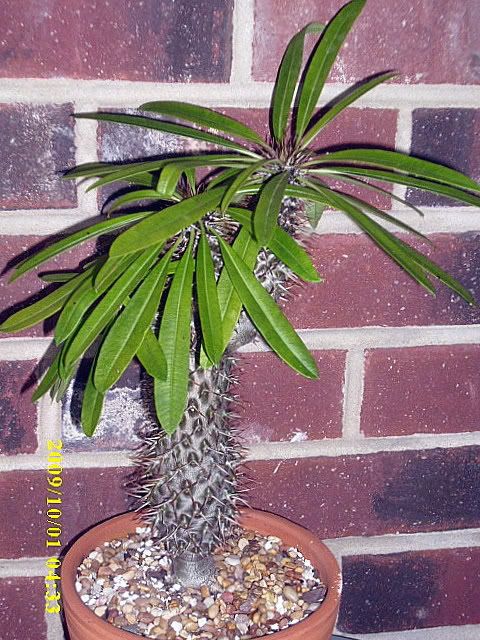 No ID, I love this one.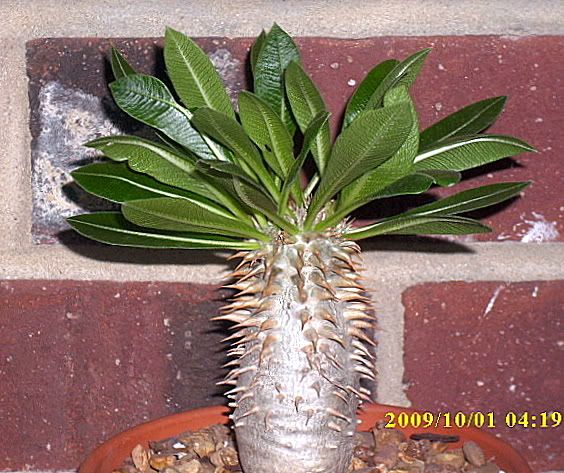 Feel free to let me know of any corrections or ID's. Have a great Sunday!
Denise