Moldy Jade stumps
I will start by saying that i think I have been over-watering my jade (and will stop that immediately). I haven't changed any conditions recently, no repotting, light changes etc.
One side was growing downward, despite lots of sun and warm location, and the other side was proliferating nicely. One branch (2-3 inches thick) was so heavy that i woke up on the weekend to see it broken and seeping all over the floor. I took a clean sharp knife and cut the end cleanly with a plan to root and pot the broken branch. I thought the end would just dry out?
Now, a couple of days later, the end I cut is full of black mold, and the stalk is becoming soft. I am worried that the other branch that is just slightly below the cutting will also die and fall off. I also don't want the mold to spread to the rest of the healthy plant!
Help! I don't want to cut off the mold, with the risk of just creating the same problem again.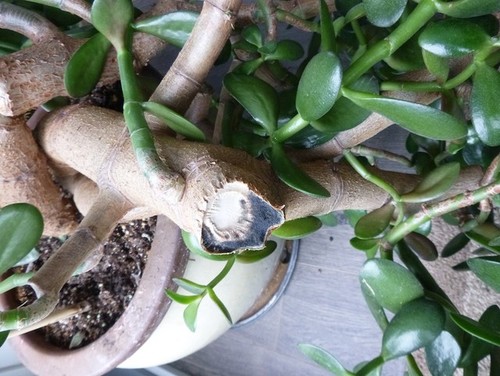 This post was edited by varga21 on Mon, Feb 17, 14 at 12:37