Greenstock magic (alcantarea heaven)
kerry_t_australia
(9)
July 21, 2009
As promised, here are some images of Greenstock nursery (was Stockade), just north of Brisbane, Queensland. They were all taken within the last 18 months, but most in June this year.
It is my very favourite brom place to visit, and run by my good mate Bruce Dunstan - plantman extraordinaire. Bruce is an intrepid traveler, venturing to remote areas within Central and South America, collecting seed and discovering new species of many tropical plants. He is off to Ecuador in October, and Panama next year after the World Brom Conference in New Orleans. Bromeliads actually only make up 10% of the nursery's stock. Other delights grown there include heliconias, gingers, and many types of succulents - all designed to cater for the landscaping industry. Bruce was secretary of the International Society of Heliconias for several years - and he's still a spring chicken! The majority of the plants are grown from seed. I am always amazed at how quickly they establish, in perfect germination and seedling conditions. The nursery is not generally open to the public (wholesale business), except for occasional Open Days, as Matt mentioned.
Of course, being one-eyed, I have mainly taken photos of broms. Seeing as we have been drooling over alcantareas in particular, they are the major subjects to show you in this thread.
Ready? Here goes...
#1. A magnificent specimen of Al. heloisae (pronounced hello-weesa).
#2. Al. imperialis purpurea (with employee Allan as a yardstick).
#3. Al. imperialis purpurea, close up.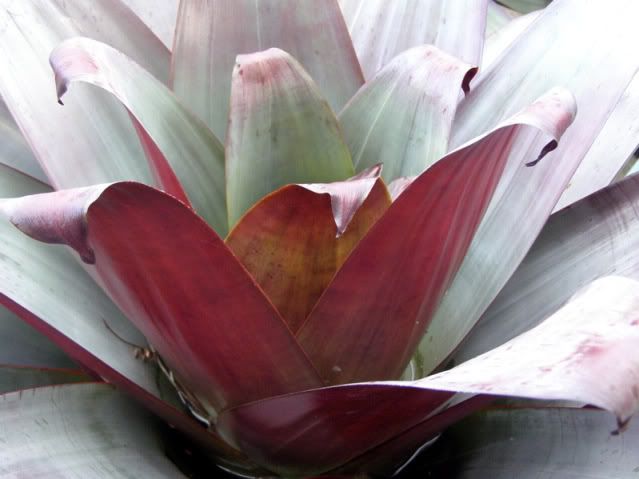 #4. Al. glaziouana
#5. Al. odorata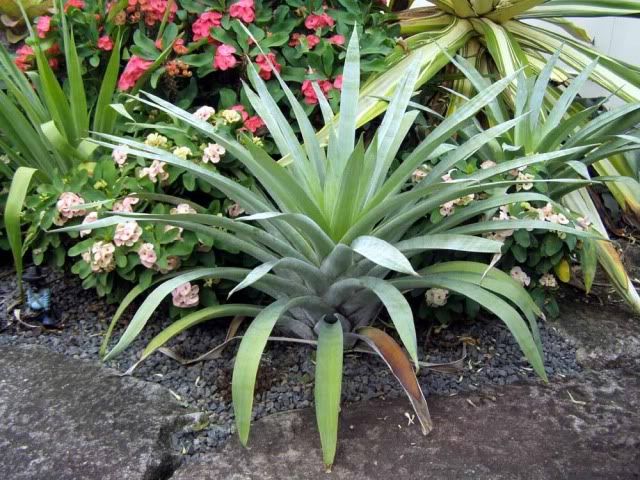 #6. Al. odorata - from various seed sources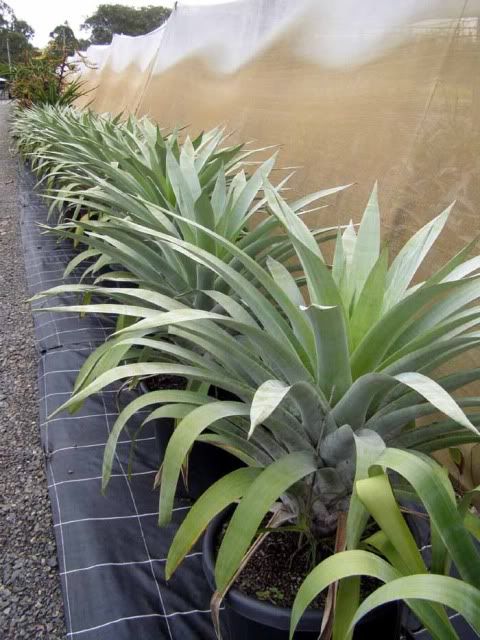 #7. Al. edmundoi (ex Selby Gardens), showing affinity to heloisae.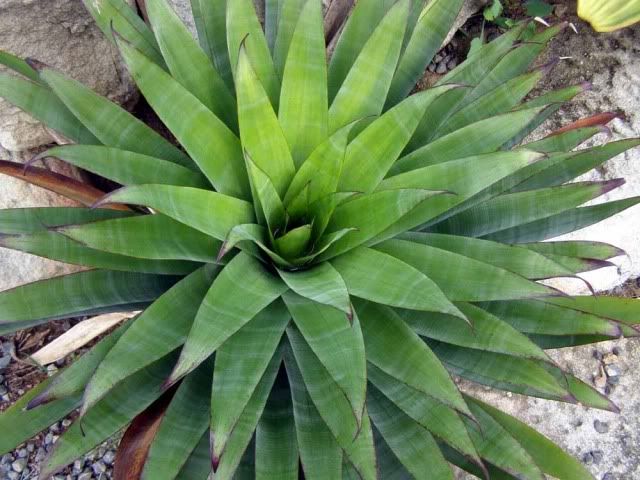 #8. Al. imperialis 'Landsendt Red'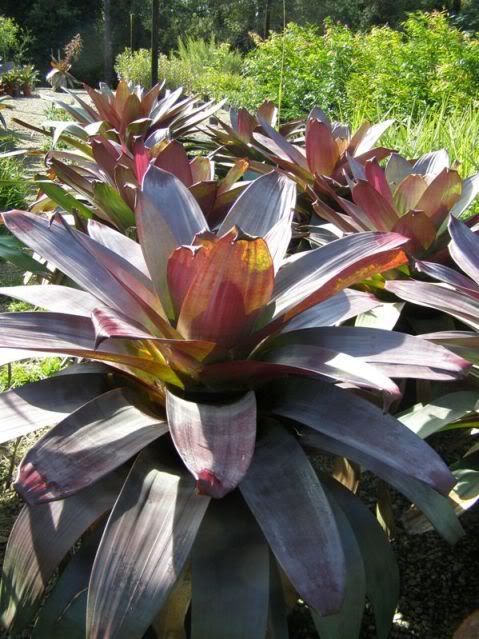 #9. Al. 'Visconde de Maua'(place of discovery) - considered to be the true Al. regina.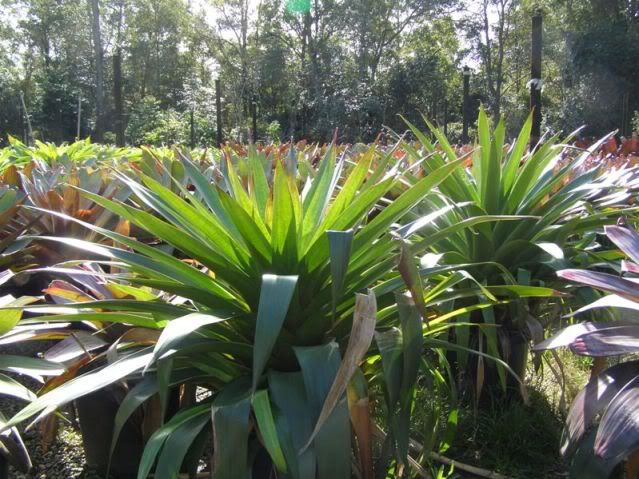 #10. Collection of alcantarea varieties.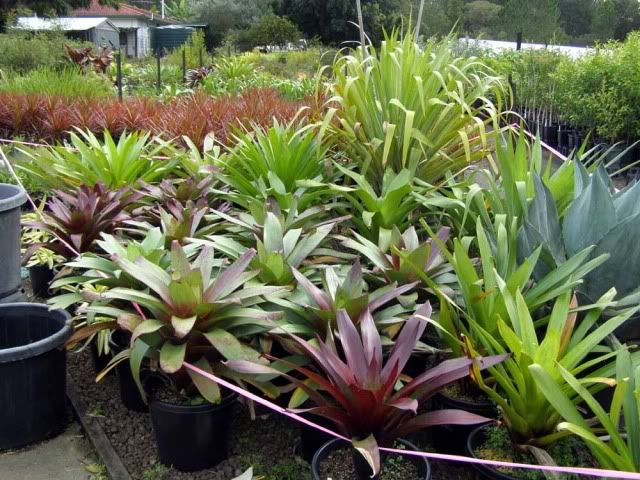 #11. Al. imperialis variety - grown from seed collected in Organ Mountains, Brazil.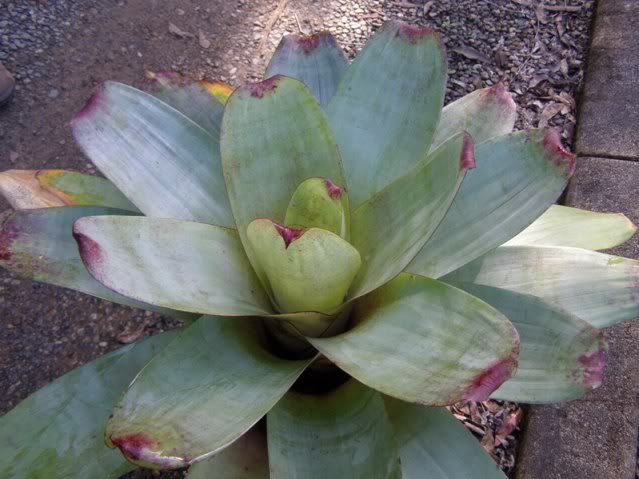 #12. Al. imperialis variety. This photo was sent to me by Bruce, and taken in the wild, Corcovado, Organ Mountains, 2005. Bruce says this is a famous specimen for photographing by intrepid collectors, and is the same seed parent of the above specimen.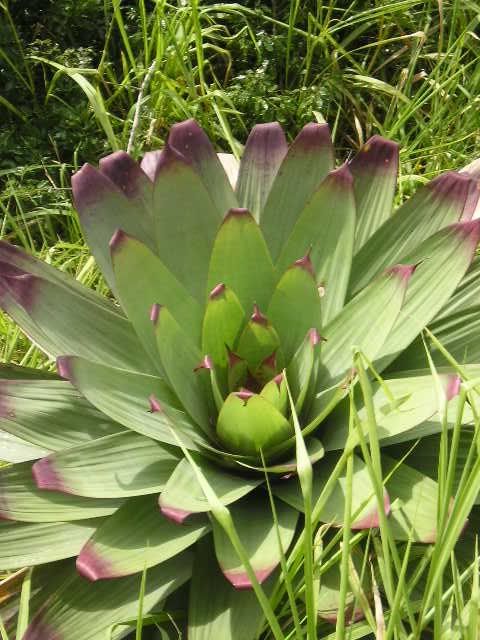 #13. Al. imperialis 'Purple Skotak' - note the very wide leaves, giving this plant the nickname "The Purple Cabbage". This is the same specimen, only more mature now, as Peter Tristram photographed for the FCBS photo index.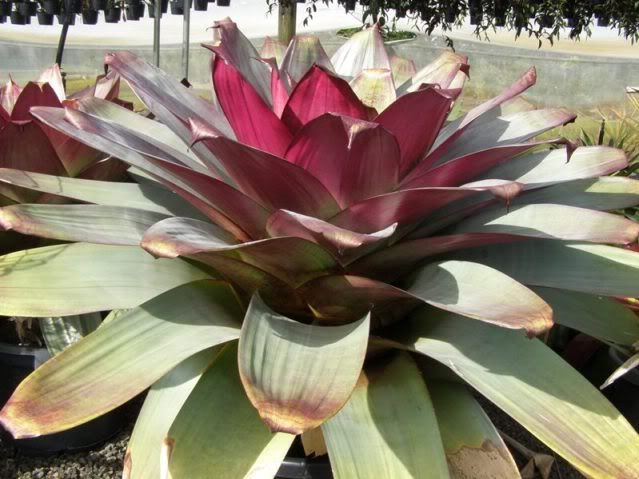 #14. Al. extensa (two forms)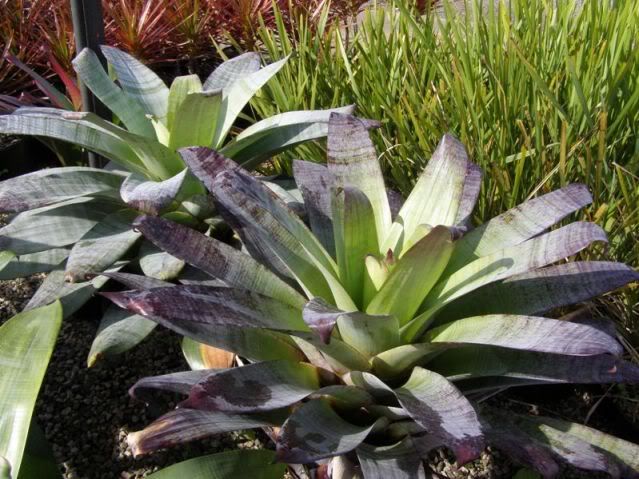 #15. Variegated Al. imperialis rubra - from Bruce's personal collection.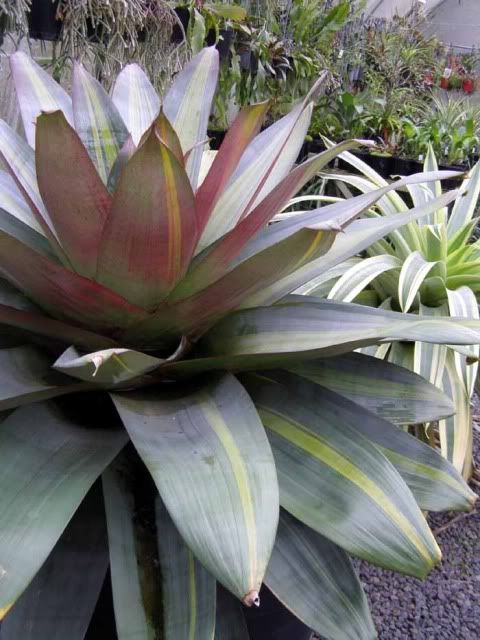 #16. More yummy variegated beauties, mostly of Al. extensa and glaziouana. Also from Bruce's personal collection.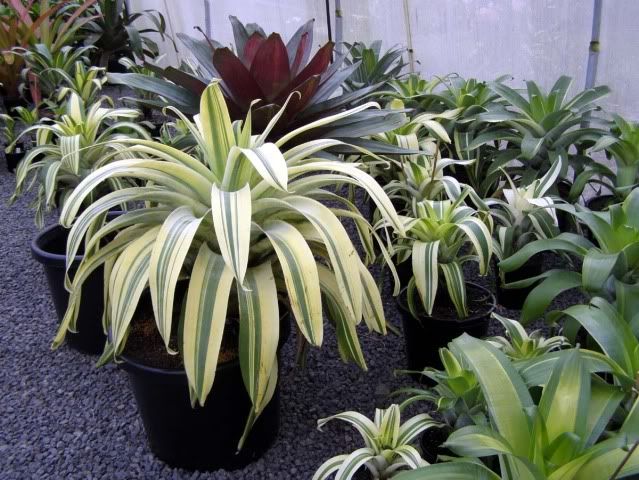 #17. My most recent purchases last month! Front large plant is Al. extensa (from seed collected at Imbe, Brazil). It promises to be a really big'un. That's Bruce working hard, pushing my new babies up to the packing area.
And now for some photos of broms other than alcantareas.
#18. Don't you just love this display tree (jacaranda) at the nursery??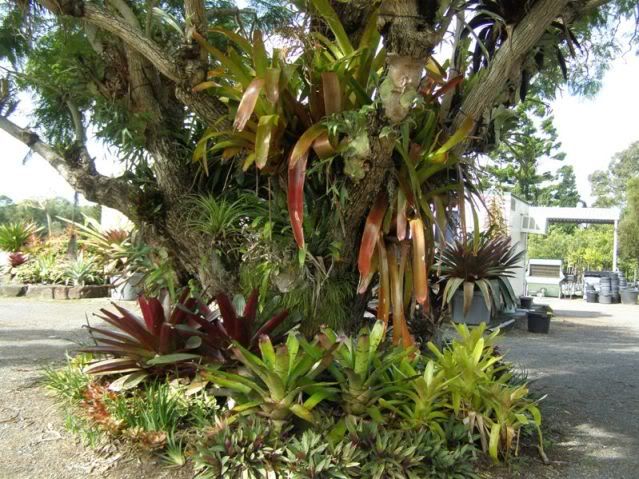 #19. Rows of beautiful Vr. gigantea var. seideliana (Nova).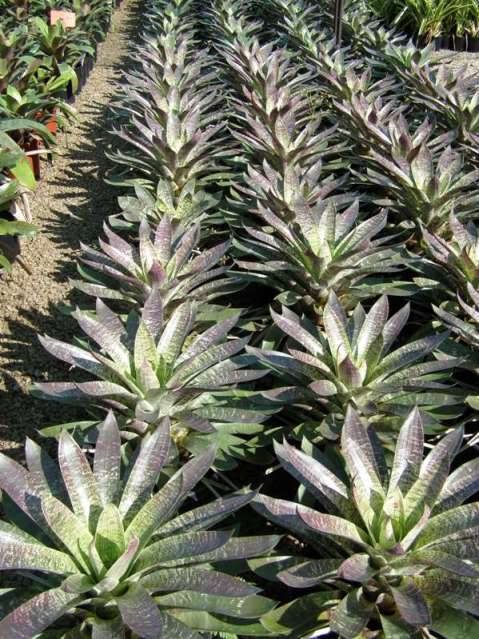 #20. Vr. 'Pahoa Beauty', a Hawaiian hybrid with Nova in the parentage. (Bruce's personal collection).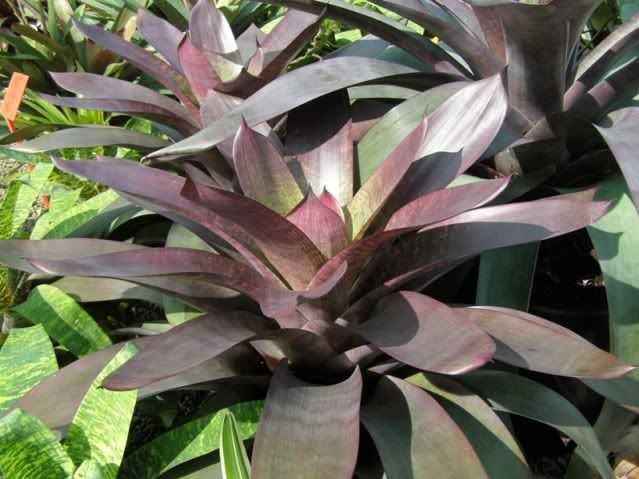 #21. A section of the general sales area.
#22. And last, but not least, especially for Gonz - a flowering Tillandsia rauhii, in Bruce's personal collection.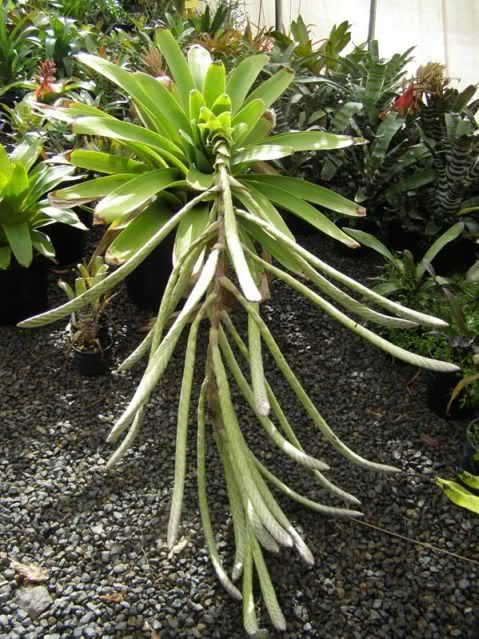 bu-der, bu-der, bu-der, That's all folks! I hope you enjoyed the visual feast.
Cheers,
Kerry