Similar Caterpillars
misssherry
(Z8/9SE MS)
May 11, 2014
I made pictures of spicebush, palamedes, tiger and red-spotted purple caterpillars in the cages today, and when I looked at the pictures, I had to look twice to figure out which was which. Spicebush, tiger and palamedes swallowtail caterpillars look SO much alike!
I can see the 'eyes' behind the 'eyes' of this spicebush cat, so I think the next instar will be the first green one -
Palamedes swallowtail caterpillars are almost identical to spicebush cats. Their bodies are a little more angular, they only have one set of 'eyes' with just little red ones behind the big ones that can be seen in the green instars, and they eventually get bigger than spicebush cats -
I saw a palamedes flying slowly in the top of the big red bay or swamp bay that grows in my front yard area about an hour ago. There are probably already caterpillars up there, but it's too tall for me to reach. I have an 8' ladder that I use to gather leaves from the bottom branches to feed my other caterpillars - this is a very vigorous, healthy tree, knock on wood!
And tiger caterpillars look similar to the above two, just plainer. This tiger cat hasn't grown as rapidly as the palamedes and spicebush cats, but that's true with every one of them I've ever raised. They're slow! I think the next instar will be the cute green one with the cream colored saddle -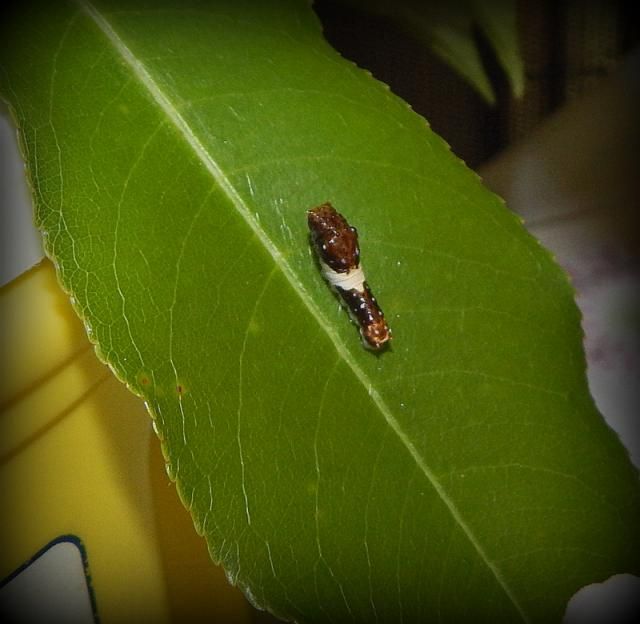 This red-spotted purple is beginning to look like a red-spotted purple. Once RSPs get beyond a certain size, they grow very rapidly -
I've got one red admiral caterpillar, but it's hidden in its nest. There are numerous American lady cats outside, where they'll stay in their impenetrable looking nests for a while, and I've recently posted a picture of a pearl crescent. The pearl crescents are starting to head for the top of the cage, so I think they're finally about to pupate!
Sherry