Large Jade - needs to be 'rejuvenated'
Something fell on my large jade last fall & many branches broke off. I saved some bigger ones to be potted. Now I need to do something with the mother plant. It is shapless, but healthy. There is new growth since the "accident". Two remaining thicker branches are opposite of each other, from tip to tip is about 44inches span. I don't mind to prune off these if that's best for the look of this plant.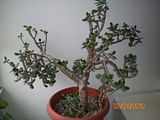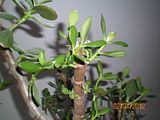 Trunk is just over 8.5" circumference at the base. There is also a branch growing from the trunk near the base which I think should be pruned off.
The main trunk is split into "Y" approx. 9.5" from the bottom.
I have this plant for about 17yrs. now. It flowered few times (after I started to keep it outside). I started many new plants from cuttings off it, have 3 right now that are about 1.5yrs old. More photos on photobucket.
Is it right time to do it now or is it better to wait? I keep it outside when warm enough. It also needs repotting, last time was only potted-up & that is at least 3-4 yrs ago.
I would appreciated any suggestions as to how to prune this plant.
Thnx.
Rina