Suncrest Brugmansia about to bloom
mark4321_gw
March 19, 2014
I posted about the first bloom on my plant last year when I was trying to figure out what it was, and when it would bloom. Well, as that earlier post described, we know what it looks like. However we still don't know exactly what it is. It was originally sold by the wholesaler Suncrest as B. sanguinea 'Inca Princess', the all yellow form. The Brugmansia gurus all agree it is part vulcanicola, hence a "vulsa" (VULcanicola plus SAnguinea). One possibility is that 'Inca Princess' made a seedpod, perhaps by pollination with the Strybing vulsa. Suncrest then either sold the seedlings or rooted cuttings derived from a seedling.
I bought two plants (the same?) and have one in the ground where it's gotten much bigger. Unfortunately, it's in a spot where it gets afternoon sun, so when it's hot (70s and 80s), it tends to wilt. As a Sphaerocarpium, or cold-group Brugmansia, it prefers cooler weather and is not suited to places with hot summers. Probably AHS heat zone 4 is the limit. Here's a link to a heat zone map: http://www.upsidedownpatiogarden.com/images/heat_zonemaplg.gif
Anyway, it has a couple buds about to open, and hopefully it can form more before it gets hot (we average about 75/55 in the summer). The buds are about 7 feet in the air.
Grassy Knoll Exotics sells this plant and I'll give a link. If you want to see in advance what it looks like, there's a photo from last year on their site.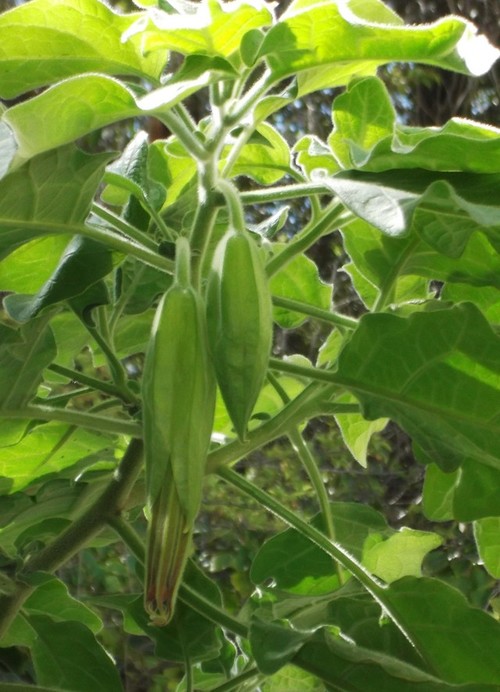 Here is a link that might be useful: Suncrest vulsa at Grassy Knoll
This post was edited by mark4321 on Wed, Mar 19, 14 at 1:18