30 different cacti care help. incl. Astrophytums
mushibu10
(zone 8 (UK))
March 2, 2014
hello,
SO I have just got a new lot of cacti for a fantastic bargain (works out at 41pence each).
so here is a list of them
mammilliaria elongata, sheldonii,gracilis+ 'bunty', bocasana 'multilanat', spinosissima 'unopico',
prolifera, spinosissima, collinsii, perbella, hidalgensis, collinsii v.tehuantepeck,
hamatocatus hamatacanthus
gymnocalycium minanovichii
aylostera kupperiana
echinopsis hybrida
trichocereus pasacana, spachianus
myrtillocactus geometrizans
austrocylindropuntia subulata
opuntia leucotricha
lobvia hybida
sohrensia formosa v.nivalis
weingartia lanata
ferocactus glaucescens
astrophytum myriostigma 'nudum', asterisas 'multihybrida', bisops hat, asterias 'multipunctatum', ornatum
I will also post a link to drop box folder of the images( sorry its in Zip format over 30 files 127MB).
I would like to know how to care for them from how much water when and rain/tap, to temperatures and light and when they might flower.
it is alot of information i am asking but i dont want to kill them.
I have had a Silver torch from seed (my self it's now 4 years old and is foot and half talk with 2 stems (it did do a third but i ended up cutting off to root for a friend)
I know Astrophytums are quite hard to care for so what advice can you give me?
(they will be kept indoors on window cill that has sun from morning till 3pm (at moment) in summer it's from 7am till around 8pm)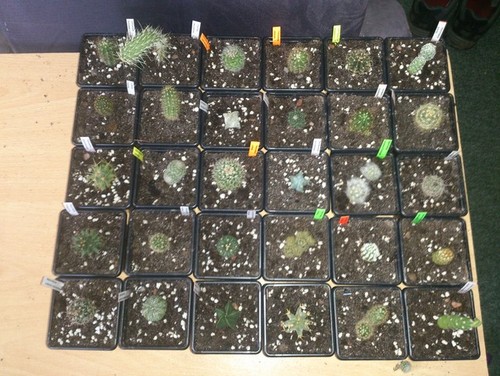 Here is a link that might be useful: Cacti images