A good choice of air plant for this coconut planter
cadillactaste
September 2, 2013
I am wanting an air plant to compliment this naturally split coconut that I purchased. Waiting for the seller to bake it...then I will hang it from a Macrame plant hanger.
I actually seen this done while in Honduras on a mission trip. We all actually thought it some sort of rootball exotic plant. No one there knew what it was and the guest house office was closed by the time we noticed it'll.
I've been doing google searches and found the seller had something similar. And asked for one uncut...so I could take a wood chisel to it and make a split. They replied back they had ones with natural splits! And sent me a few angles...it is 7 inches tall and 5 inches wide. The one on top is the one I purchased. Attached the link to the one I purchased the planter from...in case anyone is interested in one for themselves.
That said...trying to think of a really cool air plant to have sticking out the split. That isn't the same as the one I have. (Which I forget the name) I'll post a photo of it...so you know which not to suggest.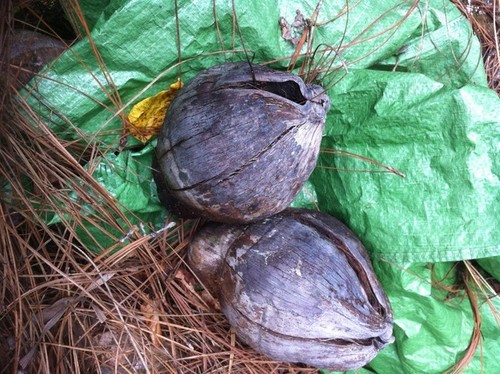 Here is a link that might be useful: http://www.etsy.com/shop/FlathersCreations?ref=listing-shop-header-item-count