A Lifer!
butterflymomok
(7a NE OK)
June 23, 2011
As I related in my previous post, I was on a mission when I went to the TGP. I was in search of a butterfly I had never seen, and had tried to get a glimpse of the past three years.
It didn't seem to be going to happen. I'd pretty much given up, and was on my way out of the preserve. There was a wildflower meadow to my left as I was leaving. It was lit up with Black-eyed Susans, and an occasional stand of Bee balm. It was magnificent, and I slowed down, thinking I would check it out for bugs. As I came to a stop, there was a particular stand of Bee balm close to the road, and I could see a dark silhoette of a butterfly perched on one of the blooms. I took my camera and using my telephoto lens, checked it out. Could it be? My heart was beating a little quicker. I slowly removed myself from the car, and crossed the road. The butterfly lifted and flew to a more distant bloom. By now, I was pretty sure that I had found my little guy. And, you can see my photos below: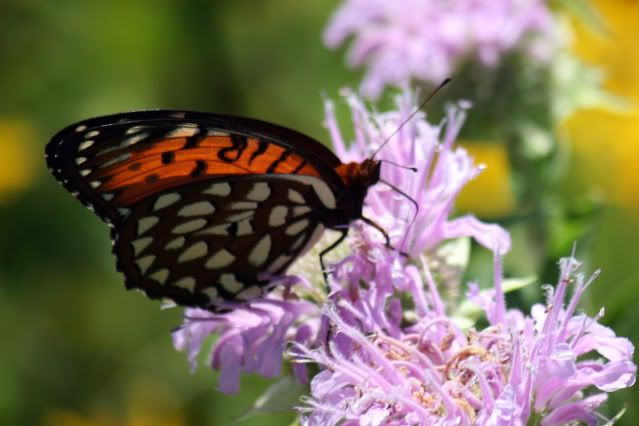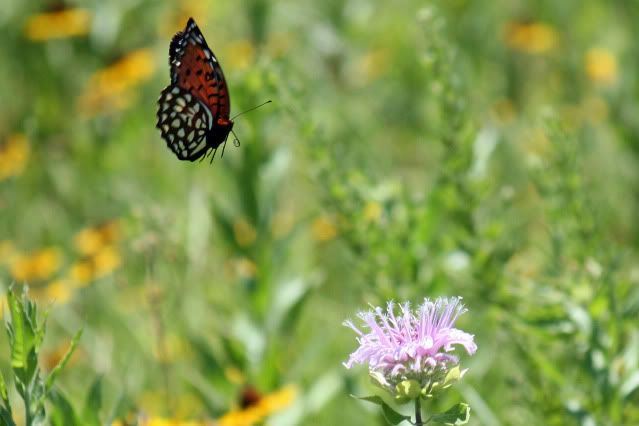 If you haven't already IDed this beautiful butterfly, it's a Regal Fritillary, Speyeria idalia. Heaven must be full of butterflies like this one, as when I saw it, I gave thanks to God. A field of wildflowers blooming, and butterflies on wing . . . my idea of the perfect eternal home.
Sandy