Red-Spotted Purple vs. Viceroy
misssherry
(Z8/9SE MS)
June 25, 2013
I watched as a red-spotted purple laid eggs on a Webb's black willow (small form of S. nigra) that's growing in a large container in my garden. I've counted 8 eggs, but there could be more.
Two years ago, I found eggs on the other small willow in my garden. I raised them myself on the porch and had a lot of trouble keeping willow fresh. So, this time, I'm going to try and figure out a way to shelter the willow itself, which is going to be hard to do, because, Webb's type aside, it's still petty tall.
In 2011, I thought all the caterpillars would make red-spotted purples. Was I surprised when about half of them turned out to be viceroys! I haven't seen a viceroy on my property in about ?10 years, and, since some old butterfly books say that RSPs, white admirals and viceroys are three versions of the same butterfly (they will breed with each other) I've wondered if it's possible that all or some RSPs carry the genes for the orange butterfly known as a viceroy, like maybe from a recessive gene? I know this is highly unlikely, but I sure want to see what these willow RSPs turn out to be, just in case.
So, I'll start trying to figure out the best way to protect them. If anybody has any secrets to keeping willow leaves fresh, please let me know. My two little willows don't make many leaves, so, if they don't stay fresh, I'll have to travel every day to get them from roadside sources. As I recall, I did a lot of that with the 2011 group.
Here's a picture of two of the 2011 mixed group -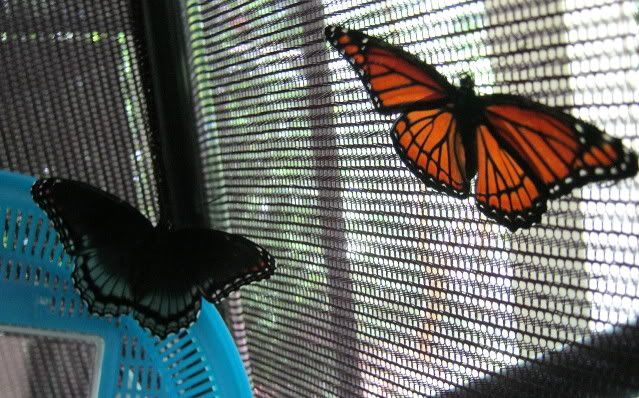 Sherry