Comparing Hairstreaks
misssherry
(Z8/9SE MS)
June 15, 2011
Once again, while I was working in my garden late this afternoon, a hairstreak landed on a bush/vine/plant near me, and slowly turned around in circles while rubbing its hindlegs together. For whatever reason, I don't see many hairstreaks in the morning or middle of the day, just mainly in the evening.
At first, I thought this was a faded gray hairstreak, then on second look, I thought it was a faded striped hairstreak. Looking at it again, I now think it's a king's hairstreak - sweetleaf, the host plant for king's hairstreaks, is common in my woods.
Here's a gray hairstreak that nectared on milkweed in my garden -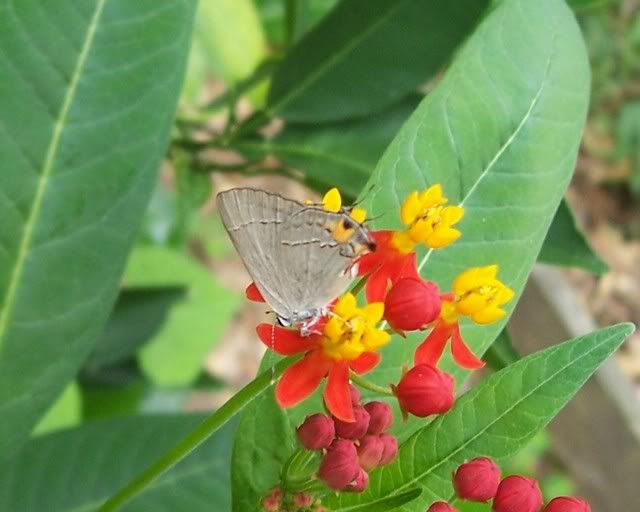 And here's a gray hairstreak that I photographed in a savannah in Jackson County -

Here's a picture of a striped hairstreak that I recently took -

Today's mystery hairstreak landed on a hops tree/bush in the light of the sun, which was very low in the western sky. This one was frayed -

I think today's hairstreak is a king's hairstreak, because the orange cap over the blue area by the tails is rectangular-shaped, not V-shaped, like those of striped hairstreaks.
Have I identified these butterflies correctly?
Sherry