Not exactly what I was going for, but.......
LisaCLV
(HI)
December 2, 2009
....I'm not complaining!
If I have a blind spot as a hybridizer, it's probably that I tend to focus so much on foliage markings and coloration that I often overlook good form. It's not that I'm not attracted to a perfect round rosette, it's just that if I have to choose between that and an interesting pattern, I'll go for the pattern every time, and just hope that the form will somehow sort itself out in the process. Of course it seldom does, so I've lately been forced to look within and contemplate the error of my ways. Old habits die hard, but every once in a while I'll stumble across a magical combination almost by accident and find myself wondering "can that really be one of mine???"
Such is the case with this grex. I really wasn't thinking about form when I made the cross, I was actually going for color. I wanted a concentrica-ish plant with the hot colored streaks of a Groves hybrid. To that end, I crossed one of my own hybrids, Momona, with Big Mac. Well, I didn't get what I wanted, but look at what I did get:
#1
#2
#3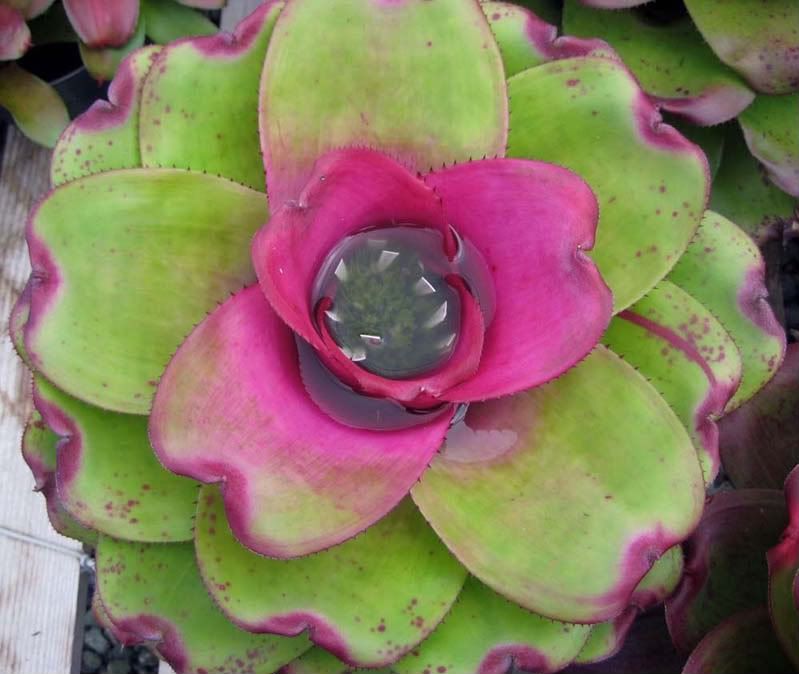 #4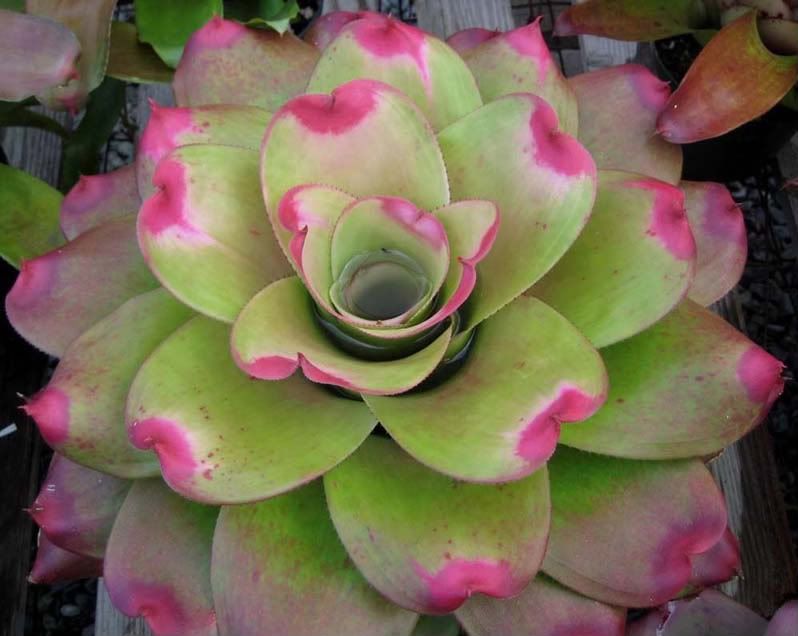 #5
#6
#7
#8
Now, most of you know that I rarely keep more than 3 or 4 cvs from any grex, but I think I've culled down about as far as I want to go with these 8. Some are better than others, but there are no dogs here.
Also, they're all fairly different...... except for #1 and #2. I don't know what to do about those two. They actually look more different in the photos than they do in real life, probably because I'm not usually looking straight down on them like this. I'm not ready to pick out names yet, but when I do, I'm not sure if these should each have their own name or be #1 and #2 of the same cv. I guess I'll wait until they bloom to decide that. If #2 has a darker cup as well as the darker outer leaves, it will stand out more from the other one. Those scooped out leaf tips on both of them just keep improving with age.
#3 was comparatively colorless until it bloomed, but I kept it around as a contrast to the rest of the grex. I'm glad I did, it was really lovely when the flowers first opened a couple of months ago. It's gotten a bit duller now. That's the only one to bloom so far, and yes, those are pollen tags in there. ;-)
#4 has some of the coolest fingernails I've ever seen, and is also the biggest of the bunch. Oddly enough, I came this close to hurling it onto the trash pile when it was younger because the the lower leaves have a kind of blotchy, unfinished I-don't-know-what-I-want-to-be-when-I-grow-up kind of look to them, but those fingernails saved its life! It also has that upturned leaf tip that I am particularly fond of.
#5 is a bit more subtle than some of the others, but I'm a fan of pink, so I'm hoping for a shell pink cup.
#6 is really growing on me with those weird fingernails too. Really, I don't know where those came from, but it's got a voluptuous "thanks for the mammaries" vibe that I rather like. A lot going on there.
#7 may not have a lot of flash, but you can't beat the form. It lies a bit flatter than some of the others, like a layered petticoat.
#8 is the least interesting to me, and frankly I probably wouldn't miss it much if it were gone, but in another grex it might be the pick of the litter, so it's a keeper, at least for now.
Now for the disclaimer: No, these are NOT available. They are one-off seedlings. They will not be in the trade for several years, so for all you lurkers who have been copying my pictures and emailing them to Michael asking for the plants, PLEASE DON'T. Not only is it bad cyber-manners, but he doesn't have them. Sorry if I sound cranky, but this is kind of a pet peeve of mine. I do enjoy sharing with other GW contributors all over the globe, and I thank all of my online friends for understanding my position.