Avocado upwind from Pool?
gregbradley
(Upland, CA USDA 9b Sunset 19)
February 20, 2014
My original plan was for a Swan Hill Olive in a 15'x15' area about 20' upwind from my pool. The problem is that I should have planted a 24" box one about 10 years ago. In order to stop the light pollution from my neighbors lights it would need to be 10-12' tall by now. I could struggle and get a 36" box tree to that spot but it needs to go under the 8' eaves for 60' for access to the back yard and then be moved along a 4' wide area between my pool and retaining wall for another 100'. 36" box olives weight 1800-2000 pounds.
It is obvious that I have bought too many Citrus and Avocados even for my large yard. I'm considering re purposing one of my Avos that have not been planted yet for that space. I know the Haas is silly for that space and assume the Lamb Haas is also. The Reed is supposed to grow taller than wide and possibly also the Sir Prize. My 35' tall Fuerte would clearly be a problem in that area with the large quantity of leaves and pollen. Anyone with experience on either of those varieties have any input on holding them to 12-15' tall and wide? What I can't seem to find is when these varieties flower as I'm more concerned with pollen in the pool during swimming season than a few large leaves.
Picture of Swan Hill 36" Box tree: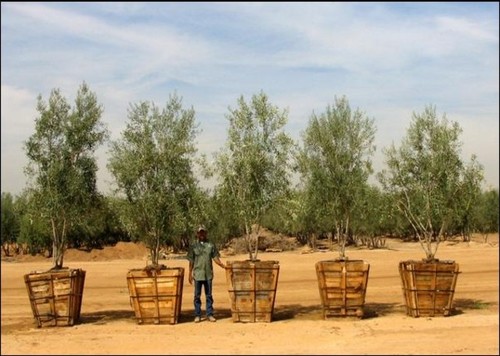 This post was edited by GregBradley on Thu, Feb 20, 14 at 12:53