Walk Through my Garden
hoosierquilt USDA 10A Sunset 23 Vista CA
(10b Sunset 23)
February 26, 2011
I thought I'd take the opportunity to post a few photos of my growing home orchard since this forum has been so helpful in my choices.
The first set of photos is of my front yard slope. It faces south, and is a nice gentle slope. I used this space to plant all my avocados, as well as a few "odds & ends". Starting from the lowest point by the driveway, and working up, I have planted a White Sapote, an Oro Blanco grapefruit, and a very small Valencia Pride mango. I'm going to add a Page and Gold Nugget mandarins. Then, above I have my avocadoes: Holiday, Lamb Hass, Littlecado, Jan Boyce, Nimlioh, Kona Sharwil and Sir Prize. My Holiday, Jan Boyce, Nimlioh and Kona Sharwil are small, and probably won't produce for about 2 years, but the rest all have lots of flowers, so I'll have some nice avos this year, as well as some Page mandarins, and my Melogold has one fruit that will be ready this spring, and looks like it will have some blossoms pushing out here pretty soon. The trees in containers in the first photo are for the south part of my yard, the lowest (and coldest) part of my yard. You can see my Anna, Dorsett Golden, Pink Lady and Red Fuji apple. The Anna is blooming and beginning to set fruit, and oddly, the Pink Lady is also blooming (not the Dorsett). I also have a Minnie Royal and Royal Lee cherry. You might also be able to pick out my poms, which will be going in the back yard on the north side (south facing slope), just below all my citrus. I have a Phil's Sweet, Wonderful, Pink Satin and a Sweet. I have an Eversweet and a Parfianka on its way from Raintree:
And you can see the little Holiday and larger Littlecado and Lamb Hass in this next photo, and in the second photo if you look hard, beyond the Lamb Hass is the Sir Prize (and if you really look hard, you can see the Nimlioh):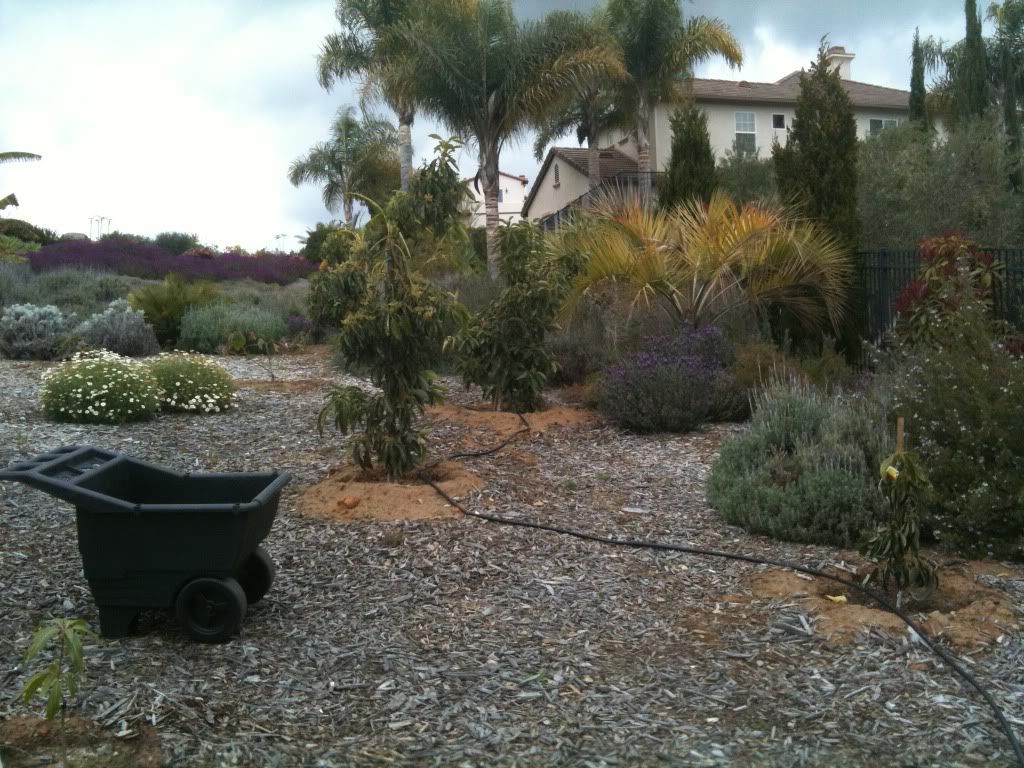 And here's a shot of my little Nimlioh avocado. It the Jan Boyce and Kona Sharwil are all about this size, pretty small. and the Jan Boyce and Kona got a little nipped a few weeks ago, when we had some temp dips I didn't anticipate. Interestingly, the Nimlioh, which is 100% Guatamalean was not nipped, which surprised both me and Dave at Bonita Creek Nursery, when I got these 3 great avos. You can also see it has put out a flush already, so it and the JB and Kona are getting covered up tonight, since it's going to be very chilly again, with this northern storm sweeping down across San Diego county today and this evening:
And here's my tiny little Valencia Pride mango. It has a ways to go before I see any fruit, but it is liking it's location, and doing well: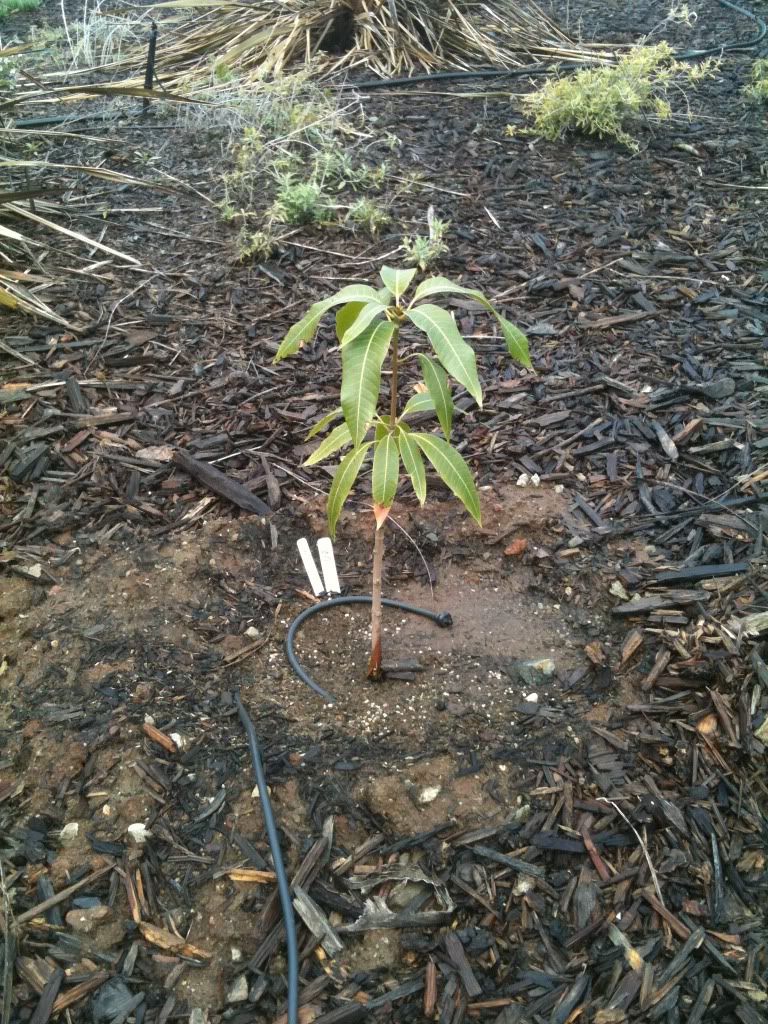 Here's a shot from the top of the slope, looking down, which gives you much better perspective on how much area I have to work with, pretty fortunate to have this much room: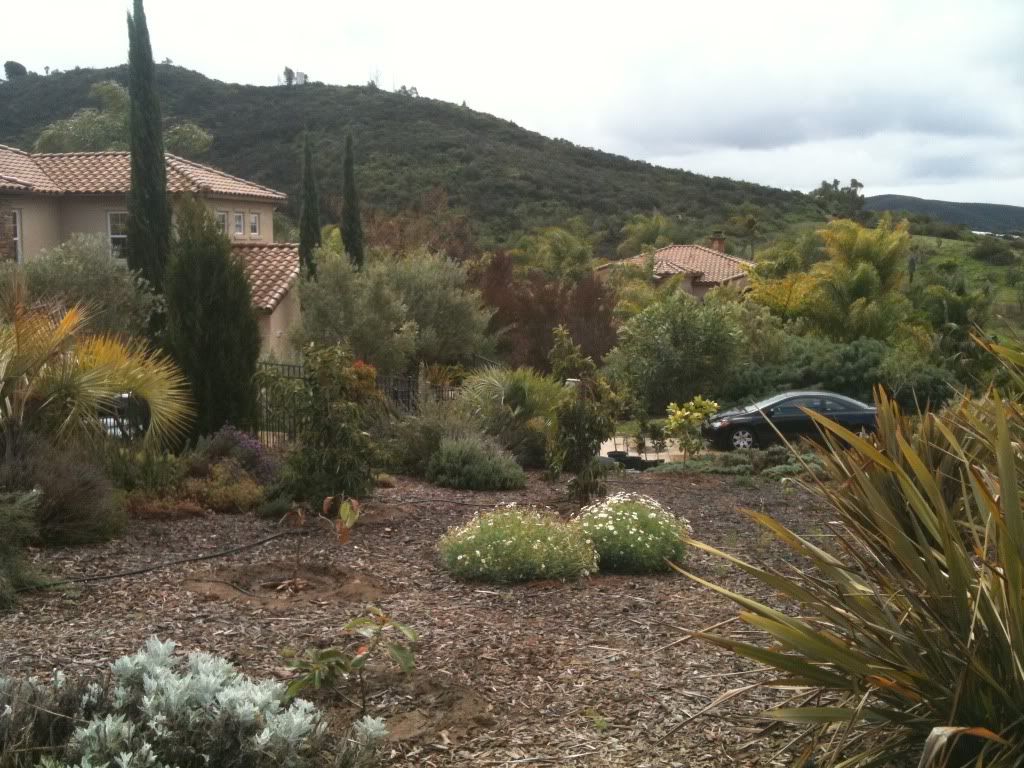 This photo is a little further up the driveway where I have 5 dwarf variegated Calamondin along the edge of the driveway. I had to replace two of them due to not being watered regularly, and they were just on their way out. I added a 5th where I had a space (the one in the foreground). Haven't used the fruit yet - they were planted by the previous owner for their ornamental value, but I think I'll try to pick some of the fruit to make some preserves: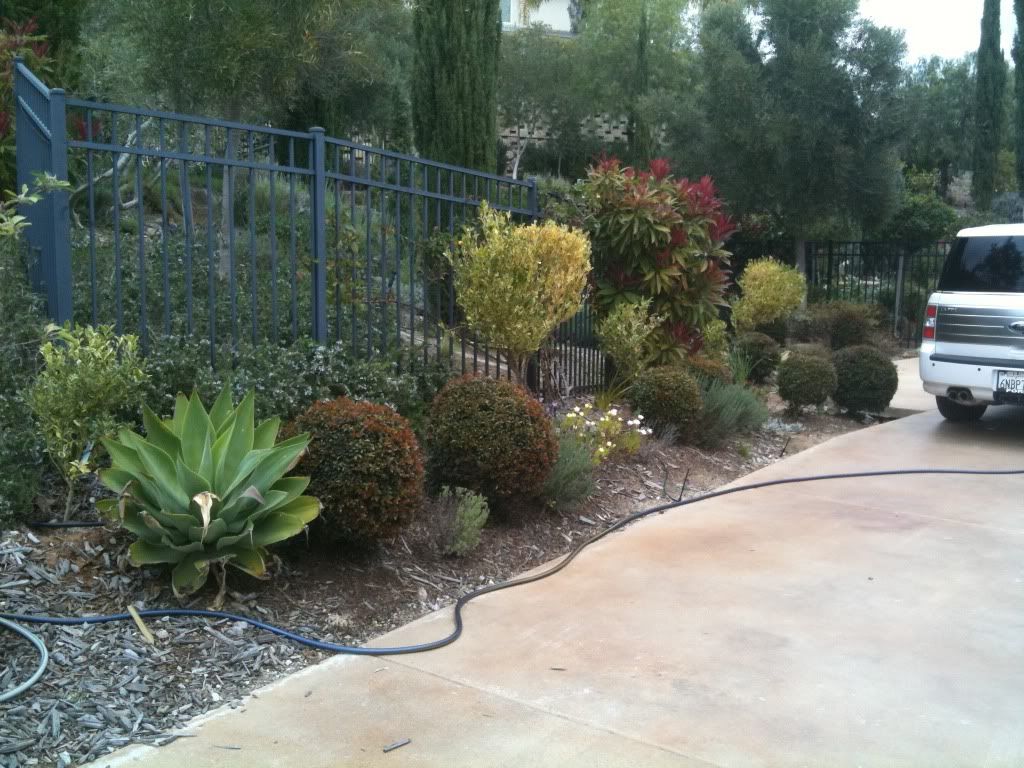 And a cool closeup of the variegated fruit, got these additional variegated Calamondins at my local Lowe's of all places. I ended up buying all 3 of them at varying times. No one wanted them, guess they didn't realize how very lovely these are in a landscape, even if you don't eat the fruits. Everyone else's loss, my gain: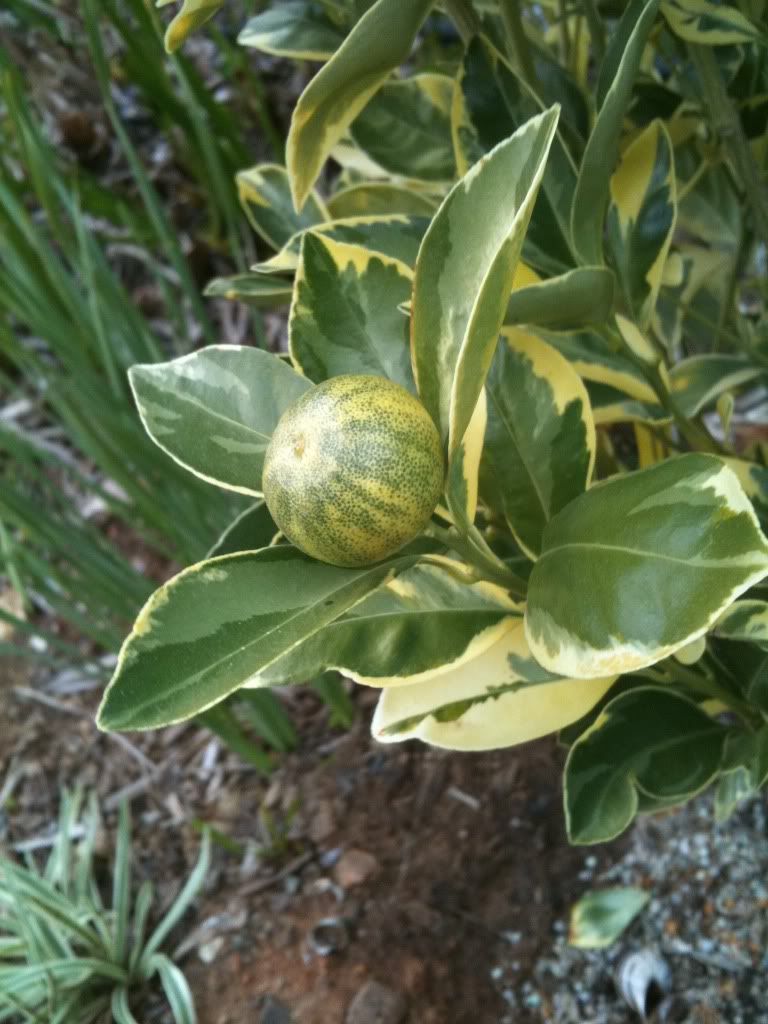 And these photos are of the backyard, again, on the north side of my lot and facing south. Most of my citrus are here, as well as 3 fig trees that were here when I moved in. I have a Rio Red, Melogold and Coctail grapefruit, as well as a Bearss lime, Pixie and Algerian Clementine mandarins, I planted last year. I'm adding a Cara Cara navel on Sunday. There were some very neglected citrus already planted but in pretty bad shape. There was a Meyer Lemon that despite being neglected is just full of lemons, two other lemons of unknown varieties (probably Eurekas, not thorny enough to be Lisbon), two orange trees that I just figured out were orange trees, probably Valencia of some variety. I have 3 figs, a very large Panache (which was superbly delicious last year), a tiny Brown Turkey (about 2 feet tall), that actually had 3 figs last year, and a revived Flanders that I'm hoping will provide fruit this year, as I "found" it buried inside a huge rosemary bush! I will be putting the poms on the slope in some blank areas below the top where the citrus and figs are:
First photo is the far west side, then the middle, and finally the furthest east, starting to head south. All the citrus and figs are up on the very top, out of the sprinkling system, and on their own dedicated drip system. I plan on planting my 6 poms down on the slope, intermingled with the lavender, rosemary and santolina. That hillside is alive with hundreds bees every day, so I have optimal pollinating! You can see the abandoned Valencia orange orchard in the background in the last photos. Very sad to see these elegant, 40 year old trees struggling to survive. Breaks my heart: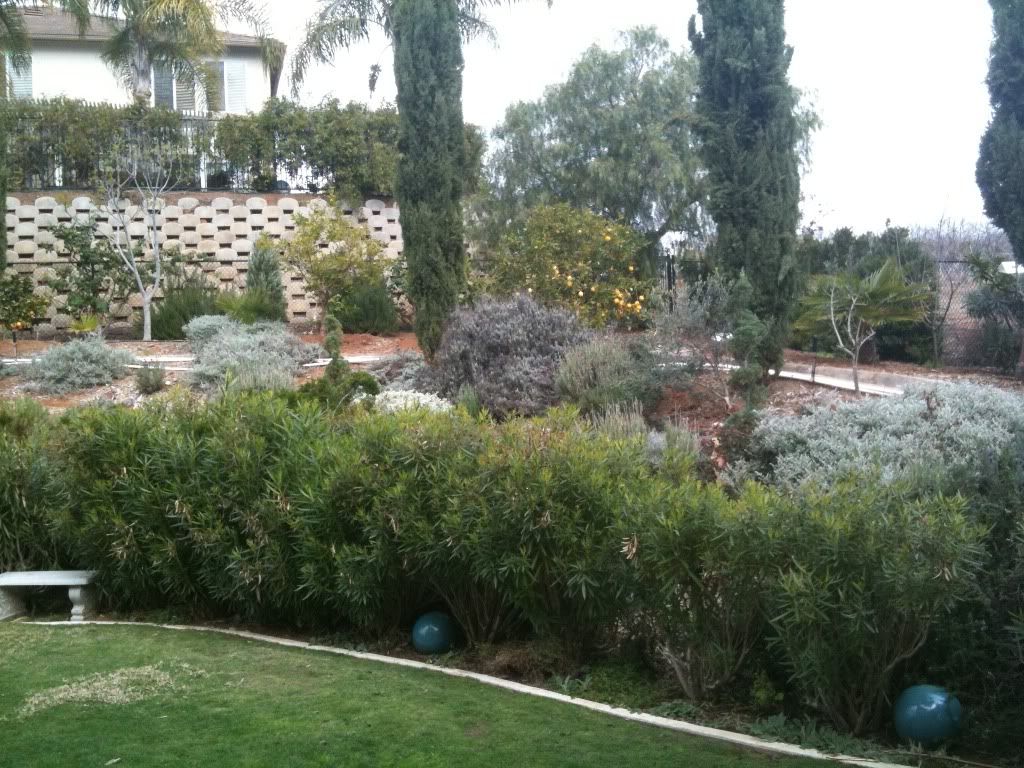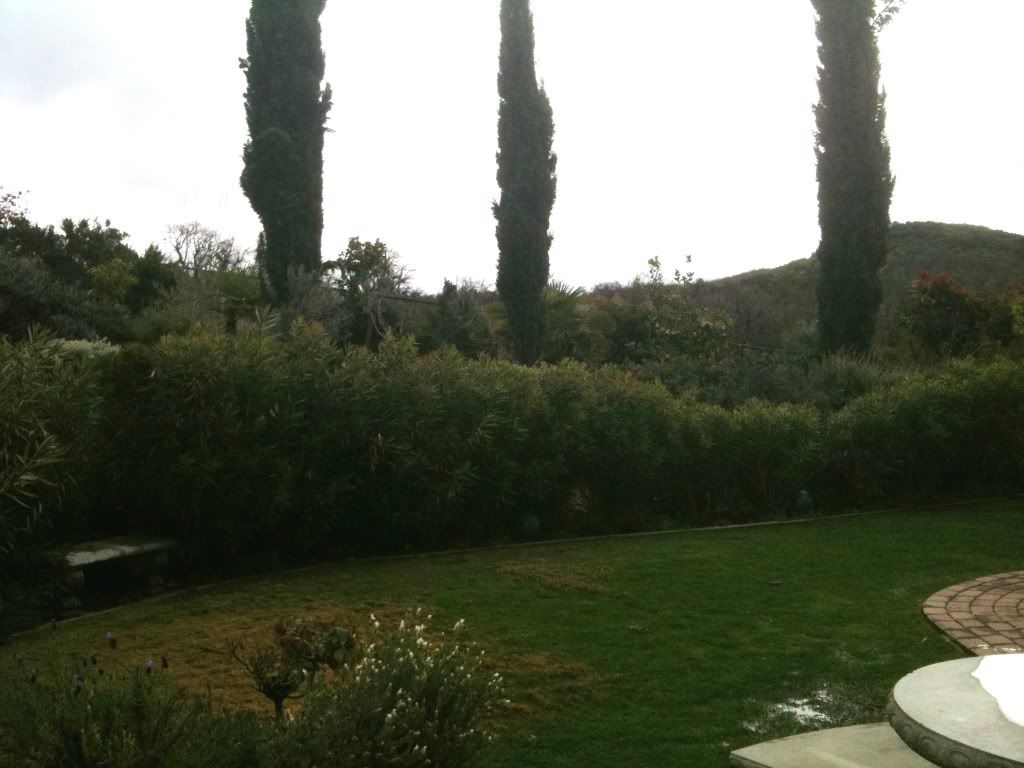 Now, we're up on the top of the slope, for some close ups of what's planted up here. Here's the Rio Red grapefruit. Planted this last summer. all the grapefruit absolutely love this spot, they have put out two flushes and are all full of flowers. The odd yellowing you see on a few of the leaves is due to some burning from last summer, due to spraying for Citrus Leafminer (spinosid + Volk oil). It has about 8 fruit just about ready to pick, plus a gazillion flowers (all the white phermone traps you see hanging in the citrus are for CLM as well):
This is one of the unknown lemons. This poor little tree was in pretty bad shape, nearly dead. It is coming back, and I think it might be a Meyer, since the lemons look pretty thin skinned, and round. You can see my little Melogold peeking out behind it:
And a closeup of the fruit, which is why I'm pretty sure it's a Meyer: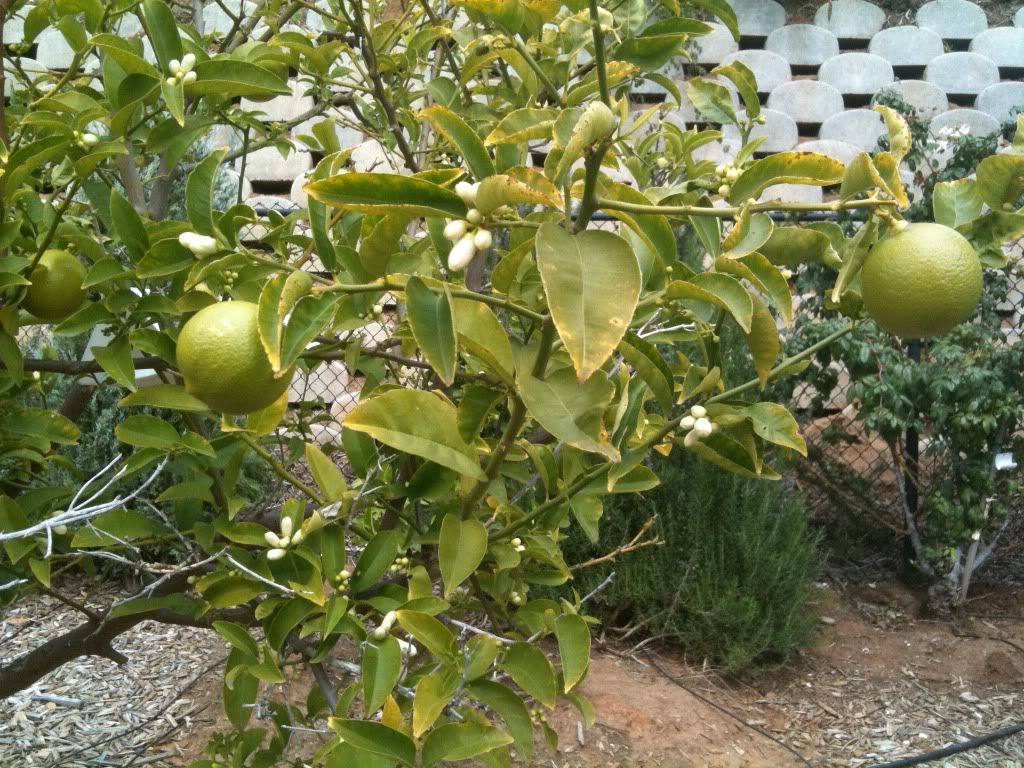 And here's the Cocktail grapefruit (not really a true grapefruit of course, a cross between a pumello and a mandarin), and you can see it's VERY happy. It is amazing how gigantic the blossoms are. I will probably have to thin this tree, or the amount of fruit it will set will bend this little guy right over: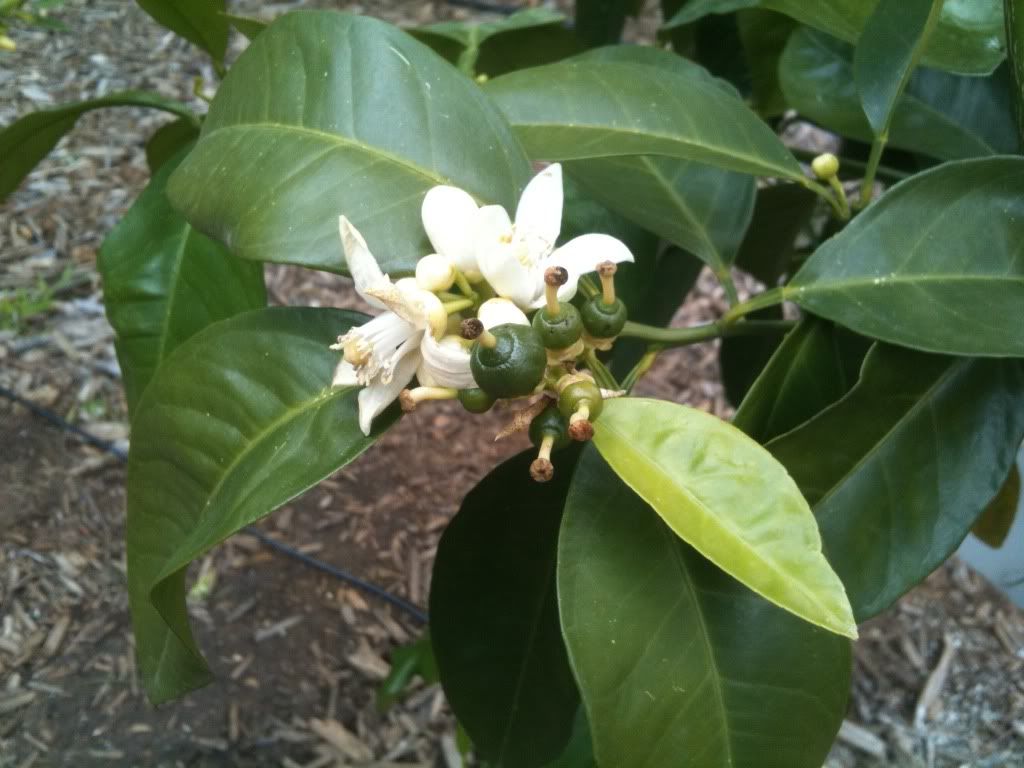 Here's a shot of the Panache Fig (lovely white trunk) in the background, and from the left, my Bearss lime, Cocktail and unknown tiny orange (probably a Valencia). Behind the Valencia is the Melogold. Out of the shot to the right of the Melogold was the Flanders Fig which is about 6' tall that was uncovered when I trimmed back an out of control rosemary bush, a wonderful discovery: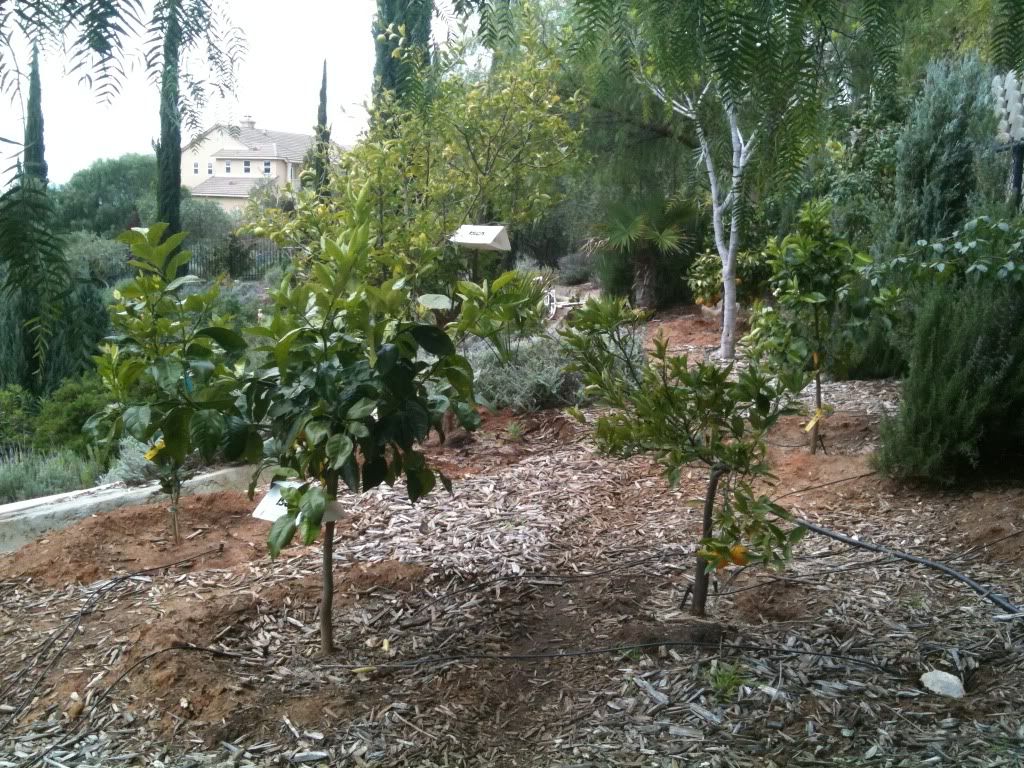 Here's a photo of the Meyer Improved lemon just full of ready to pick lemons. They keep on the tree very nicely all spring and summer, providing me with the most delicious lemonade almost year round: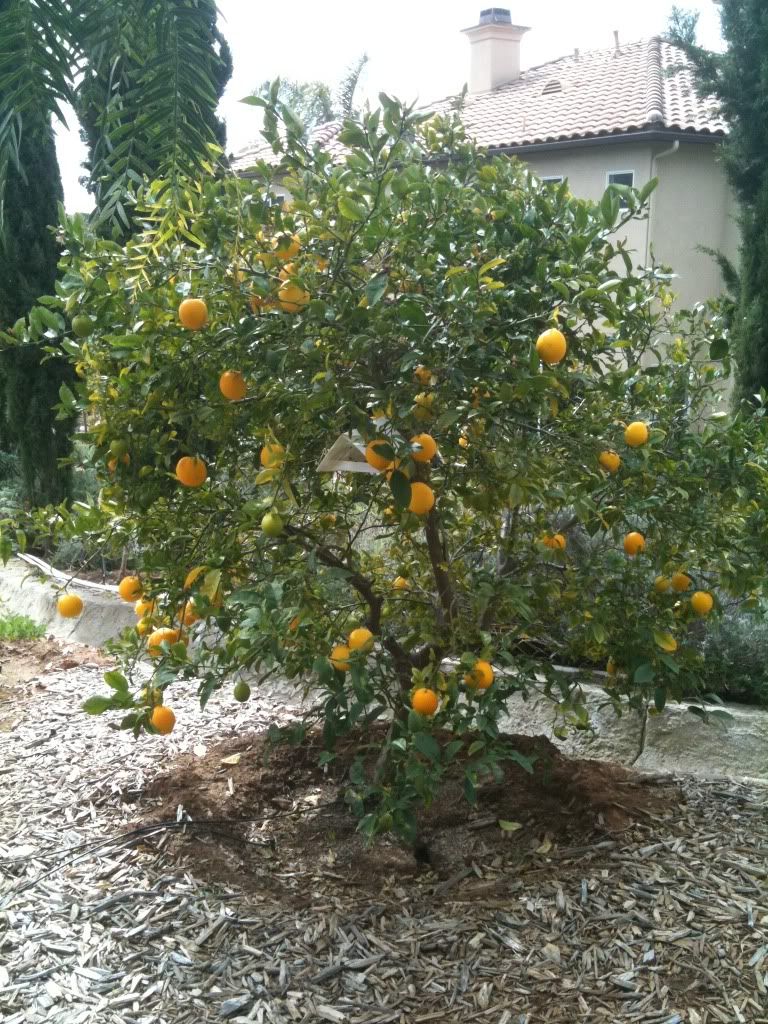 And here's a shot of the unknown lemon (probably Eureka). This tree was in such bad shape, I wasn't quite sure what kind of citrus it was. Suspected lemon or lime due to a few thorns. It is absolutely full, full, full of lovely lemons, and flowering like mad right now. Have to get out there and trim those really tall branches up top, to keep the tree producing and branching lower (you see the orchard in the background):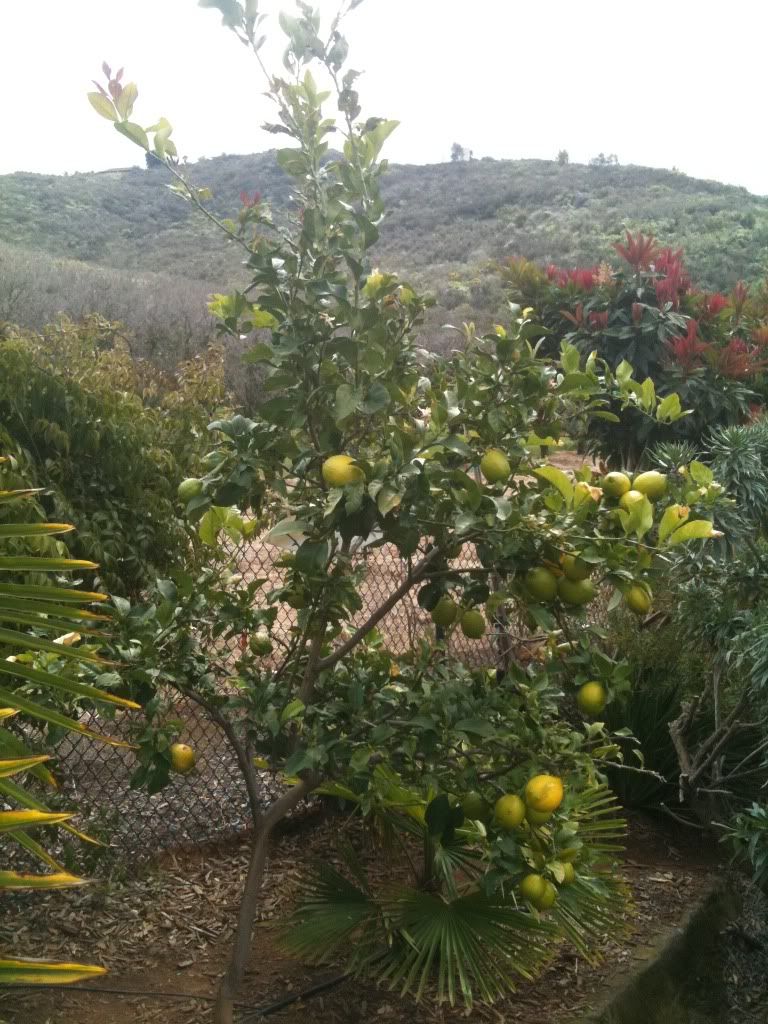 And some shots of the lemons on it (one shows a run in with a roof rat, #$%@& varmints):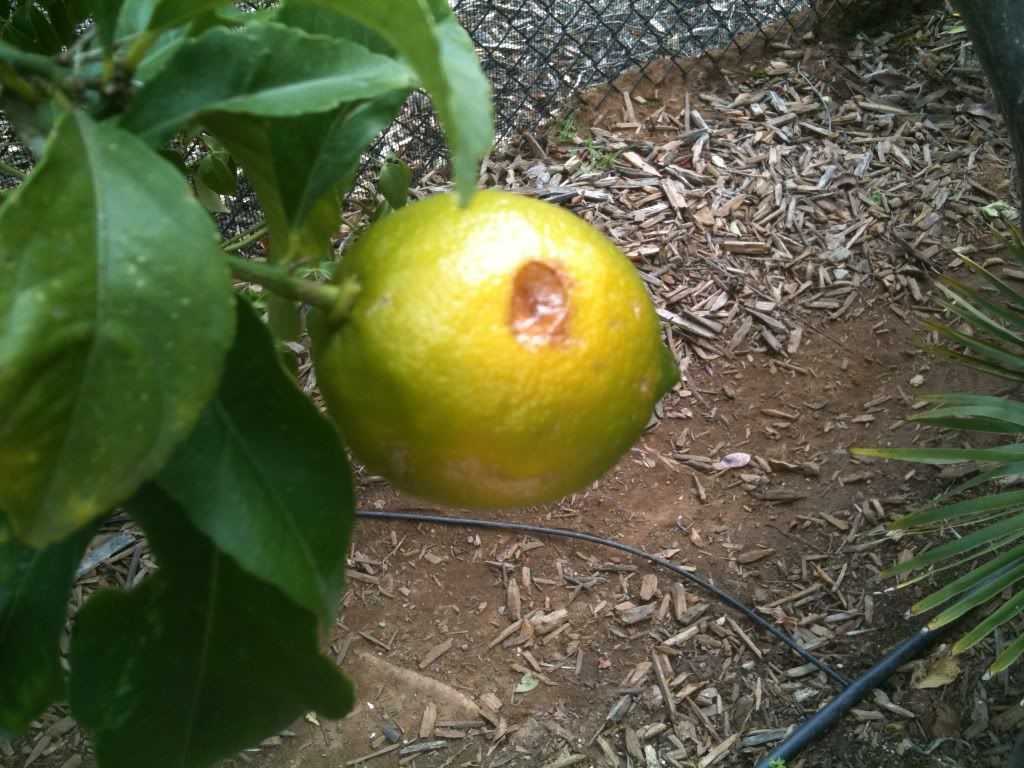 And here's a photo of the larger unknown orange tree. Again, totally unrecognizeable and I thought dead due to extreme damage from rats and ground squirrels. It is amazing this came back, and is actually doing very well. It will probably never have a nice shape, but I think it will produce some nice oranges for me. Again, very clear view of the abandoned orchard in the background:
And this shot is looking south, you can see the Meyer on the right, and my Moro blood orange in the foreground on the left. Directly behind it and sort of hidden is the Pixie mandarin, and in the background to the left of the Meyer is the Algerian Clementine mandarin:
Here's a shot of my Melogold grapefruit, which is my favorite grapefruit. It's full of blossoms and some have already set teeny fruits: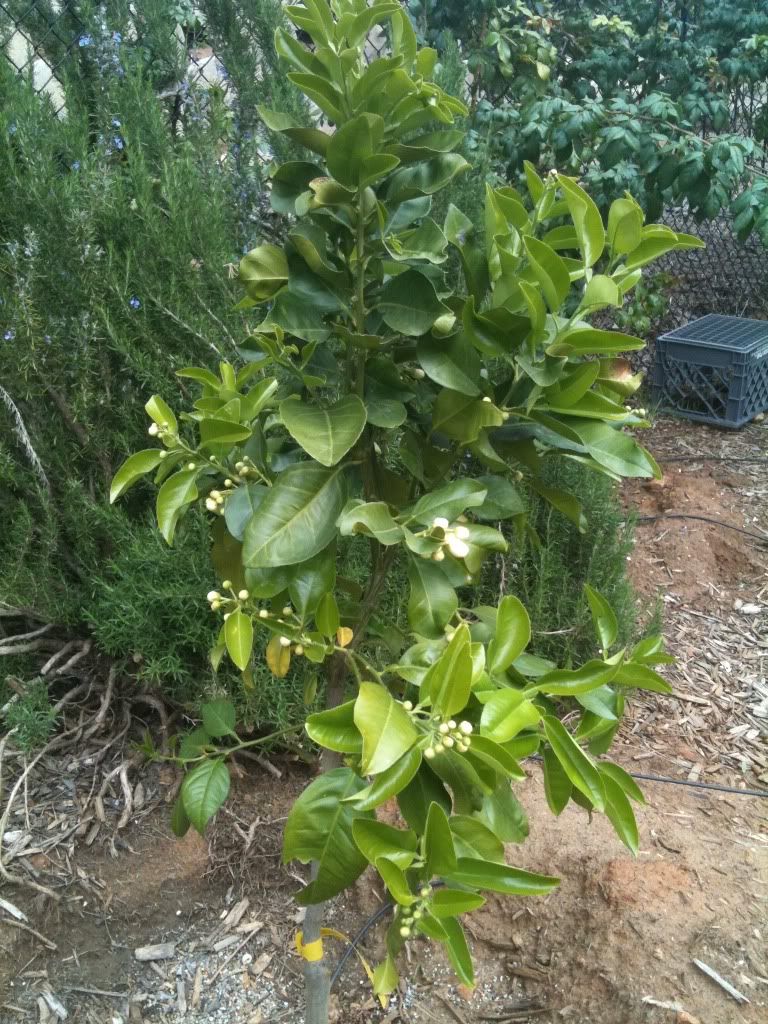 Lastly, my little espaliered Anna. This is up against the north side of my house. And no, I didn't plant it. Previous owners were more into design than function, so this poor little Anna struggles to provide fruit, since it gets very little sun. It will get moved this December to some spot that gets full sun, just not sure where I can squeeze it it:
I'm going to be putting down 4" of shredded mulch in the next week or so, and also laying down some flagstone for a path that both we and my busy Aussie walk. Since Cooper "patrols" the yard for coyotes, he has made a path between the trees. It is a logical path, and so that he doesn't wear out the mulch down to dirt and we have a nice place to walk, we're just going to "go with it", and lay down a nice flagstone path that will wander between the trees.
Next project is the south and low side of our yard, which we'll be starting on very shortly. That's where the apples and cherries will go. Once we get it cleared out, and some hardscaping done, I'm hoping well have enough room to add a few more stone fruits, like apricots, nectarines, pluots, apriums, plum and peach. Will be doing my homework for best varieties for my area, best taste and most disease resistant. I have avoided stone fruits because to me, they're "high maintanence" and I don't like using noxious sprays. So far, I have on my list Cot-n-Candy or Flavor Delight aprium, Arctic Star nectarine, possibly a Spice-Lee Nectaplum, Flavor King Pluot, possibly a Donut peach, and everyone says a Blenheim apricot is a standard for my area of S. Calif. Any and all opinions are welcome. I like my fruit very sweet, and not tart, along with the other above attributes. Hope I can squeeze all that in, along with my 4 apples and two cherries. It will be a "same hole" planting concept, but all in a row, and all semi-dwarf and kept pruned down so I can stand and pick. And to cover, since I have a profusion of wildlife from birds to rodents who would make a meal of my stone fruit!
Hope you all enjoy a little walk through my garden. We still have more projects to go, including spiffing up my little English knot garden which you can see a wee bit of in one of the photos. But that's for maybe this summer or fall.
Patty S.