Ae. eurycorymbus?
LisaCLV
(HI)
December 16, 2008
Do you have a photo of yours, Kerry?
We grow all of our Gravisia-types and other large Aechmeas and Porteas together in one area just for cut-flower production, so it's hard to get a picture of any one by itself. The cluster of taller, lighter-colored ones in the middle and the one on the right are what I assume to be Ae. eurycorymbus. It is easily the tallest Aechmea I've seen, at least 7 ft. in bloom.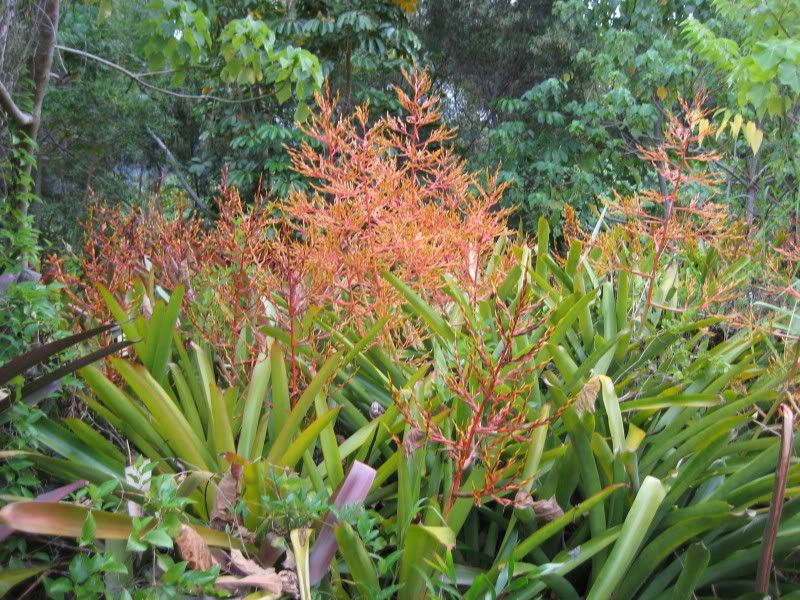 Surrounding that to the left and in the foreground are mostly blanchetianas, including a bunch of oddball seed-grown ones. I have to shake my head whenever anyone asks how many forms of blanchetiana there are because each seedling is slightly different from the next. Of course this group does tend to interbreed, so I can't swear to the purity of their bloodline. There are some presumed mulfordiis growing in there too, but the only one you can see at all in the pic is way in the background in the gap between the eurycorymbus. It's a much shorter, denser inflorescence.
Sorry I don't have a better picture or a close-up of the inflorescence, but does this look like the eury. being grown in Oz?