Peanut leaves for Sudbury tomorrow :o(
peatpod
(Z5b Ontario)
October 14, 2005
Well .. a few of you have read about my little Peanut. I have had her with me since she was only a few weeks old. She came to me as a foster kitten with her mother and six siblings and boy was she tiny!!!
Here is a picture I posted previously of Peanut with her sister. They were both 7 weeks old in this photo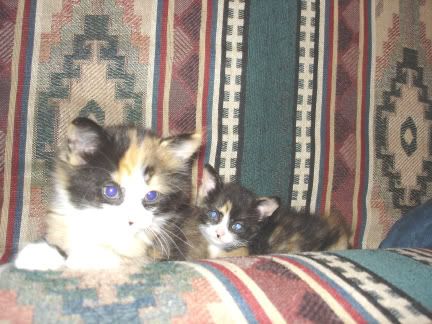 One handed Peanut 8 weeks old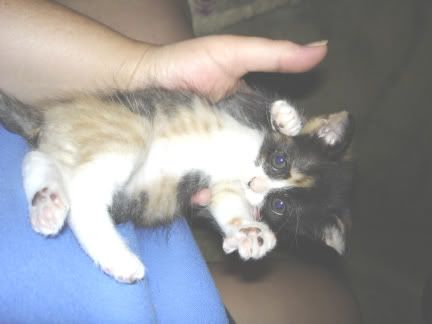 Two handed Peanut 12 week old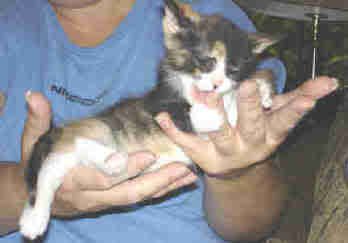 Peanut on DH's foot 12 weeks old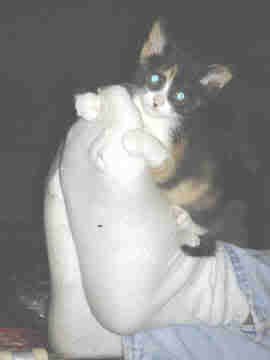 Although she is moving on to my mother's home .. I am so reluctant to see her leave!! I love her dearly and this is breaking my wee little heart :o( For now the Nut is going for a three week visit to see if my mother can handle having such a little one around. Both my DH and I are having difficulty accepting that she may become an outdoor cat when she is older as my mom really cant be out running around trying to find the cat :o( With any luck she wont have any interest in going outdoors.
I went on a shopping spree and bought everything the little Nut could want .. and then some. I spent the evening making a soft liner for her new travel crate and a fuzzy pillow to sleep on. All of her favorite toys have been modified to help my mom play with her .. my mom has sever rhumatoid arthritis. So Kitten Mitten was stuffed and mounted on a stick.
I make the drop in Newmarket tomorrow :o( Mom is down to see a doctor there so this will be the spot .. then around November 5th Im off to Sudbury to visit for my birthday .. my heart is really hoping that they wont want her and Peanut will return .. thats horrible .. I know she will be spoiled rotten and that my mom will love her to death.
Well I should run and get everything ready .. and feed my new baby ..
This is Ty at only a few days old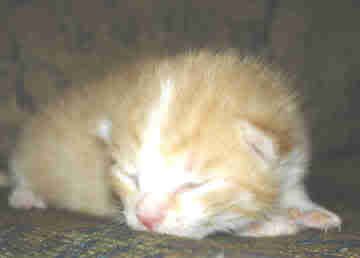 So from Peanut, Ty and myself
BY BY!!