Saying hi to everyone, and one question.
lovetogrowflowers
(8)
May 19, 2012
Well another growing season is among us. I'm proud to announce that all 4 of my in ground brugs are showing new signs of life. Ive not even had to fertilize these babies. A couple are already about 3 feet tall. One I overwintered in a pot and it too is already about 2-2.5 feet tall. Ive also got four o'clocks popping up, cleome coming back like mad, lol. I weeded a lot of it out and only kept the good sturdy healthier ones.
I'm so happy. I just hope that this summer isn't to hot where my brugs don't bloom. But last year toward the end it cooled down, and I also believe although some disagree that the bloom booster did help a little with my brugs.
Now my question: I purchased two Lantana Mozelle and was told with good mulching these should also return next year in my zone.
My question is I like things that keep blooming all summer and read that they will if I cut back the tips around mid summer. Now me being new still, what part of a lantana would be the tip? Would that be the part like just below the the blooms, kinda like I cut back cleome to encourage more blooms? I still get confused on pruning things. I hate to cut anything at all, lol.
This isnt my plant but this is the color I have and Im not sure where the tip would be on a plant like this. I feel so stupid :-(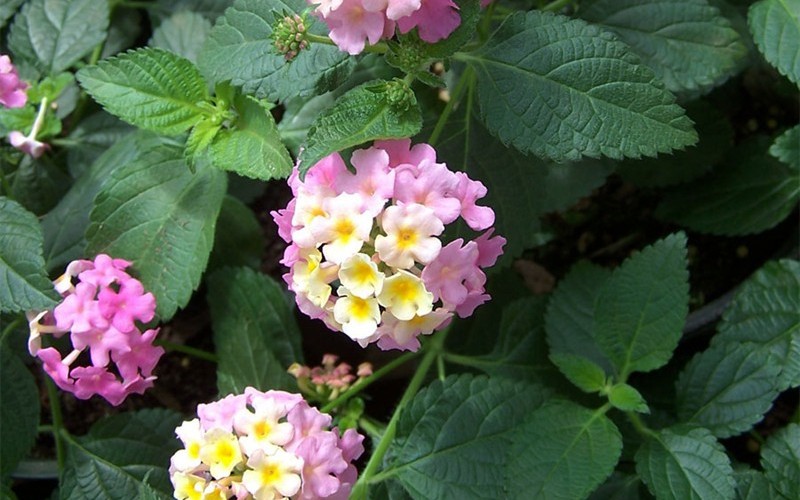 Thanks to everyone in this group who has helped me in the past, especially those that helped me with getting my brugs growing a few years back.