Big, Egg-Bearing Spicebush Swallowtail
misssherry
(Z8/9SE MS)
July 31, 2013
I like to go out to my garden at noon time, because that's the time butterflies seem to lay most of their eggs. It's hot out there, but worth seeing. I saw what I thought at first glance was a black form female tiger swallowtail, with male spicebush swallowtails flirting with her! When I got closer, I could she was just a BIG female spicebush swallowtail. She nectared on the big lantana, and, while the males were flirting, she darted over to a small sassafras in the garden and laid an egg! So obviously she's already mated and isn't interested. Do female butterflies ever mate more than once? I got two pictures of her, which was hard to do, because she wouldn't quit fluttering her wings.
I'm posting it to show the 'true blue' coloring on the hindwings of a female spicebush swallowtail, because some on this forum have asked whether their SBSTs are male or female.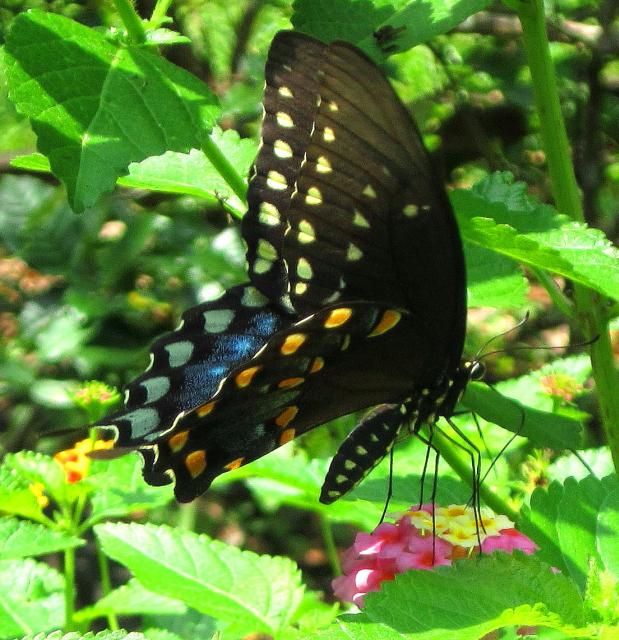 I wish I could have gotten pictures that show more of the blue, but it's very much like the blue on a tiger swallowtail, but there's less of it. The pale mint green lunules - Pacman shaped things on the edge of her hindwings - are diagnostic of spicebush swallowtails.
Earlier in the year, I was thinking about digging up the lantana, because it wasn't blooming. It must have known, because it's been in bloom ever since!
Sherry