High Fragrance dying- Please help
Last fall I bought a 5 gallon High Fragrance camellia and put it in a 20" pot. It seemed to be doing quite well and by Winter, it was loaded with buds. Since the growth on this Camellia is very open, I decided to tie the branches onto a trellis to to give it a fuller look against a wall.
Initially, many of the buds opende up to medium size peony type flowers with a wonderful scent, but a few weeks later, I began to notice that many of the buds were not oppening up completely anymore. Shortly thereafer, they just stopped growing and opening up altogether. Initially I thought that this was normal as it was nearing the end of the Camellia flowering season (late April), or that it might have gotten too much water. Then I noticed that the buds were drying up and falling off, along with most of the leaves. Some of the thinner limbs were also drying up.
I recently took the camellia out of the pot for repotting, and noticed that the rootball was pretty much the same as when I had orininally planted it several months back, with no new growth. Camellias tend to put on new growth after they stop flowering, but for some reason, this one decided to die back instead.
This picture is after I took it out of the 20" pot that it was in.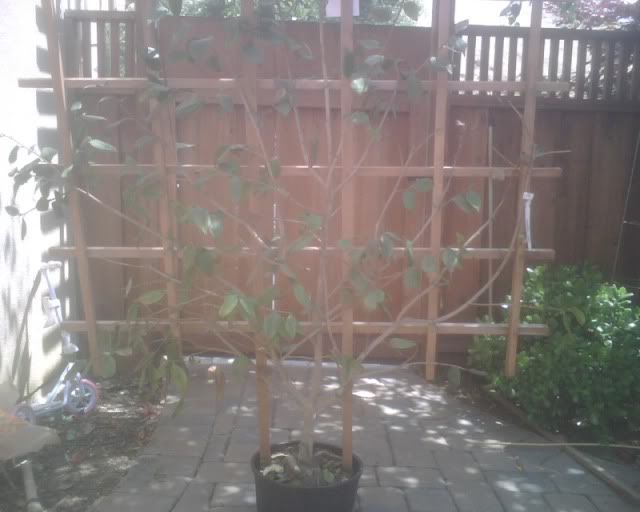 I don't know if putting the plant on a trellis stressed it out, so I took off the trellis and gave the plant a good trimming, and I'm hopefull that it will come back.
Any ideas of why this camellia appears to be dying?