Need help with cactus ID, please.
LatinLady
(6 New York City)
April 25, 2014
I have several small unidentified cacti and need your help with ID so I can research care. The straight photo is the reference photo for the below key. I have them pictured in three rows, with 4 plants per row (front to back). Please refer to the plants as numbered.
I have shared below my observations to assist with identification.
BACK ROW
1D 2D 3D
1C 2C 3C
1B 2B 3B
1A 2A 3A
FRONT ROW
Observations & thoughts:
1A - There were four of these and three dried out. This one survived and I need to understand why when the others died. This plant has inoffensive, downward pointing dragon bones spines. I'm guessing it's a Euphorbia - Is that correct?
1B - I believe this is a Peanut Cactus or Echinopsis Chamaecereus. Is this correct?
1D - I believe this is an Opuntia variety, but am not certain which. The pads branch out on this one.
2B - I believe this also Opuntia Mycrodaisis like 2C but not "forma contorta." Is this correct? Both plants have what I call "puffs of yellow balls with thorns." Layman's terms, of course!
2C - These two came off the mother, which turned to mush, perhaps from the cold winter we had. I believe this plant is Opuntia Mycrodaisis, Forma Contorta. Is this correct?
2D - Wild guess: Cholla?
3A - I actually have several of these in various stages of growth, including one 8" tall. The mature plants grow tons of these pups, each with its own aerial roots. The spines become reddish brown in direct sunlight.
3B - The two round reddish ridged stone-looking cacti have been laying on soil all winter and have not grown ONE root. Yet these pups are not hollow or dead - Any clues? This is a first ever for me!!
3D - I believe this is Lepismium Cruciforme. Is this correct?
Thank you so much for your help.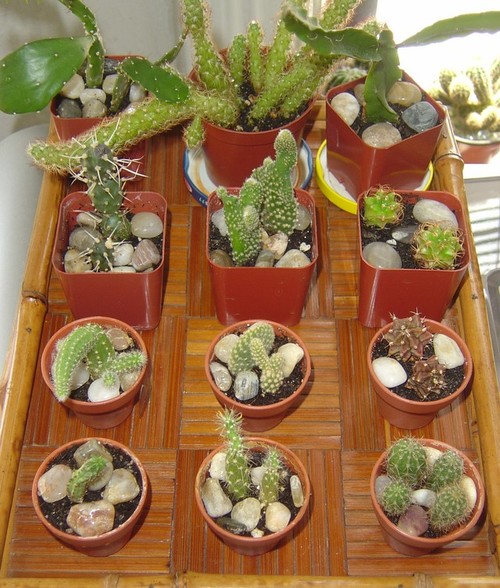 This post was edited by LatinLady on Fri, Apr 25, 14 at 23:35