My new babies
0nametaken0
April 12, 2013
So I bought 30 succulents from ebay. This is the first batch. Really excited. Im new to succulents though and I still need help with my sempervivum, thats another thread, hope someone replies there.
Since all of these are succulents, Im hoping to put all of them outside for the summer. Temps. will hit 40c in my balcony, Im not sure if they all can take the heat. I will also be watering them every 2 days during the hot summer days. They will be planted in succulent soil mix. Does that sound about right? Any tips? I would really like it if someone does as Im trying to grow plants for the first time. Ive grown aquatic plants for a few years so Im an expert in them, but not in non drowned plants :)
What you see in the pic are (badly worded description from ebay):
green snowman is senecio articulatus or candle plant,
the purple one next to it is either Fred Ives or Pearl Von Nuremburg.
Others are Darley Sunshine
Jet Beads
Crassula Calico Kitten
Donkey's Tail
String of Pearls
Pork and Beans
String of Buttons
Baby Necklace
Hobbit
Gollum
Compact Jade
Sedum Praeltum 'Cristata"
2 variegated Elephant Bush
String of Bannanas
Red flower Zygocactus
The following will hopefully ship tomorrow to my place:
Euphorbia tirucalli, Pencil Cactus, Stick on Fire
Aeonium arboreum 'Atropurpureum' (Purple Aeonium)
Aeonium percarneum cv. 'Kiwi' (Kiwi Aeonium, tricolor)
Senecio mandraliscae, (Blue Chalk Sticks)
crassula tetragona (mini pine tree)
Faucaria tigrina, (TigerâÂÂs jaw)
Graptoveria 'Titubans'
Graptoveria gilva
Sedum rubrotinctum (Jelly Bean, Pork and Beans)
Kalanchoe 'Houghtonii'
Echeveria 'Haageana'
Thanks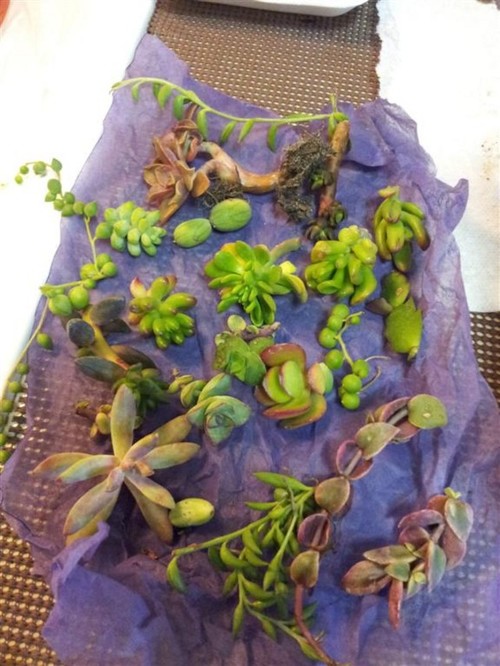 This post was edited by NameTaken on Fri, Apr 12, 13 at 17:49