Dog-friendly hedge in Southern California (Temecula)
chelbambino
March 26, 2013
Hi all,
My hubby and I just purchased a home in Temecula, CA (zone 9 according to this site). Our backyard is completely dirt right now and I'm told the soil is "sandy loam". We're hoping to put a yard in soon.
My toy poodle has recently taken to trying to fight the back neighbor's dogs through the fence. It's new, 6ft and made of sturdy wood so I don't think anything can happen, but it's annoying and embarrassing. I'm trying to train her out of it, but it's made me decide I want to put a hedge against that part of the fence.
Does anyone have recommendations for plants that can be made into dense hedges? It has to be shorter than 6ft, and it can't have thorns or anything that could hurt the dog. Spread doesn't really matter because i have a lot of fence to cover. I prefer drought-tolerant plants and it will be getting full sun. It also needs to be non-toxic to animals but if you're unsure if it is, I work for a veterinarian and can look it up.
A bit of googling has turned up various manzanitas.. are those good choices?
I've attached a photo of the back fence so you can see what it looks like. It extends about 3-5 feet on each side that you can't see in the photo. The house frame in the photo is our neighbors house... this pic is a few months old, the homes are finished now.
As a side note, if anyone lives in the Temecula area and has other suggestions on plants that grow well here, I am all ears! Thanks everyone..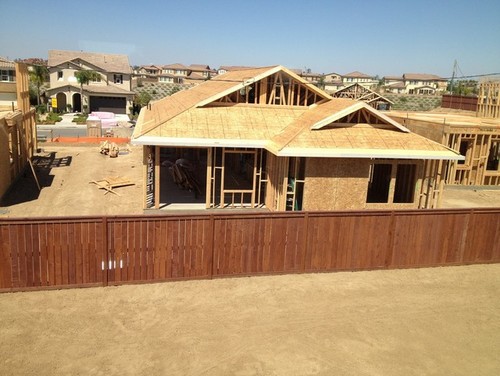 This post was edited by chelbambino on Tue, Mar 26, 13 at 22:49