OT: Another New Addition
Meet Chester: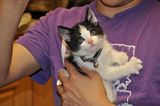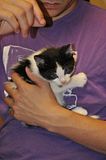 There's a feral cat that's been hanging out in my yard for months. About 2 weeks ago I saw her crawl out from under the deck and following her was this little guy. The kids managed to catck the kitten yesterday. How could I saw no? I am suck a sucker and we already have 2 cats. I need this like a hole in the head.
She was petrified at first, never having had human contact, but is adjusting well and is becoming very sweet. I'm guessing somewhere between 6 to 8 weeks old. She's clean, no ear mites or fleas, but I'm sure at the very least, she has worms. I can't get her to the vet until Thurs so she'll be living in the bathroom until then. BTW Kyle named her Chester before he knew that it was a girl.