Brand new to jades. Specific instructions please!
mrsmodernhousewife
April 7, 2014
I have been reading through a lot of posts on this forum about jades and how to take care of them. Most of those posts pertain to older/established jade plants.
I Stopped by lowes just to look and of course ended up buying a couple. One is a ripple jade, one Crosby's compact mini, and the bigger one may be crosby's compact too. I get lowes isn't the best place to buy, but it is the only local option. The soil in the two smaller pots is dry, but moist in the bigger pot. Small pots are 2 inch and big pot is 3.5 inch.
My questions are:
1) Do I repot these now in a better mix? And do I remove/wash off all of the soil before repotting? If so, how do i get the new mix close into the roots when repotting? And do I use a different size pot or just replant with new mix in these pots?
2) Pruining/pinching. I would like to remove a couple stems and grow them into single trunk tree looking plants. (bonsai? them) Do I go ahead and pinch the top set of leaves now to do that or leave the top leaves on until the plants are taller?
3) Are these stems too close together if I chose to leave a group together for a bushy plant? Should they be loosened and replanted farther apart? There are 4 separate stems/trunks in each of the smaller pots and 6 in the bigger pot.
Thank you so much if you take the time to answer. I get that these are very hardy plants if I do mess up, but am having trouble finding info on getting started with young plants.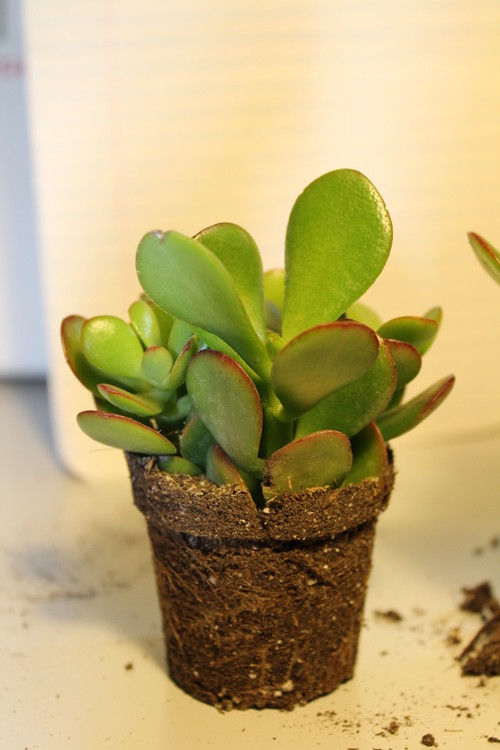 This post was edited by mrsmodernhousewife on Mon, Apr 7, 14 at 22:51