Homemade Rearing/Eclosing Cage
butterflymomok
(7a NE OK)
August 17, 2010
I have referred to a butterfly cage that I made from a tomato cage in some of my postings. I learned about using the tomato cages from Monarch Network Teachers' Workshop that I was privileged to volunteer for this summer. If you have a chance to attend one of these workshops, you will learn a lot even if you have been raising butterflies for 30 or more years.
I have modified the directions and found that the paint straining bags from Lowes (Thanks to Runmede) work wonderfully.
1. You need a 3 prong tomato cage--turn it upside down and make sure it sets level. These are $1.87 at our local Lowes.
2. Get the 5 gallon paint strainers--they come two to a package for about $2.47.
3. Buy 3 for $1.50 aluminum pizza pans at Walmart.
4. You will need a good pair of bolt clippers or something that can cut the wire prongs that go into the ground on the tomato cage.
Trim the tomato cage prongs so that when you bend them they will meet in the center of the narrow end of the cage. Slip the paint strainer over and set the cage in an aluminum pizza pan--it will fit snuggly. Now you are ready to add your plants and caterpillars. You can put paper towels in the bottom to catch frass. It's easy to clean.
Here is a photo: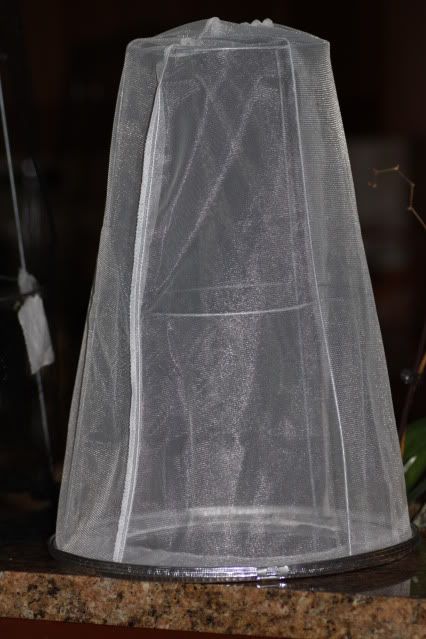 You can slip off the cover and wash between broods. The caterpillars have plenty of space to pupate and emerge in excellent condition. And the total cost is less than $4.00!
Sandy