ajuga ground cover growing in lawn....Roundup?
Having a problem with Ajuga (bugleweed) ground cover from garden bed growing in the lawn. Not sure which species (I didn't plant it), but the young leaves are green turning brownish-purple - blue flowers in the spring
First noticed it last fall popping in a few places a couple of feet from the garden bed. By May this year these had spread out into clusters. My approach then was to dig it up each plant and root as best I could, flood the area with boiling water (several times) and seed over. Seemed to work at first, but by now (August) it has come up again in some of the areas and I am seeing isolated plants further out into the lawn.
Seems likely that the 'heat' treatment was not entirely effective in destroying the runner-root system.
So, now I've gone at it again, this time trying to trace the runners, thinking I could pull them up back to the source. But these things run quite deep, below sod, and they break fairly easily when trying to excavate.
Given that the lawn is not in great condition (legacy of japanese beetle grub battles), I am intending to aerate and fully over-seed at the beginning of September. Last thing I need though are the Ajunga runners being cut up and possibly spread by the aeration. And even if I don't aerate, I still need to kill this stuff off.
So, I'm wondering if spot treatment with Roundup might be the best approach? Question is, assuming it does kill the plant head, would the glyphosate go on to penetrate and destroy the entire root-runner system as well? Would it pay to use a higher concentration of the Roundup? Would be easy enough, and worth the effort, to 'paint' individual plant leaves rather than spraying, if it is effective.
Anyone have experience with this? I've only ever used Roundup on driveways and pavers before
BTW- I'm in Quebec, outside Montreal.
Here's a image (not of my lawn - found on a photo blog site) that pretty much illustrates what I'm dealing with.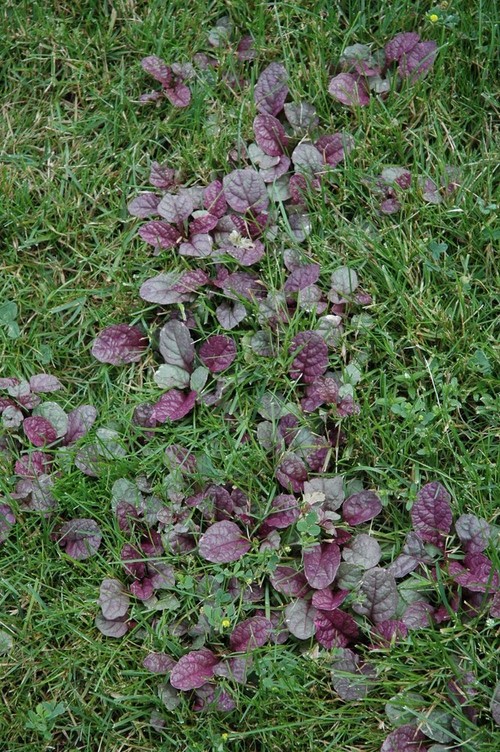 This post was edited by WorBry on Sat, Aug 3, 13 at 22:53