What do you think?
bev2009
(6 IN)
August 2, 2011
Not knowing my butterflies, I just assume any black butterfly in my yard is a BST. Today I stepped outside and a black butterfly was on the Echinacea, so I ran inside and grabbed the camera. Remember, air conditioning inside, hot and muggy outside. The camera fogged up and I only got a couple of shots before it was gone. But could this be a spicebush swallowtail? I was planning on calling the garden center to see if they could get me a spicebush yet this year, but if this is, I will call immediately.
And I found this white egg on my dill. Any ideas what it could be?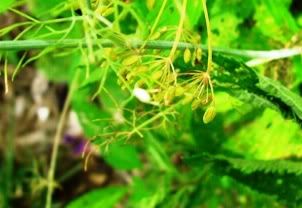 Thanks for everyone's help.