Commas and Question Marks
misssherry
(Z8/9SE MS)
August 10, 2009
An old butterflying friend of mine in Ohio wanted to send me some question mark eggs or chrysalides, to help me restore the QMs that have practically disappeared since the hurricane. The cats he thought might be QMs turned out to be commas, which suits me fine. I've only seen a comma here once - I suppose it might have been a very small QM - but I'm in the range of commas.
The four chrysalides he sent me were SO little, they looked like miniature question marks. The butterflies emerged right away, and I got this picture of this little comma hanging on a Tupperware container. I cropped it, because the container looks bad, which makes it look much bigger than it was. Anyway, I thought I'd use this opportunity to compare commas and question marks, using some pictures I made several years ago of some QMs I raised.
Here's the comma -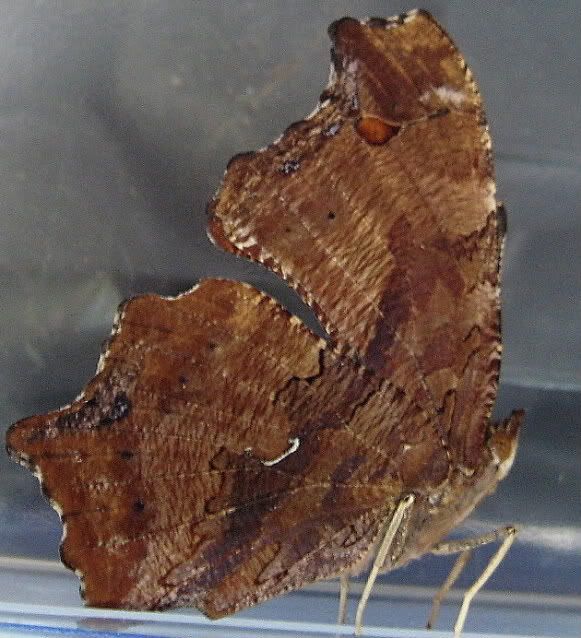 And here's the underside of a question mark, from a spring batch, I think -

And here's the underside of a fall QM -

It looks to me like the comma (butterfly) has a question mark (punctuation mark) on its underside, just like the QM. But the comma was MUCH smaller than the QMs, about half the size.
Maybe I'll get lucky and find comma eggs/cats on my false nettles, hops or elm trees.
Sherry