Sundew leaves wont unravel and has no dew
callaslily
January 25, 2013
I bought a drosera spatulata (pretty rosette) and it didn't do too well in the mail, of course, because it started to get really cold. When it made it here it was mostly dead with a few greenery left under all of the dead leaves. I cut away all of the dead leaves and dead sundews and now I have a few growing back but the largest one (pretty small) worries me. A leaf or two looks a bit deformed and its been two weeks since it even moved. It looked like it was unraveling and flourishing but that stopped and now its frozen. I try to feed it and nothing happens, I keep the environment moist and warm with a bit of air circulation and even new sundews are growing recently. I'm using a 9-watt light bulb called the Intelligent Plant Light and I keep it about 6 inches from the plant including the cover i use to keep moisture in.
This is it, its little hairs are bent and so is leaves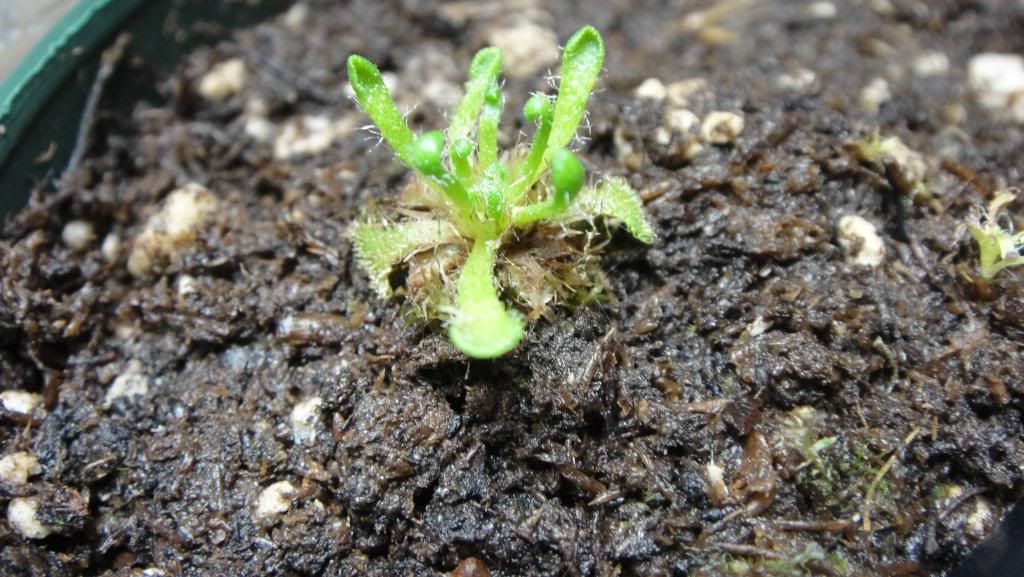 And this is random tiny growth I'm seeing... Does anyone know what any of this is? Should I try to get rid of it?

What I also need to know is how close should the light be to the plant? Is the plant deformed because it's not getting enough light or is it the environment change? What is making its leaves not unravel/why is it frozen?
This post was edited by callaslily on Fri, Jan 25, 13 at 12:14