Heat Loving Brugs
byrd4460
(9 LAKELAND FL)
July 11, 2010
Here are a few Brugs that have stood the 101 degree
temperature here in Florida. All of these brugs have
perform flawless and have produce an abundance of
blooms as well and the blooms holds very well through
out there bloom cycle.
All of these Brugs are planted in full sun without any
shade throughout the day, however Dr SEUSS has become
one of my most favorite brugs. I love the color and the
abundance of fragrance and blooms it continue to produce
and it's such a vigorously grower as well.
Chocolate Brug Velvet Rose
Mountain Magic
Dr Seuss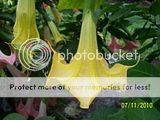 Autumn Treasure