A neophyte assumes Oe?
bob_71
(z7 MD)
September 7, 2010
I am realizing just how treacherous the reproduction of a butterfly really is. So far, I had one success story...an Orange Sulphur (Colias eurytheme), an unsuccessful Black Swallowtail (Papilio polyxenes), a disappeared Common Buckeye (Junonia coenia), and this failed Monarch. This first year of trying to attract butterflies, I decided to stand back and watch nature take it's course...part for my education and part because I am, by nature, lazy.
The Monarch story began on August 19 when one of my caterpillars attached itself to a yellowed leaf of the Tropical Milkweed (Asclepias currascivica) and then appeared to be practicing for the olympics gymnastic team. I recorded this action and left him be for awhile. Over the next couple of weeks, I observed and photographed the changes (primarily the introduction and progress of a sooty blackening of select parts of the chrysalis). I would like to share the apparent demise of this potentially beautiful butterfly.
The beginning was on August 19 when the Monarch attached itself to the leaf and assumed the "J" posture.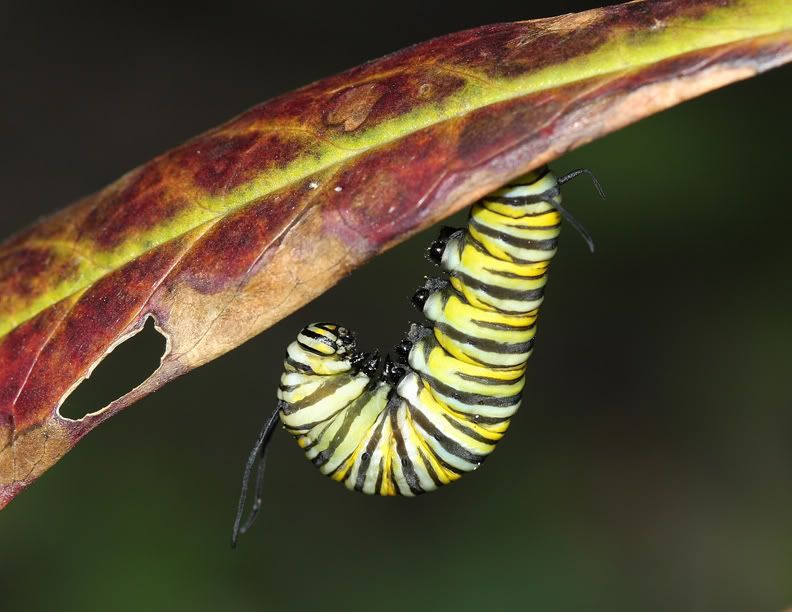 Just one hour later, it had converted itself to this Chrysalis with a sleek "wet look". My only question is that the umbilical-like cord where it is attached is already a jet black...is this normal with an uninfected caterpillar? There is also a small black spot just below the connection.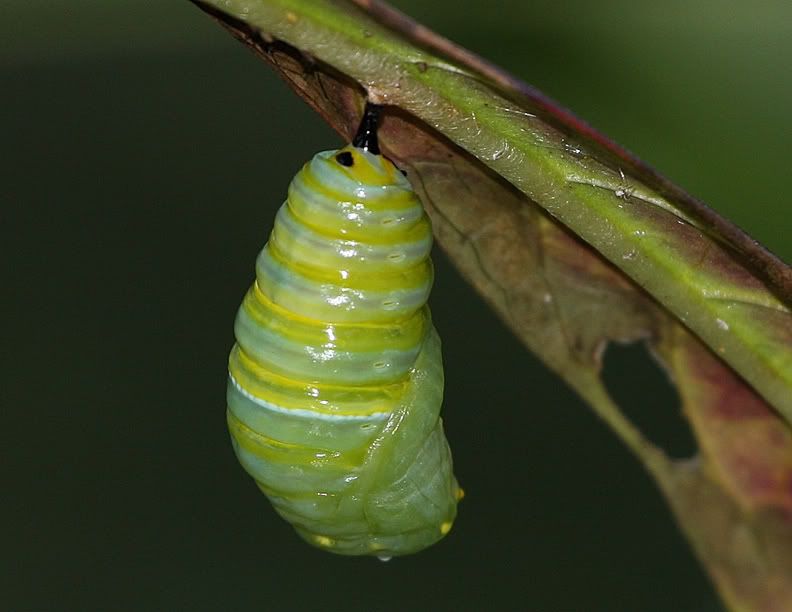 The next day, the outer surface has lost it's "wet look" and the black and gold beads have appeared.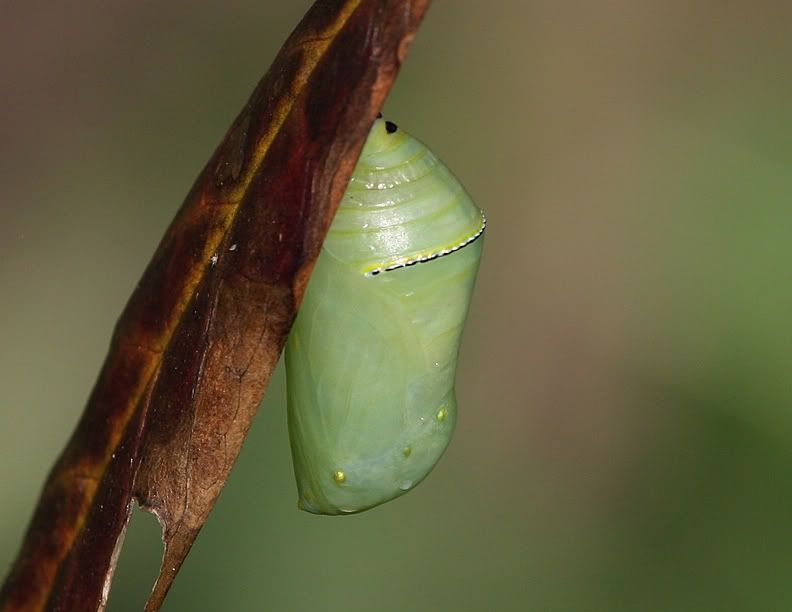 On the following day, the "smutty" coloration is beginning to appear.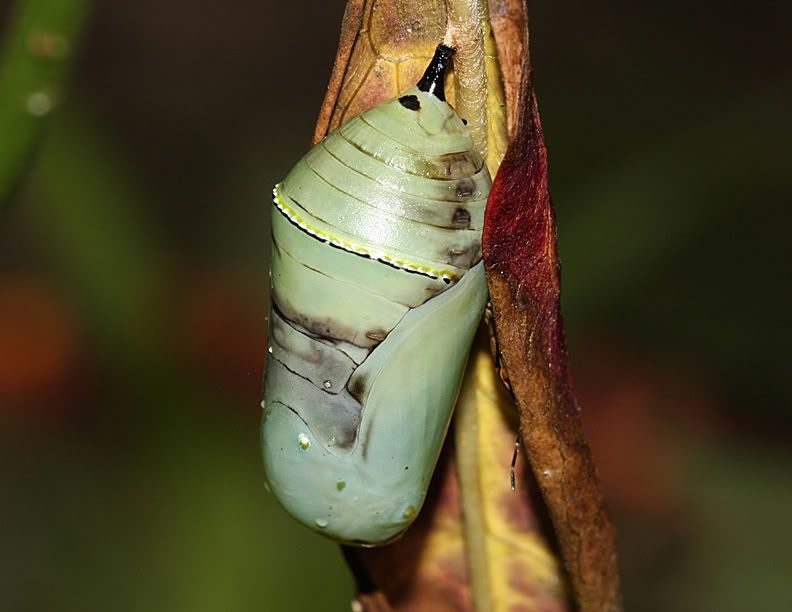 After two more days, the dense black areas are pretty much defined now as they will be. Actually has taken on the appearance of an oriental pieace of art.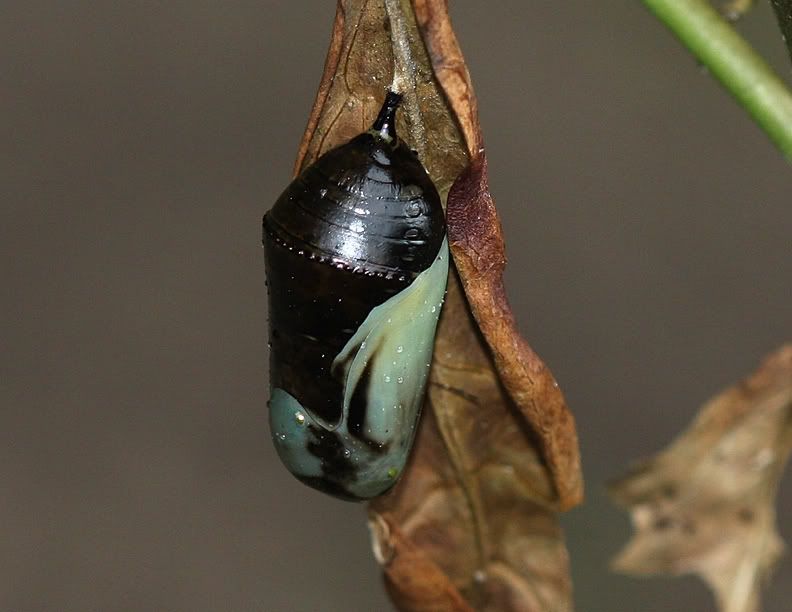 Sixteen days after this started, I am convinced that this is over. The chrysalis remains but it has assumed a rather dismal look of finality.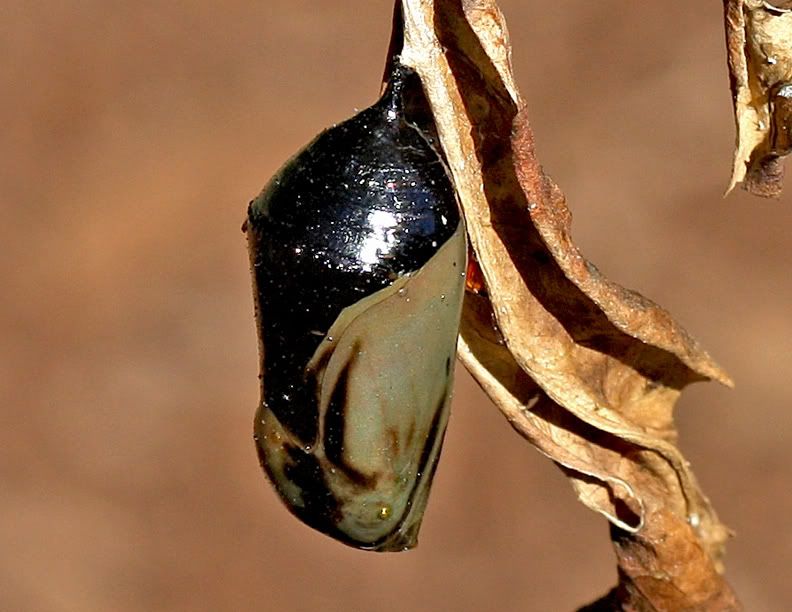 Thanks for looking,
Bob