Portulacaria afra - June 2010 re-pot
greenman28 NorCal 7b/8a
June 2, 2010
Good morning, GardenWebbers!
Although you might say Jades are my "thing," I do occasionally spend time with my other plants... ;)
Yesterday, for instance, I finally re-potted this Portulacaria afra (Elephant's Food Bush, Spekboom)
that I received as a cutting last April. Rooted and grown in a plastic .71 gallon container since then.
For this re-potting, I chose a pond basket ($5) as my container.
My mix is composed of Orchid Bark, Perlite, and two types of Pumice (white-micro and red-macro).
I won't do any more foliage pruning until the plant's roots are re-established.
The Port. afra, languishing in its root-bound condition:
1.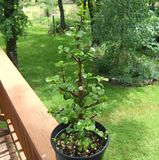 Tell-tale sign that I should have re-potted long ago....
2.
The pond-basket for the new container.
3.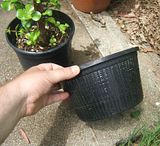 Top Secret ingredients, recommended by NASA ;)
4.
Secret Ingredients assembled and ready to be implemented.
Bark, Perlite, White and Red Pumice...
5.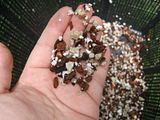 Washing the roots off, but leaving a decent root-ball.
6.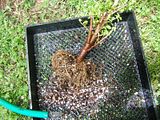 In the new container, potted in fresh mix:
7.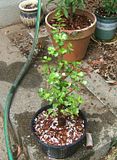 Back up on the deck where it will recuperate:
8.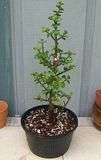 Josh