Fred Ives. Need some pointers...
AstridFarnsworth
July 25, 2014
Hi! :) So I bought a Fred Ives last month... It's one large mother plant with two smaller ones, and a few pups at the bottom. I transferred it to a bigger (terra-cotta) pot a few days later, with well draining organic cacti/succulent soil. I watered it once about a week ago, and again just now because the soil felt pretty dry. But after I watered I was looking a few things up, and discovered it's a summer dormancy plant. So I should water it much less frequently, right?
It seemed fine a few days ago, but a few of the lower leaves (on each one, aside from the pups) have changed an orange-yellow color and a tinge translucent. I think this is normal for growth, but if it's supposed to be dormant - why so much all of a sudden? Is it because maybe I've watered too much? :(
It's an indoor plant and it's mostly 70-80 in here, but it gets a little sunlight by the window when the sun hits it for an hour or so. It's been very overcast the last few days though...
I could really use some advice. I've been googling about the plant for almost an hour now, and I can't seem to find answers. Maybe I'm just missing it, but I thought I would try here.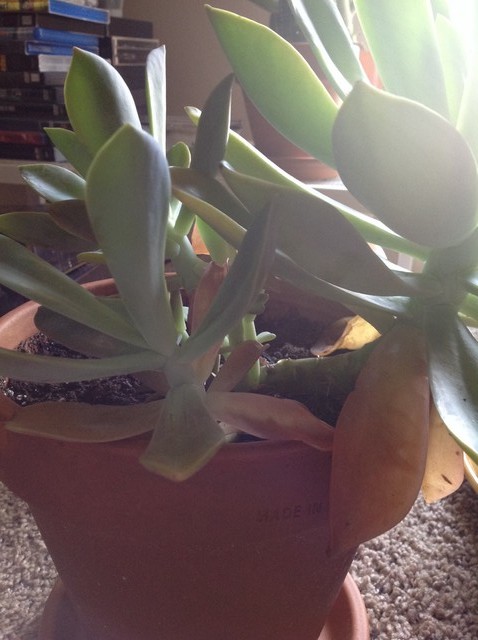 This post was edited by AstridFarnsworth on Fri, Jul 25, 14 at 13:17