Clematis for warm climates?
daisyincrete Z10? 905feet/275 metres
March 24, 2013
Hello. I happily grew clematis for years in England, but since moving to Crete, I have not found many to be very satisfactory.
I have planted mainly viticellas, as they are said to grow well in warmer climates and they do. The trouble is that with their small flowers and soft colours, I cannot see them. Often I don't even realise that they are flowering, until I am on top of them. I grew a lot of viticellas in England and loved them.
In that soft blue light they stood out well in the garden.
Here in this strong Mediterranean light, they are lost.
Clematis viticella Polish Spirit is only a fraction of the size, compared to the one I grew in England. I haven't pruned it back at all this year, in the hopes that I will be able to see it behind the plants in it's border. Abundance and Kerminsina both flower well if briefly, but are lost in the garden.
The only clematis that makes a show, is Perle d'Azur.
Here it is with rose Colombian Climber.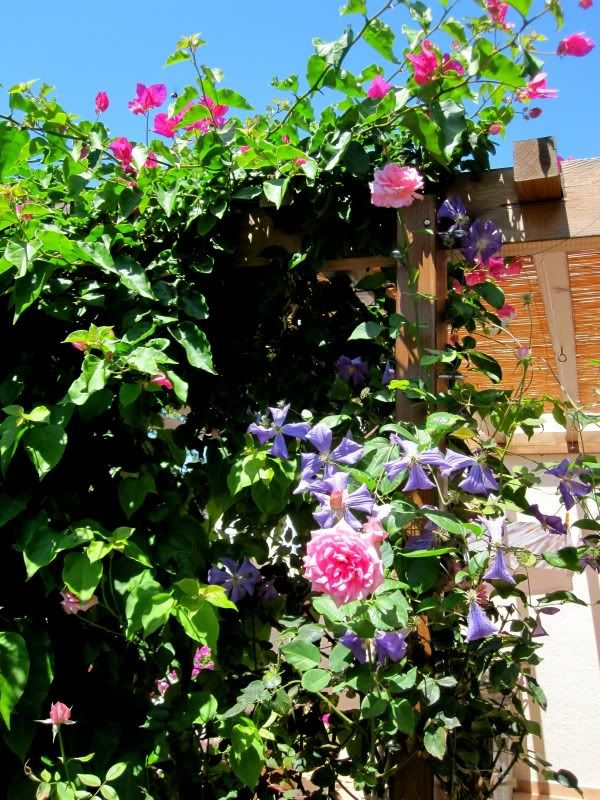 I know that Clematis Abundance was flowering at the time I took the next photo. It is intertwining with roses The New Dawn and Blush Noisette, but I cannot see it, unless I climb in there and peer closer.
Can anyone recommend a clematis for a warm climate which is very showy?
Thanks.
Daisy