Any successful 'Gold Nugget' mandarin growers in SF?
TimSF
(CA Z8B/Sunset17)
February 18, 2012
I ask this given the famous quote incorrectly attributed to SF by Mark Twain that goes "The coldest winter I ever spent was a summer in San Francisco" (see attached SF Chronicle article, that also gives a flavor for our unusual summer climate).
Indeed, the average high temps here between Jun-Aug is about 62F, and evenings can get even colder - down to the low-50s! It isn't until Sep-Oct, when the fog has dissipated a bit, that we MIGHT reach 70F...Too cold, unfortunately, to be able to grow the majority of oranges and grapefruit - so says Pam Peirce in 'Golden Gate Gardening' (but I'd love to hear if you've actually grown these in the City!).
I've read anecdotal evidence that Trovita orange, since it can ripen without summer heat can grow here. I actualy planted one last summer to test the theory, but I'm cautiously optimistic since I've only heard anecdotal evidence and have read contraditory posts on this forum of its success in cold, coastal areas. The same goes for 'Gold Nugget' vs. 'Owari Satsuma' mandarin.
Undaunted, last week I bought and planted the following Four Winds 'Gold Nugget' mandarin from Lowe's. It stands about 2.5 ft and is just about to start a growth of new leaves. I thought this might be a good mandarin to try out since Four Winds' site claims it doesn't need heat to sweeten the fruit, and that it hangs long on the tree (enabling more concentrating of sugars over the growing season). Also, I like the idea that this mandarin, unlike the majority of others, has fruit ready in the spring/summer months.
I'd love to hear about the experience of other SF growers (or coastal growers with similar temps) who've tried this mandarin and can comment on the fruit's flavor.
'Gold Nugget' mandarin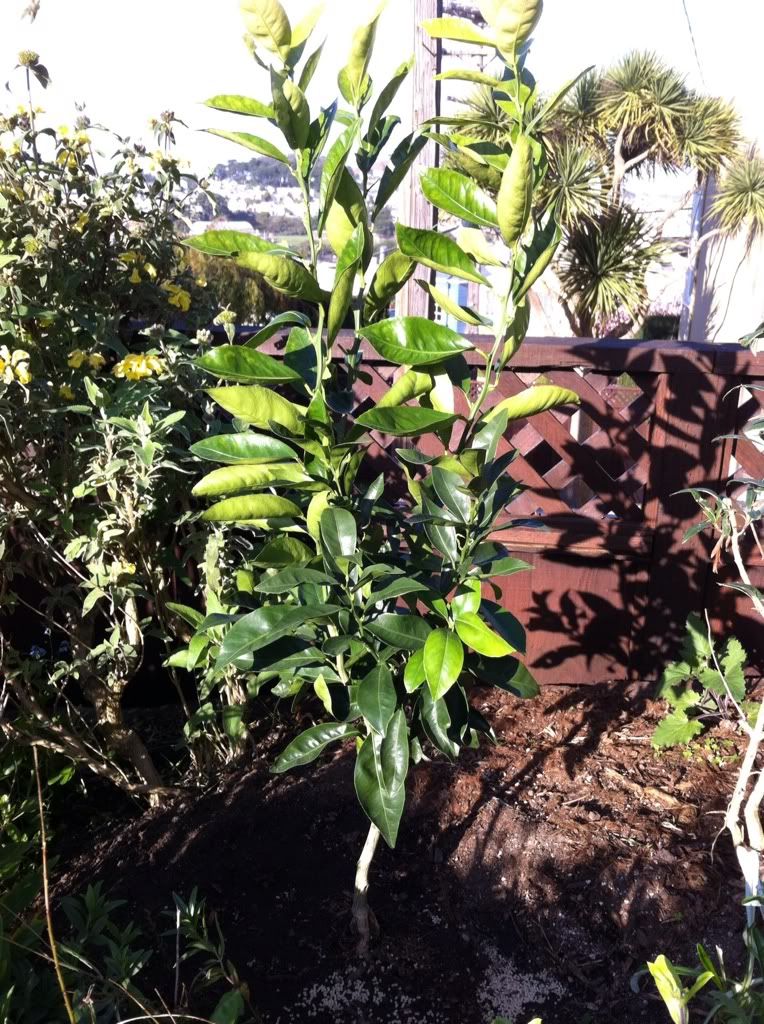 Tim
Here is a link that might be useful: Fog Heaven article - SF Chronicle