Help! Is this the best plan for my 8 x 14 raised-bed plot?
Hello! I am helping create a small community gardening area in my apartment complex this year. I have created a plot of a small vegetable garden. Please offer any advice on companion planting and such! We have a 7 x 14 garden in a raised bed. I have marked the amount of shade in each square.
The diamonds down the middle are small stones - we will divide the plot in half so we can work in the middle, if necessary. But since the plot is rather small, I anticipate we won't really need to use them that much.
Our bed is oriented with the 8' sides facing the north and south; the long parts are facing east and west. The shade notations are also because our landlord put the raised bed near a tree. (Ugh!) But hopefully it will offer some much-needed shade for the leafy greens!
We are also considering planting squash on the ground beside the bed on the narrow side (N and S) - and maybe creating a small raised bed using concrete blocks to help block off the area from feet and such! We will plant them with a small gap between the plants to help create a walkway where the stone will be in the middle of the bed.
Our plot is small, but it's what we have to work with. We are also hoping to do some container gardening.
As for the herbs, I am going to see how well they grow, and if they become too large I will transplant them or trim them down (But most likely transplant). Hopefully we won't need to do much walking through the middle since it's a fairly narrow bed as far as gardens go!
This garden will not have assigned plots, we are all doing this together. Teamwork makes the dream work!
Please offer any advice!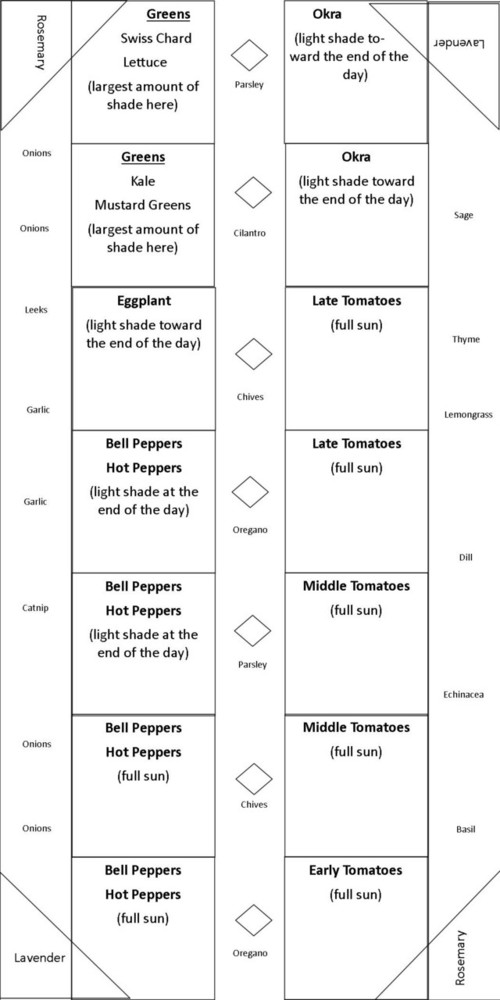 This post was edited by mmiesse on Tue, Apr 23, 13 at 10:57