The Lesson: Check Twice before Throwing It Out
pirate_girl
(Zone7 NYC)
July 16, 2012
Hi All,
So I was rooting a Sans. leaf, for a longggggggtime & got curious, pulled the leaf out & it was a goner so I tossed it. I put the pot back w/out looking further & thought Oh Well.
A month or so later, I picked up the pot to plant something else in it & found this: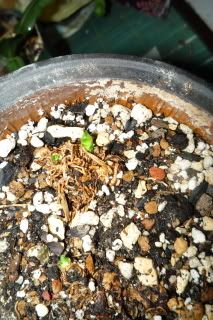 It seems there was still a rhizome in the pot & these are baby Sans. starting to pop up (that's all that was in that pot). I'll post further as they develop; fun accident.