Propagation of an unwanted species: Clematis akoensis
I only grow one Clematis. As an exchange for a defective Chilean Bellflower (Lapageria) lacking the normal coloration (all white), I was sent a couple rooted cuttings of Clematis akoensis.
Clematis akoensis is presumably undesirable because of its bicolored flowers, which are scented unlike most modern hybrids. See link at bottom for a photo I found online (not mine). Presumably because of its appearance, the flower has not been grown outside of its native Taiwan until very recently. It is a tropical species, tolerating little or no frost. So perhaps its lack of appeal is understandable.
A search of the Clematis forum, and Gardenweb as a whole for Clematis akoensis yields no results, indicating how unpopular this species is.
However, I think it's important that we all propagate some pure species (of whatever plants), not just manmade hybrids. So I decided to start some cuttings of Clematis akoensis, pictured below. All are single node, soft cuttings. I dipped the tips in Rootone (0.1% IBA) and am incubating them in moist perlite, under lights, indoors (roughly 70 F).
Perhaps some will object to the propagation of such a species that is clearly defective compared to many hybrids. I'll check the cuttings weekly for two months, and report back. If anyone can guess how many of the four cuttings successfully root (ties broken by a guess as to timing of rooting) I can send one of the rooted cuttings for postage. The recipient can then dispose of it or otherwise deal with it as they deem appropriate.
The 4 cuttings: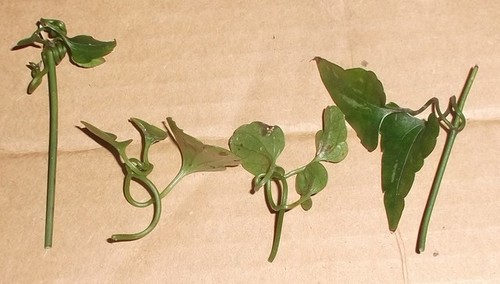 Here is a link that might be useful: