a gallery of on deck circles
glaciers_end
(8WA)
October 10, 2012
Hi all,
here's something that I haven't seen tried before. If you're like me, you've been collecting trees all season waiting for the plants to get stronger or simply waiting for cooler weather to get things in the ground. Here is a gallery of the best of what I've found in 2012. Most of what you see has now been planted as we've had a couple of weeks of delightfully sunny warm days and very cool nights. As I've been unpotting and planting the roots have really been popping.
In each picture, I'll list the cultivar and where I got it along with the grower (if known).
back deck overview. Eastern exposure, under a canopy of Arbutus menziesii (Madrone). During the summer, the deck only gets an hour or two of sun.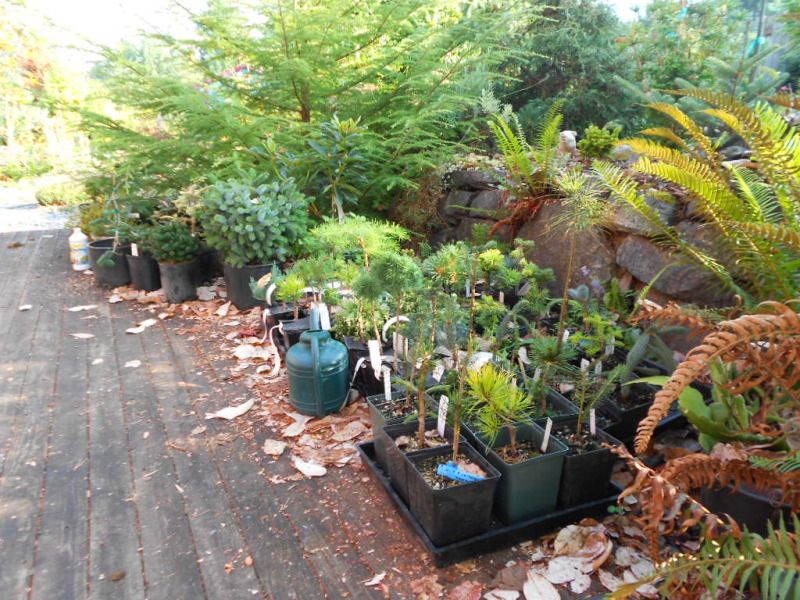 back deck, other side.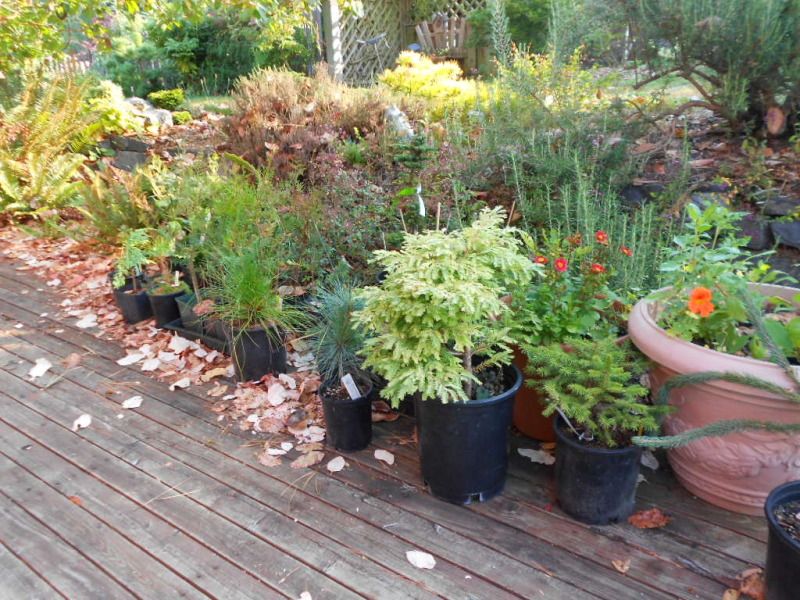 Now the specific plants . . .
1. Species, left to right: Pinus pinaster, a trade from Sam (Monkeytreeboy); Pinus paulustris, Colvos Creek seedling (huge experiment in the NW); Picea morrisonicola, Colvos Creek seeling; Picea crassifolia, Colvos Creek seedling; and Dacrydium dacrydioides, Colvos Creek seedling.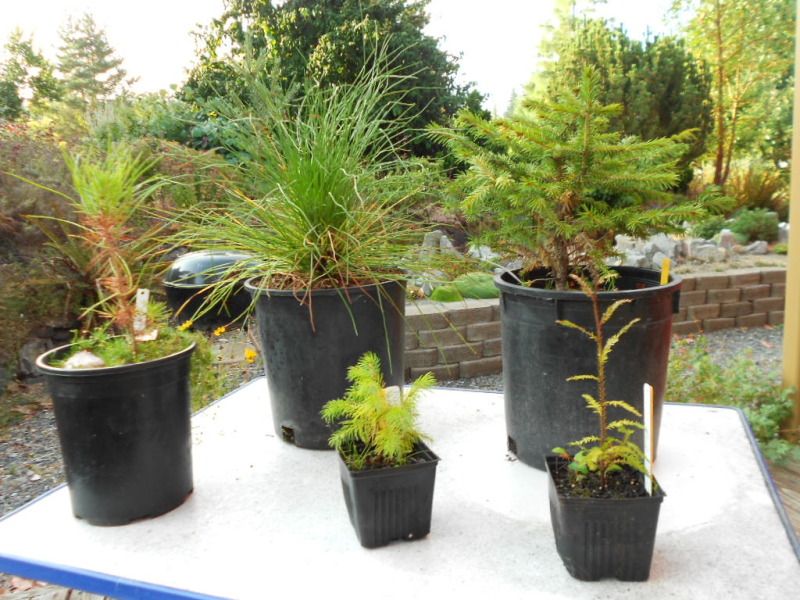 2. Larger Piceas, both purchased at local nurseries: Picea sitchensis 'Silberzwerg,' Iseli and Picea englemannii 'Snake,' grower unknown.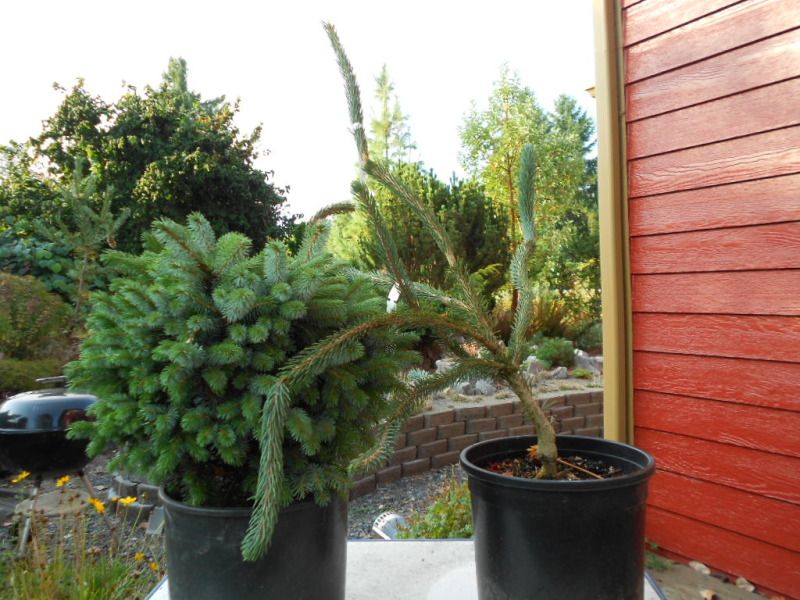 3. Deciduous things, left to right: Metasequoia glyptostroboides 'Schirrmann's Nordlicht,' a trade from Sam (Buchholz graft), Larix kaempferi 'Bambino' and 'Tunis,' Stanley and Sons grafts.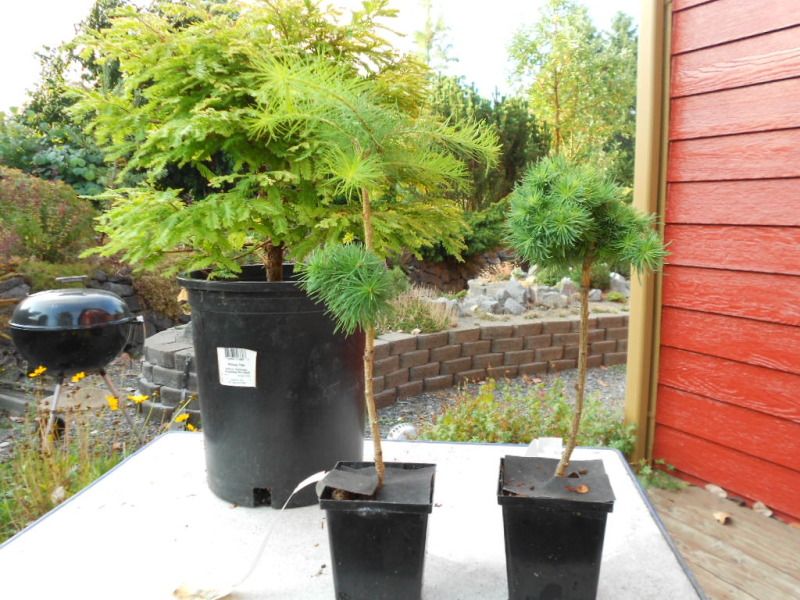 4. Abies, yes I realize that at this point they're little more than puffs of needles, but they'll get more coverage as they grow. Back row, left to right: Abies numidica 'Selection Draht,' Abies cephalonica 'Antoinne' and Abies fraseri' all from Porterhowse Farms; Abies balsamaea 'Piccolo,' Iseli.
front row, left to right: Abies koreana 'Edelweiss Sunshine' and Abies fraseri 'Paul's Broom' trades from Will Haas and Matt Deates (Joe Braeu grafts); Abies fraseri 'Wingle's Blue Bonnet' and 'Reeseville Selection' and Abies pinsapo 'Fastigiata' all from Stanley and Sons.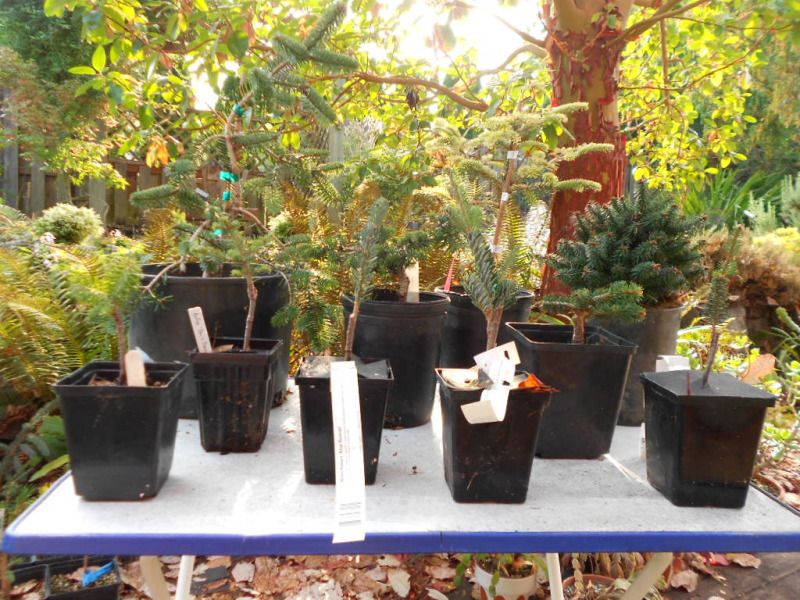 5. Piceas, back row, left to right: Picea abies 'Filip's Black Magic' and Picea pungens 'Filip's Blue Compact,' scionwood provided from Edwin, Jason Hupp did the grafts; Picea englemannii 'Blue Magoo,' and Picea smithiana 'Pakistan,' Porterhowse; Picea smithiana 'Sunray,' also from Edwin courtesy of Jason.
front row: Picea glauca 'Sander's Blue,' Stanley and Sons; Picea glauca 'Spring Surprise,' Picea englemannii 'Franzi' and Picea abies 'Typner' from Coenosium Gardens.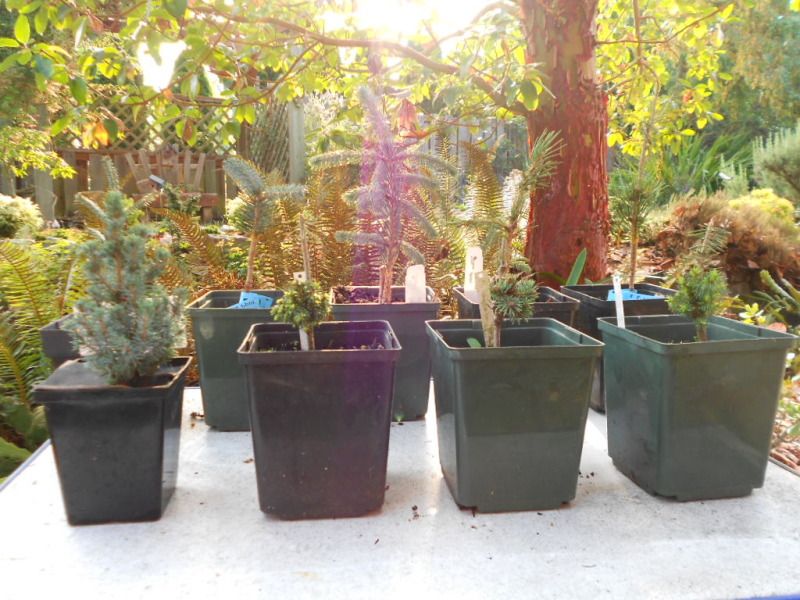 6. Soft pines, back row, left to right: Pinus koriensis 'Gee Broom,' Porterhowse; Pinus x schwerinnii 'Wiethorst,' local nursery, grower unkown; Pinus strobus 'Greenfield,' trade from Kevin; Pinus monticola 'Nana,' Evergreen Nursery.
Front row, left to right: Picea koriensis 'Blue Ball,' Pinus parviflora 'Kinpo' and Billie' and Pinus cembra 'Fussball,' all from Stanley and Sons; Pinus strobus 'Puffer Ball,' another trade from Kevin.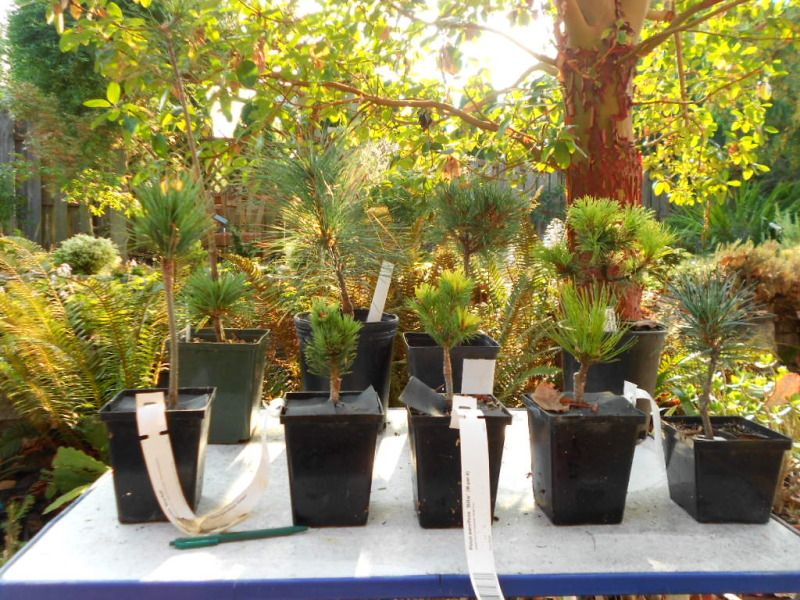 7. Hard pines, left to right: Pinus banksiana 'Manomet,' Stanley and Sons; Pinus sylvestris 'Hexguld,' Coenosium Gardens; Pinus sylvestris 'Balenice' and 'Cupcake,' Stanley and Sons.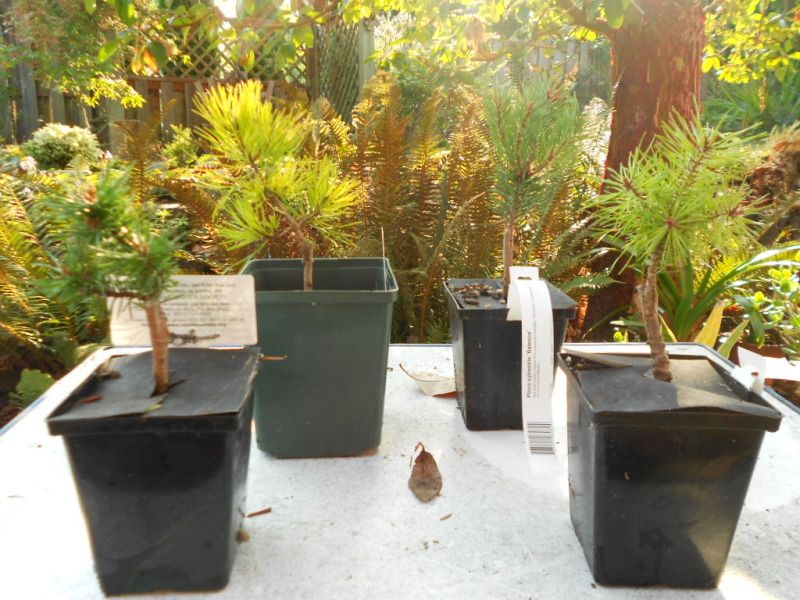 A big round of thanks to all my friends and enablers from the GardenWeb conifer boards. Without you, I wouldn't have all these cool plants to add to my collection. Next stop is the Western Region Conifer Society Conference in Petaluma next week. Can't wait to see what may appear on the auction tables.
Now it's your turn. What cool and new stuff did you find this year?
~Dave
If you